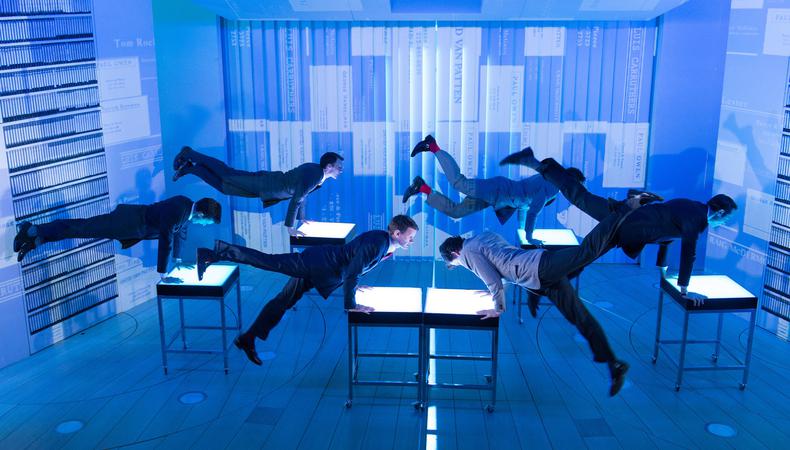 According to composer Duncan Sheik, part of what made "American Psycho" such a cult classic, both on the page and on the screen, was its utterly uncategorizable appeal. The subtle blend of thrilling horror, social commentary, and satirical humor made for a striking and wholly singular look into the mind of a serial killer.
Toeing the ambiguous line between outlandishly absurd and the all-too-real effect of capitalism in late '80s Manhattan was part of what drew the Tony-winning Sheik ("Spring Awakening") to the idea of turning the 1991 book by Bret Easton Ellis, and its 2000 film adaptation starring Christian Bale, into a staged musical. The question of main character Patrick Bateman's reality and the possibility that his murderous streak is just a mad dream was the narrative hook.
"We play around with that ambiguity quite a bit in the show," says the writer, who relied more on the book than the film for source material. "As a Buddhist and someone who's not a big fan of horror films—I'm a kind of delicate flower—it's my way of rationalizing this and how I work on this material: This is somebody who's imagining all this crazy stuff, and the reason he's imagining it is because he's this victim of his circumstance. He's been thrust into this context where people only care about the surfaces of things. There's no interior life."
To reflect that sense of artificiality, Sheik's choice of music veers away from traditional musical theater instrumentation into the electronic beats of the era, namely house and early techno. "What if the band was like Kraftwerk: four guys with synths and drum machines?" he says of his compositional thought process. Rereading the book after coming on board for the initial West End incarnation of "American Psycho" reminded him of visiting late-'90s electronic clubs in New York City—Limelight, Tunnel, Mars, Area. "I thought, This is the environment, the musical sound picture that could be really fun and compelling to do as a piece of musical theater, because it's not a genre that you usually hear in theater or that's virtually ever been done [this way] at all."
Sheik admits it's not just his music that strays away from the typical musical theater model. He's not a fan of songs that tell a story through lyrics, and prefers to write "a pop song that deepens the character in some way and gives you a good sense of the environment and milieu these people are in."
The "American Psycho" milieu relies heavily on New York City's singular materialism to create a clear narrative arc—unlike the novel's episodic style—which also deeply affected the casting process. It was the most challenging casting experience Sheik has undergone to date, primarily because of the specific, "incredibly pretty" look both he and director Rupert Goold ("King Charles III") were seeking—not to mention the acting, singing, and dancing chops required.
Upon transferring the production from London to Broadway, after a six-month search they found their irresistible cast in Benjamin Walker ("Cat on a Hot Tin Roof") as Patrick Bateman, Alice Ripley ("Next to Normal"), Heléne Yorke ("Bullets Over Broadway"), Jennifer Damiano ("Next to Normal"), Drew Moerlein, and a slew of others. In addition, the show's opening song, "Selling Out," is a new one that "hits harder" and captures something much cooler by Sheik's standards.
"There are a lot of serious ideas within this book that I wanted to make sure our show is exploring," he says. "That's why I was really excited to have Rupert come on as the director.... I knew he would respect the fact that this wasn't an exercise in camp but something that could be funny, entertaining, and incredibly thought-provoking that also delves into the psychology of these people and this world in a way that would make people think while watching theater."
Like this interview? Check out more from creators and Meet the Maker!