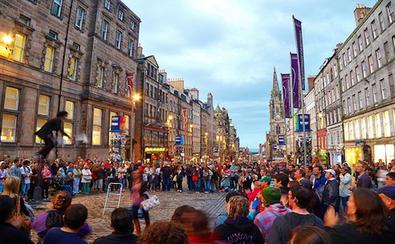 "I am never doing this again." That was what I told my sweaty, exhausted self as I boarded the train after spending four whirlwind days at the Edinburgh Festival Fringe in August 2010. I was teaching in London then, and an NYC cabaret show I directed was opening at the largest arts festival in the world. So it only made sense that I head up to Edinburgh to sit in on tech and give notes for the opening weekend. Boy, was I in for a surprise.
I didn't know much about EdFringe other than that it was huge. Really huge. In those four days, I was bombarded by enthusiastic performers shoving show flyers in my face. I frantically navigated the often slippery cobblestone hills to get from one show to another. I learned the bus routes. I figured out how to read the maps for a city that's built on two levels. I found out where to get meals that didn't include the words "haggis" or "deep-fried" in them. And I learned how hard performers have to work to get an audience to notice their show amidst over 3,000 other shows.
It was crazy. I was done. I wouldn't be going back.
So in 2012, I went back, this time with my solo show, "Desperately Seeking the Exit." And again with the same show in 2013, and again in 2015 with my solo chat show spoof "Late with Lance!" and as a producer with "David Carl's Celebrity One-Man Hamlet." I'm going back again this August with my improvised solo show, "Show Up," while also producing the improvised cabaret show, "Off the Top!" and performing in the immersive, improvised "Joe's NYC Bar." Why?! Apparently, I enjoy hard work.
EdFringe is a beast. It costs a few thousand dollars to get there and secure housing. And you have to pay for festival fees, a publicist, thousands of postcards and posters, shipping, show swag, a street team to hand out flyers to potential "punters," plus food and drink as so much of the festival is about socializing with fellow performers and potential producers. Hardly anyone makes money there, and you're taking a month off from everything else to be there.
READ: How to Make the Best of the Edinburgh Fringe Festival
You do the same show, every day for 24 days, often in humid, cramped makeshift spaces. I used to tell the folks who take my EdFringe Starter Kit Workshop, "This will be the hardest thing you will ever do." But, recently, I've changed that to, "This will be the hardest you will ever work."
Like any legitimate artistic endeavor, it takes hard work. You probably have to set up a focused crowdfund months in advance. You have to read every weekly email you get from the Fringe so you're up-to-date on every deadline and professional opportunity. You have to plan your marketing strategy and create exciting events around your show that will draw in the press. You have to know your show backward and forward and perform the show many times before you take it to the Fringe.
But mostly, you have to have good work. Work that you can't not share. Work that you are passionate about. And you have to know why you're going and what you want to get out of it. EdFringe is a marketplace and a trade show. Producers and presenters from all over the world come to the festival to find new works. Relevant and out-of-the-box works. Fresh works. Works that work. Your work.
If you know what you want to get out of the experience and you're ready to work, all of the sweat, haggis and lost money is worth it.
You'll become a better promoter and get better at talking about your work. You'll become a more focused and resilient performer and a better self-producer. You'll befriend fellow performers, writers, directors, designers, and producers from all over the world.
And you'll be inspired by other shows and artists to take more chances as both an artist and a human being. Hopefully, your show will get picked up by a producer and transfer or tour. Maybe you'll be offered a book deal (an unexpected offer I got). Perhaps you'll break even. If none of those things happen, you still win: the creative benefits will last you a lifetime.
Eleanor Roosevelt said, "Do one thing every day that scares you." Auditions can fill that requirement. Learning a new monologue can do it. Sometimes, just getting out of bed does it. But if you decide to tackle EdFringe, you've pretty much accomplished 365 days of scaring yourself in one fantastic, life and career-changing month. Good luck!
(And if you find yourself in New York in the next month, check out "Show Up," which plays East to Edinburgh at 59E59 Theaters on July 11, 18 and 22.)
Peter Michael Marino is an award-winning teacher, director, producer, and performer. Creator/co-producer of SOLOCOM, which has launched over 400 world-premiere solo comedies at The PIT. His long-running, critically acclaimed solo comedy "Desperately Seeking the Exit" chronicled the unmaking of his West End musical flop "Desperately Seeking Susan." His current show, "Show Up," is an improvised solo comedy that's directed by and about the audience, and tours in 2017. Pete's production company PM2 Entertainment credits include: "David Carl's Celebrity One-Man Hamlet," "David Mills: Shame!," Jason Kravits' "Off the Top!," "Joe's NYC Bar," and LA comedy duo Charles' "Moby Alpha."
Check out Backstage's London audition listings!