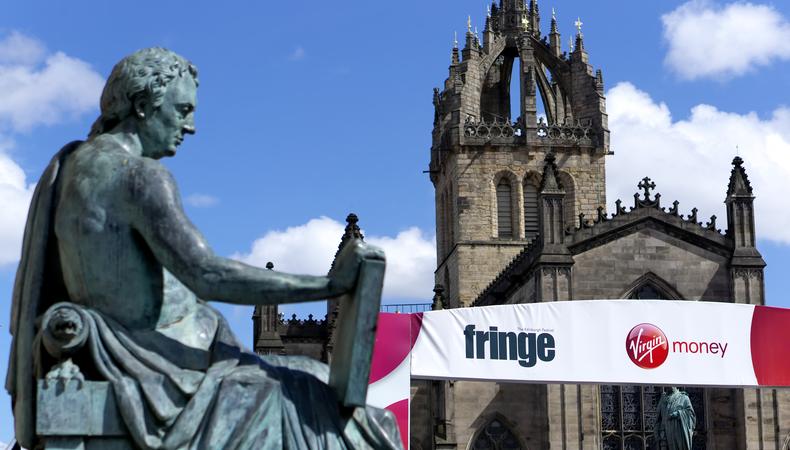 Developments in the business of acting are not always front-of-mind for time-pressed creatives, yet can have a major impact on how their careers develop. That's why we've created The Business, a series to help UK actors and performers stay updated on the key stories that will affect the nuts and bolts of their professional lives. This week we'll look at how the Fringe is getting serious about the mental health and well-being of performers, the warning from an actor who owes £170,000 to HMRC, an "unscrupulous" website charging people to have their shows reviewed, and how migrants in cultural sectors are fighting back against the "hostile environment."
Edinburgh Festival Fringe to boost support for performers
This year's Edinburgh Festival Fringe is to break records for internationalism and will host around 300 more shows than 2018. But it's also to be a record year for supporting artists: the Fringe Society's services for performers will be boosted by an ongoing partnership with Parents and Carers in Performing Arts, who will provide childcare services, changing, and breastfeeding facilities.
A new partnership with funding platform Kickstarter will see the company waive its 5% commission to Edinburgh Fringe artists. Kickstarter will also support a new mental health and well-being strand based at Fringe Central. This includes online counselling services, a respite centre, and advice and guidance for performers after the festival. Fringe Society chief executive Shona McCarthy said: "This is a response to what some artists were telling us last year – that it is a big stretch, a big commitment and, particularly if you are new to the fringe, it can be wearing on your well-being by the end of it."
READ: Your Survival Guide: the Edinburgh Fringe Festival
'Unscrupulous' website offering pay for reviews service
Theatre reviews website the Mumble has been strongly criticised for charging Edinburgh Fringe performers up to £50 to have their shows reviewed. The site advertises £50 "Skyflyers," made up of a review and an interview alongside reviews costing £30. Sister-site Mumble Theatre claims to "survey international theatre" and contains mostly positive reviews for small independent productions and interviews with international theatre artists.
Fringe producer Luke Emery warned other artists and companies to "watch out" after being solicited to pay for a review via email. Tweeting a picture of the email, Emery advised performers: "Do not pay for coverage in this way." He later told The Stage: "I have been doing the fringe for six or seven years and have not encountered this before. They are going to go for people who are inexperienced, don't know better and are desperate."
Responding to The Stage, the Mumble editor Damian Bullen claimed it charged fees to cover the expenses of critics but a spokesperson for the Edinburgh Festival Fringe Society said it did not "condone paying for reviews and would not advise participants to do this."
Robert Glenister: actors are low-hanging fruit to HMRC
Robert Glenister has spoken out for the first time since losing a high-profile case against the government tax authority, HMRC. The actor, best known for the BBC series Hustle and Spooks, reportedly owes £170,000 in unpaid National Insurance contributions after HMRC investigated Glenister for employing himself through a company. Speaking to The Stage, he said anxiety and depression caused by the case affected his performances onstage and caused panic attacks, including a blackout.
Equity, who publicly backed Glenister at the tribunal, have in the past weeks warned that HMRC's approach to actors was "ruthless" and that new guidance for performers' tax would be a "disaster." Glenister's case has been described as a "test case" for other performers, with the actor warning actors: "We are low-hanging fruit, we are vulnerable. We are vulnerable as a profession because there is always an element of "Where is the next job coming from?" and we are easily intimidated because of that vulnerability." He also said the ruling has struck fear into many older actors. "People are desperately worried. I am thick-skinned and can look after myself, but people who are elderly or ill and can't work anymore – that is just wrong." Read more here.
READ: The Essential Actor's Guide to Paying Tax in the UK
Migrants in Culture Network to challenge hostile environment in the arts
A network has been established to support migrants working across arts industries, aiming to tackle "discrimination, tokenism and racial profiling" of members. Migrants in Culture describe themselves as a support network and action group that "holds the cultural sector accountable to migrants, citizens of colour and all other people being impacted by the immigration regime, in our workplaces and neighbourhoods." The group argue that migrants live and work in the UK as well as pay taxes but must put up with "economically and legally precarious workplaces" as well as a lack of political representation.
As well as pushing for change in the cultural sectors, the group will challenge the government's so-called Hostile Environment Policy launched by Theresa May when she was Home Secretary in 2012. The network is currently conducting a survey to assess the impact of the hostile environment policy on migrant workers in the cultural sector.
Edinburgh press guru
The all-you-need-to-know guide on doing your own PR for the Edinburgh Festival Fringe has resurfaced, as Edinburgh performers new and old launch their shows this week. Read the guide here.
Finally, visas could get easier
The Scottish Government are to hold a summit on improving the visa application process for visiting artists, with a focus on those coming to major events like the Edinburgh Fringe after claims that the festival could be at risk because of "hostile" UK policy. Read more here.
For more from Backstage UK, check out the magazine.