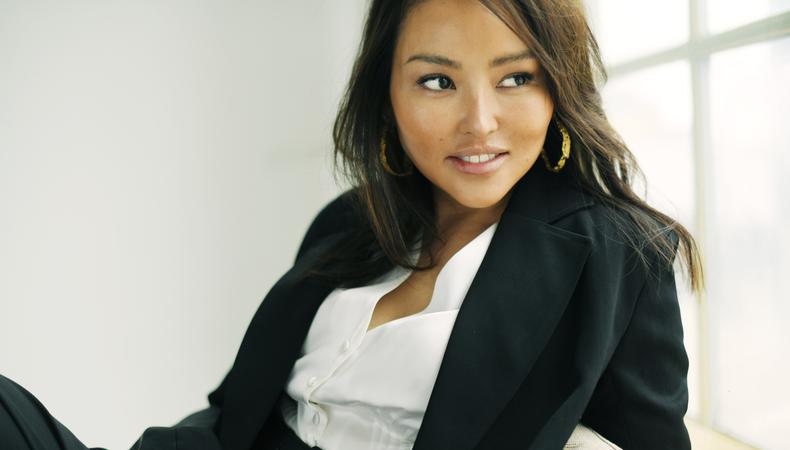 British actor Elizabeth Tan has had a frenetic 2020. Earlier this year, she graced screens in Netflix's acclaimed crime drama Top Boy and is currently appearing in ITV's adaptation of JG Farrell colonial-era satire, The Singapore Grip. October sees Tan in two major new series: Netflix's Emily in Paris (from Sex and the City showrunner Darren Star) opposite Lily Collins, and Channel 5's Agatha and the Midnight Murders with Helen Baxendale and Alistair Petrie. Here, Tan shares the insights into acting she has picked up along the way.
For me, acting is exhilarating. It's so much fun to play make-believe together with other artists, and to embody characters who serve stories which hold up that mirror to the audience or moves them in some way. However, it can also be an intensely competitive industry with lots of rejection which requires actors to have great resilience. As Stella Adler once said, "An actor must have the soul of a rose and the hide of a rhinoceros."
I am still very much on my "learning" journey. However, there are some observations that I have found helpful in my career so far which I'd like to have shared with my younger self when starting out.
Cultivate a sincere empathy for others
Empathy is so powerful. It allows you to authentically connect with any character you portray and also with people in your everyday life.
In your storytelling, it will provide you with a deeper understanding of the underlying motivations of your character, what is really driving them, and why. It prevents you from judging characters who may appear evil or unsympathetic on the page. That empathetic mindset also exposes and magnifies the vulnerabilities of characters. In Harajuku Girls by Francis Turnly, I play Keiko, a teenager who is a hideous bully and who engages her best friend in very self-destructive behaviour. But when we fleshed out her backstory of extreme abuse and neglect, the audience could see those subtle moments of pain and loneliness which made them root for her.
Looking for your next TV role? Check out our UK castings
Work hard and keep your sword sharp
In our industry, they say it's about luck but from my experience, it is also very much about putting in the work, especially earlier in your career. It's about always bringing your "A" game.
During the casting process, this means doing your research, knowing the tone of the piece and the style of the director. In this current pandemic, it also means getting your self-tape game on point, whether you are doing it at home or using a service.
And when you are not working on a project, that's a great opportunity to hone your craft and skills. My earlier castings were often for specific East and South-East Asian-accented roles and sometimes I was asked to speak the respective languages. Since I needed to work, I would use quiet times to really master these accents and learn languages. So, I have ended up performing in many different accents including London (Top Boy), American (Luce), Thai (The Syndicate), Heightened 1940s RP (The Singapore Grip), Chinese British mix (Agatha and the Midnight Murders), Korean (This Isn't Romance) and Australian (Snake). I have also had to speak Mandarin, Cantonese, Japanese, Fukien, French, and Korean for roles. Being able to pull them out quickly to a performance level is important as you don't have much time to prepare for most meetings. It makes sense for actors to think about what new skills they should most focus on to improve their opportunities.
Make your work specific and detailed
When you are given time to work on a role or have booked the job, that's when the fun really starts. It's great to read and let the character percolate and add all the fun and surprising details to create a nuanced performance which will serve the story well. For Vera Chang in The Singapore Grip, I needed to do a lot of research into her background and heritage to find the appropriate voice (and accent) and the distinct persona that she would exude. Finding the character's specific voice is an important step for me. The deeper the preparation is, the more likely the acting will be completely instinctive and "in the moment" and not intellectualised.
Developing your own vocal agility can also be very rewarding. Working with Charles Dance, I noticed that he had the most incredible command of his beautiful voice which could switch from frightening and intimidating to cheeky and charming with an effortless change in tone and timbre. That makes Charlie a tremendously exciting and nuanced actor to work with.
Have fun!
It's good to take your job very seriously, but not yourself. It's important to feel free to laugh at yourself and make mistakes. Emily In Paris is one of the most fun shows I have worked on. The creator Darren Star (Sex and the City) is a genius and has brought a super talented and fun-spirited cast and crew together which actually spills beautifully onto the screen. Yes, I know not all jobs film in Paris, but each job is a new adventure and we have to remember to seek out and have fun.
The Singapore Grip continues on Sundays at 9pm on ITV and ITV Hub.
Emily In Paris is available to stream on Netflix from 2 October.
Agatha and the Midnight Murders will premiere 7 October at 9pm on Channel 5.