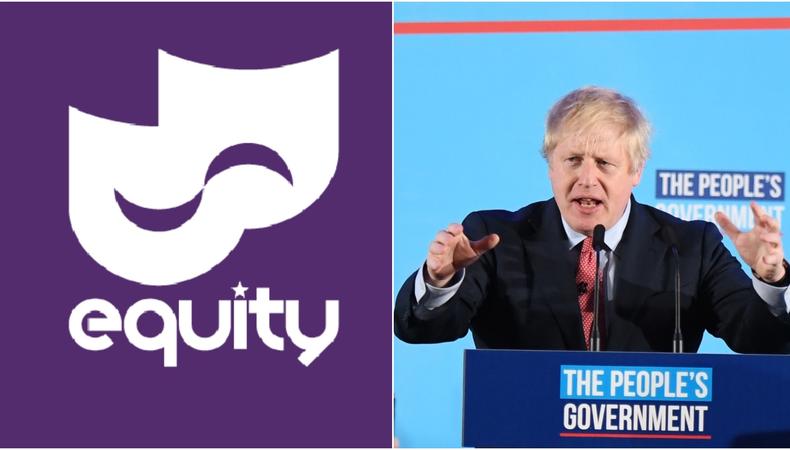 Hello, and welcome back to Week in Review, our roundup of industry-wide news. From stage to screens big and small, we've got you covered. It's everything you need to know and all you can't afford to miss.
Equity makes a statement on the general election
Union Equity has urged Boris Johnson's government to take up their offer of help in deciding the future of Britain's creative industries, after the Conservative Party won a "stonking majority" in the general election. With more than 48,000 members, Equity is the largest union in the creative sector and has been vocal in its opposition of Brexit, the decline of the arts in education, and continued public funding across the sector.
Speaking on behalf of the union, general secretary Christine Payne said the union was "extremely concerned about the impact Brexit" on actors and argued the government must prioritise freedom of movement in the EU, as it is "essential" across the entertainment industry. Payne's statement strongly encourages the government to "take up the offer we make today of expert guidance on matters that are crucial for the future health of the UK's creative industries" and asks for ministers to "urgently" meet with the union to address key issues.
Hugh Grant speaks out about Boris Love Actually spoof
Hugh Grant has lampooned the Conservative Party for an election campaign ad inspired by Love Actually. In a widely shared social media campaign released this week, Boris Johnson takes on the role of actor Andrew Lincoln in the Christmas-time scene where a character confesses his love on a series of cards. Johnson used the parody to say he will force through the UK's withdrawal from the European Union by the end of 2020 if he wins a majority.
Grant, who played the UK prime minister in the 2003 film and was campaigning to out the Tories in the run-up to election, questioned why the Tory party failed to include the sign that said: "At Christmas you tell the truth." Grant told interviewers: "I just wonder if the spin doctors in the Tory party thought that was a card that wouldn't look too great in Boris Johnson's hands."
Speaking on BBC Radio 4's Today programme, the actor and activist hinted towards alleged Russian interference in British democracy, saying: "I thought it was quite well done. Very high production values, clearly the Conservative Party have an awful lot of money. Maybe that's where all the roubles went."
READ: Hugh Grant – The Backstage Interview
Star Karen Gillan reveals she couldn't land a role in local panto
Karen Gillan, the star of the Jumanji reboot, has revealed she was repeatedly turned down for roles in school plays and local pantomimes on her journey to international success. Born and raised in Inverness, and now one of Scotland's biggest movie stars, Gillan didn't have an easy journey to Hollywood's biggest action films. She told BBC Scotland she was "rejected from everything growing up. The local pantomime, I couldn't get in, the school plays I couldn't get in, and somehow I knew that it didn't mean I couldn't do this profession."
However, since appearing in Doctor Who, Gillan has barely been off screens, with leading roles in Guardians of the Galaxy, Avengers, and now Jumanji. She ascribes her eventual success not to an "I'm going to show them" attitude, but to knowing that "I can do this and you just can't see it yet." She adds: "A lot of people might have been put off by those rejections, so that is why I think it is so important to have self-belief." Next year, Gillan heads up all-female assassin film Gunpowder Milkshake alongside Lena Headey and Michelle Yeoh.
Director accused of 'erasing' UK-based East Asian talent
Theatre director and former Royal Shakespeare Company (RSC) boss Michael Boyd has been accused of "erasing" UK-based East Asian actors after revelations that performers from the US have been flown in for a second time this year. Boyd was criticised this summer for directing The King of Hell's Palace at Hampstead Theatre and bringing an East Asian actor from the US to star in the play. Currently directing Hansol Jung's play Wild Goose Dreams in Bath's Ustinov Studio, Boyd has again been condemned by campaign group British East Asians in Theatre and Screen (BEATS), who allege two of the eight-strong company were flown over from the US.
BEATS also argue that Wild Goose Dreams is "Boyd's second East Asian-themed play in a matter of months – more than any British East Asian director has ever managed in the entirety of their careers in major theatre spaces." The campaign group has called Boyd "the de facto British East Asian theatre gatekeeper," and said his casting "lacks respect for the wider British theatre industry." In a statement, BEATS say they hold "no animosity" towards the American-based actors in the production but argue that the move represents the "erasure of talented and experienced British East Asian actors, who are arguably one of the most marginalised and discriminated-against ethnic groups in the British media."
Equity calls time on 'racist' reviews
Equity has condemned racist reviews, with president Maureen Beattie calling for members to "root out and expose" comments about the race of actors on stages and screens. Beattie referred to James Delingpole's review of His Dark Materials where The Spectator's contributor suggested it was not believable for a black man to be in charge of the fictional Jordan College and speculated "the rise of racist reviews" might be fuelled by "inflammatory language" from political leaders. She warned some reviewers were "becoming increasingly bold in asserting their poisonous views".
READ: How to Join Equity If You're an Actor in the UK
Weinstein's insurance to settle with UK and Ireland accusers
Harvey Weinstein looks likely to settle out-of-court with accusers in the UK and Ireland as two years of legal wrangling come to a close. The film mogul and alleged sexual predator, who appeared with a walking frame this week, won't be personally paying anything to around 30 different lawsuits which have variously accused him of rape and other sexual offences. According to lawyers involved in negotiations, the insurance backing Weinstein's studio has approved a $25 million settlement in a deal that doesn't require the former producer to admit wrongdoing or settle from his own fortune. Weinstein's criminal trial is set to begin this January in Manhattan. Read more here.
Stage production news
Hay Festival has announced plans to build a pop-up theatre space next year as part of a new partnership with Shakespeare's Globe. The Welsh festival of literature celebrates its 33rd anniversary in 2020 and expands to host a production from the Globe for the first time. Located at Dairy Meadows in Hay-on-Wye, the pop-up venue will have an estimated seating capacity of 350 and will host Globe on Tour productions, including A Midsummer Night's Dream, As You Like It and The Tempest. Hay Festival runs from 21 to 31 May 2020.
Screen production news
BBC One's feature-length drama But When We Dance is gearing up for production. Announced as part of the broadcaster's commitment to improve the representation of and opportunities for people with disabilities, the drama focuses on Tony and Emma, who meet at an English National Ballet class for people with Parkinson's. Written by Paul Mayhew-Archer, who suffers from the condition, it's directed by Westworld and Dracula director Jonny Campbell. See who's casting in our Greenlit series.
More for UK actors? Check out the magazine.