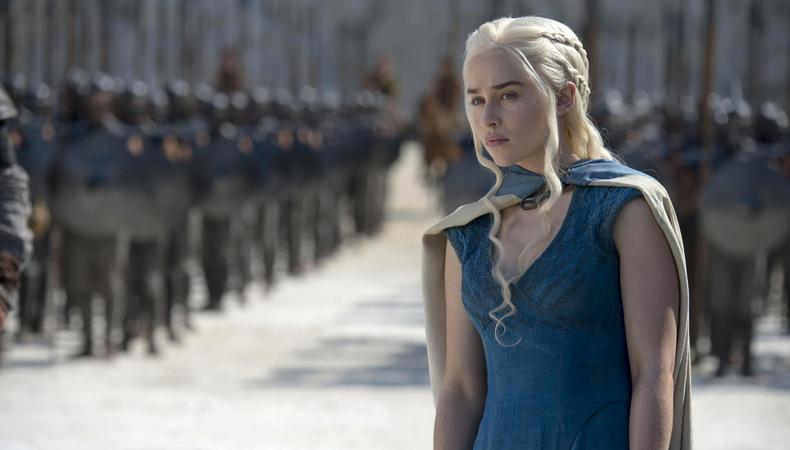 If you think that everyone who works in TV is of a certain type, maybe it's time to have a rethink. In fact, television consists of many, many different tribes, all with their own characteristics and quirks. The lesser-spotted news person is very different to the drama producer, who could never be confused with the average sound man. Our advice is to study, decide where you belong, and find your tribe.
The Talent
These are the people on screen who are better-paid and more attractive than everyone else, and they include actors and presenters. The higher they feature on the call sheet, the more likely they are to be treated like gods, and have almost everything revolve around keeping them happy, as there is no show without them. No whim is too small, no paycheque too big. Great teeth.
In the UK, the term "talent" is often said in a slightly sarcastic manner and accompanied by exaggerated finger punctuation.
Skills + Characteristics: Talent (in theory)
Dress Code: Simple, tasteful clothing that screams expensive. Lots of black and grey.
The Producer
Stressed, worried, and under siege – even if it's day one of the production. The producer controls the nuts and bolts of the show. In theory, they are in charge – but in reality, everyone knows it's the talent that rules the roost. The producer spends much of their time attempting to keep the talent and the executive producer happy while also keeping the show on the increasingly rickety road. A thankless task.
Skills + Characteristics: Great organisational skills, but mainly good at worrying.
Dress Code: Increasingly less stylish as the shoot goes on. Usually wears trainers to help run away from angry people.
The Hair and Makeup Department
This is where the real power lies. It's gossip-central, where everything is laid bare and secrets are revealed. The only place where the talent can be kept in check, hair and makeup have seen it all and are not phased by anything. If you want to know what's really going on on-set then this is where it's at.
Skills + Characteristics: Artistic, warm people person(s).
Dress Code: All black. They're worried about what other people look like, not themselves.
The Writer
The writer is an occasional visitor to the set. Try not to annoy them or your character may fall down a lift shaft before the end of the series.
Skills + Characteristics: Brainy, good at writing, less good at speaking.
Dress Code: Too worried about the second act to worry about clothes.
READ: How to Speak Like a TV Actor
The Sound Department
By definition, the very special humans who make up the sound department are uniquely attuned to the world around them. Unlike the camera ops they often work with, "soundies" aren't a chatty bunch on the whole. They live in a different world, always listening for the slightest squeak, whine, or hum, and as a result are sometimes unaware of more human utterances, like chitchat about catering and other such small-talk.
Skills + Characteristics: Very techie. Good listeners – not just to humans
Dress Code: They won't be troubling any catwalks.
The Camera Op
Geezers. Mates. Fellas. Your average camera op is a proper bloke – irrespective of gender – with the air of a chatty, creative cab driver. They can be the heart and soul of a production, but they must have breaks and be fed regularly. A rare species of this tribe is very into cinema and likes to be regarded as an artist, not a technician. Make friends with a camera op and you'll be made for life.
Skills + Characteristics: Good eye, technically minded and always ready to snack
Dress Code: Cab-driver chic. Almost always has a hat ready to go.
The Runner
Where most TV types begin their careers, the runner is the unsung hero of any production – unmemorable and nameless but absolutely essential. Completely at the bottom of the food chain, they'll do almost anything to be seen and move up the ladder. One day they're likely to be everyone's boss, but for now they're late with the talent's soy turmeric latte and that is UNACCEPTABLE!
Skills + Characteristics: Enthusiasm, ambition, readiness to be humiliated, and good tea making skills
Dress Code: Can't afford clothes.
READ: Backstage's Guide to Essential UK TV Shows
A brief summary of Genre Tribes
As well as being recognisable to the canny observer by the job they do on set, TV people are also recognisable by the type of programmes they make, be it news, light entertainment or drama. Here is your essential guide to TV genre tribes.
Arts: Flamboyant intellectuals, often surprised to be working in television as they don't actually own one. Much prefer books.
Dress Code: Big beads, bigger scarves. The occasional hat.
Drama: Warm and sincere types who feel slight guilt about not working in the theatre instead. Like to hug.
Dress Code: Artfully messy. Lots of bags for scripts etc.
Entertainment: Shiny, shiny people determined to have so much bloody fun, often through gritted teeth.
Dress Code: Tight, expensive clothing to have fun in!
Factual: Quite serious, have some time for frivolity but not much. Most would like to be making a film about something else entirely. Stressed.
Dress Code: Trendy but crumpled. Grown-up student chic.