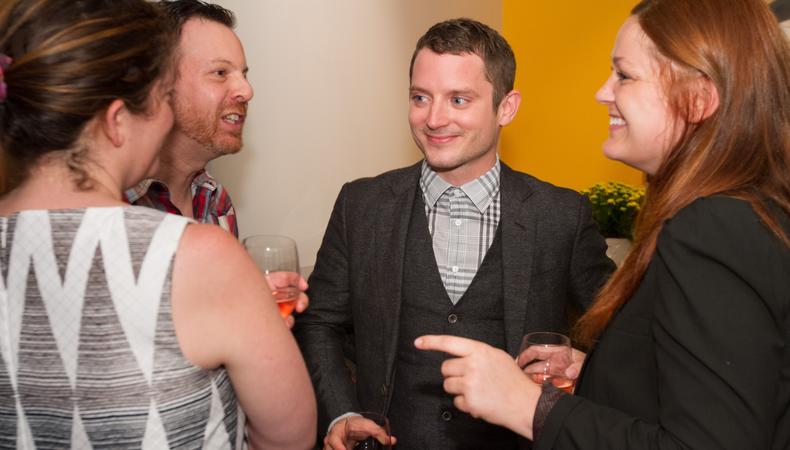 The Welsh film, games, and TV industries are in a good place at the moment. Shows like "Doctor Who" and "Sherlock" have led to the likes of "Requiem," "Hidden," "Keeping Faith," and other dramas using Welsh locations; games are winning awards, like Welsh company Tiny Rebel Games' "Doctor Who Infinity," which was named winner of the 2018 UKIE UK Game of the Show Award at the Games Development Conference in San Francisco; films such as "Journey's End" and "Their Finest" have used Wales as a backdrop to tell their stories.
According to Trade and Invest Wales, 'the creative industries in Wales employ around 50,000 people, generating a £1.6 billion annual turnover'. Needless to say, now is the time to recognize the abundance of opportunities for emerging professionals.
To get a sense of how someone just starting out can make the most of the industry, BAFTA Cymru—which arranges around 100 events a year to celebrate Welsh talent and inspire the next generation—offered five tips on pursuing a career in the exciting areas of film, TV, and gaming.
1. Create your own network.
The stats are clear: making your way in the industry is much easier if you're connected and networked to the max. Creating your own network that's relevant to what you want to do is easier than you might think, especially in a country of only three million people.
Attend events; join membership organisations; reach out to anyone you've seen in the credits of your favourite programmes and films via social media to express your admiration—all doable.
2. Make your own luck.
When you know what area of the industry you want to work in, you need to create your own luck and then not mess things up. Each professional you speak to will have a different career journey, but the overriding factor is being in the right place at the right time and then impressing the person you need to impress.
Say you're at a screening and you love the project. Ask a question during the Q+A. Approach the producer who answered your question after the event. Ask if it would be possible to shadow him or her on their next project or offer to buy them a coffee for some general advice. You'll almost always get a 'yes'.
3. Be the best you can be.
Are you up to date on the latest technological changes? Funding structures? What's being made locally? Are you plugged into networking gatherings? Ask yourself questions daily about what you're doing and what your strengths are, then find a way to improve those skills. Practice your elevator pitch, that one-sentence about your work that will hook someone should a chance meeting occur. Be honest. Acknowledge the areas you need to work on; humility is endearing and the Welsh like to help each other be the best they can be.
4. Promote yourself.
Cringe. 'Make a fuss about me? Put myself up for an award? Big myself up in a conversation?!' Do it. Don't rely on other people to shout about how brilliant you were on your last project. The industry relies on word of mouth recommendations— if you put facts in people's minds about what you've done recently, it's easier to get that information passed on. Make all your contacts impromptu unpaid agents.
5. Continue to push yourself.
Never rest on your laurels; there are always people looking for their next opportunity. Within reason, be available when asked, say yes to all opportunities, and reflect on what you gained from each encounter and experience. Sometimes the things you say yes to take you in an exciting and unexpected new direction.
BAFTA Cymru hosts 100 events a year with Welsh talent, including nominees and winners. The Welsh branch of the charity also hosts the annual British Academy Cymru Awards every October and welcomes applications for membership year round, from student and career starter to professional levels.
Guru Live, the first one-day festival bringing the online guru offering to Cardiff, will take place on 28 April and will include sessions with the creatives behind 'Peaky Blinders, 'Sherlock, 'Wonder Woman, 'Suffragette, 'Doctor Foster, 'Fantastic Beasts and Where to Find Them, 'Love Island, 'Blue Planet, and many, more. Tickets are £6 per session and 1-2-1 advice sessions and a networking wrap party are also available.
Check out Backstage's London audition listings!