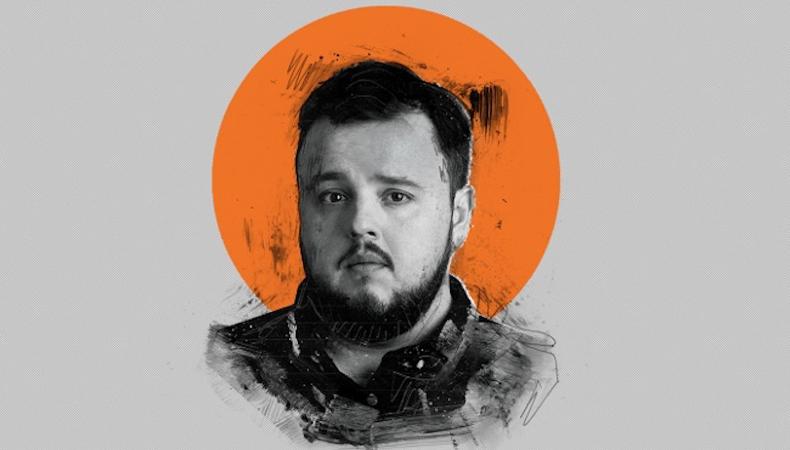 John Bradley, the lovable Samwell Tarly from HBO's TV phenomenon "Game of Thrones," readily admits to being lucky. "Thinking back on it, we could not have predicted the global scope of the show. But seven seasons later, here we are," he says. We grabbed a few minutes with Bradley to discuss having faith in yourself and why it's nice not to play the hero.
What has working on 'Game of Thrones' added to your acting skills?
It is such a fantastic opportunity—not just "Game of Thrones," but long-form TV in general—to play a character across such a broad spectrum. To do it across 90 minutes of a film is enough, but we've played these characters across 70 hours of TV! [It's a gift] having a character you think you know really well but putting them under the microscope [for several years]. Season 1 Sam is nowhere near Sam in Season 6. I'm constantly surprised how he reacts in different circumstances. It's a real privilege.
What special skills do you have listed on your résumé?
There's nothing like the joy of playing a character who's terrible at everything except reading, one who can't ride a horse or wield a sword or fight. Then it's kind of a free pass, because you [as an actor] only have to learn to be bad at them. Believe me, if learning to be bad at something were the goal… It's nice to play the hero, but he's probably thinking of me in the back reading while he's doing stunt rehearsals.
What advice would you give your younger self?
Being a shy young man with self-esteem issues, I had a lot of psychological boundaries to get over. But you have to trust other people's faith in you, that their beliefs might not be misplaced. When you think, They could have chosen anyone, but they chose you, that kind of affirmation makes you bulletproof. I was very nervous about being able to do the job [on "Game of Thrones"]. But our showrunners had enough faith in me that I could do it.
What is your worst audition story?
The moment in an audition when you're not thinking about the character but trying to gauge tiny reactions in the room—that's when things go wrong. I've been performing monologues in auditions where I'm trying to do a cold read and noticing little twitches and smiles, or thinking, Why are they writing that down now? I've found myself in the past being sidetracked by that kind of self-sabotage.
What movie should every actor see?
Anything with Stan Laurel and Oliver Hardy. Just watch them and how they managed to get something out of every second of screen time. There's no dead space. They were always doing something, always alive. If you look very closely at Stan Laurel when he's looking at Oliver Hardy, he's always looking above the eyes—at his forehead or hat, to make the character look bigger and more imposing. Those little bits of detail are always fascinating.
I think entertaining people is sometimes sidelined in acting. It's got to be entertaining, first and foremost. I think of Jack Nicholson in "One Flew Over the Cuckoo's Nest" and "The Shining"; these are quite dark subject matter, but what you find with Jack is, he wants to light the screen up and put on magical performances. He's one of the most watchable actors of all time.
WATCH: 11 Actors Nailing Their 'Game of Thrones' Auditions
How did you get your Equity card?
We were invited to join Equity as students when I was in drama school. It was [this opportunity] to join this band of artists, to know if you get into difficulty, you have these peers to help you out. You really feel included. Getting that card feels like you are contributing to your community and standing shoulder to shoulder; you feel like part of the rank there. It's all the same thing as being part of Night's Watch!
What advice would you have for U.K. actors looking to come stateside?
I think if that's what you want to do, you couldn't pick a better time to do it. Look at the number of British actors playing leads [as Americans on TV]. But do your homework, especially on accents. One thing we find hard about American accents is the Northern English accent is very lazy—quite flat in the mouth. So many American accent accents are alive and muscular and physical in the mouth, and that can be very exhausting.
What's your best advice for young actors?
You want to be able to impart some advice, but the only advice I can give is "Be incredibly lucky." I'm perfectly willing to acknowledge that a lot of luck is involved, but you also have to possess the skills when someone is looking for those skills. It's about timing. Actors are always looking for excuses to be paranoid. You think, "I don't work as hard as that guy," or "Am I lacking some kind of life experience that will help me down the line?" I have not really struggled [as a professional actor], and I think that struggle provides some character and insight.
Inspired? Check out Backstage's TV audition listings!