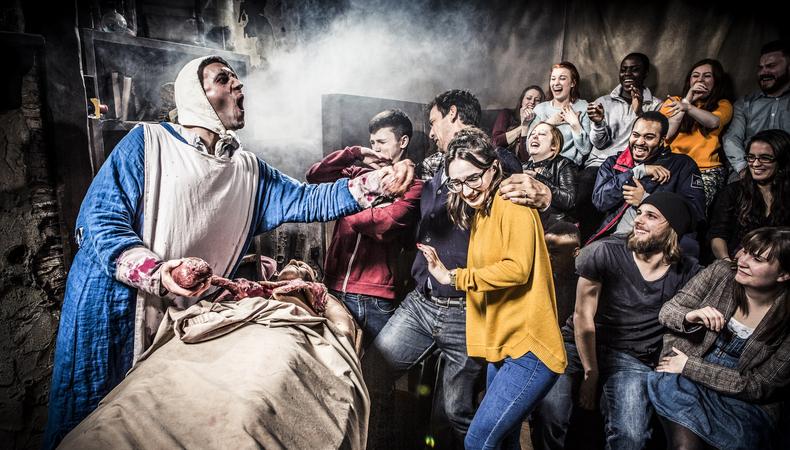 These projects are casting for talent in the UK right now, so sharpen your self-taping and audition skills and get busy.
London Dungeon casting now
Merlin Entertainments is recruiting new actors to join its shows at acclaimed attraction London Dungeon. The team are seeking outstanding character actors with understanding of voice control, the ability to take direction, and deliver high standard shows. Any unusual performance skills are a bonus. Roles are varied and include infamous real life characters, like Guy Fawkes and Mrs. Lovett. Performers of any ethnicity, gender, and body size are encouraged to apply. Contracts run for six months, including weekends, bank holidays, and peak holiday season.
Check out the casting notice for more info and to apply now.
Theatre in Education EU season
A Europe-wide tour of innovative TIE shows from Pickles is casting for performers. The season includes shows for young pupils aged 11–14, plus a show for 15+, and workshops. Performers must be native English speakers, trained actors, and dynamic and versatile performers. Also seeking musicians and strong vocalists. The project rehearses in Belgium and tours from November until May 2023. Roles are paid €8,000 for an estimated 20 weeks of work, plus accommodation and transport.
Head to the casting notice for more details and to apply now.
Student film casting lead
MetFilm School short project Phone. Wallet. Keys. is an existential horror shot in POV, showing a character slowly succumbing to the influence of drugs and alcohol. Lead role X is any gender, playing age 18–25, and any ethnicity. The story explores sensory overload and social anxiety, the team are actively seeking a performer who is neurodiverse and/or gender nonconforming. The project shoots in late August/ early September and is paid.
Head to the casting notice for more info and to apply now.
Extras with unique features needed nationwide
Castings Collective is seeking extras with individual, striking, and unique faces for a shoot this autumn in London and the South East. The team are actively casting people with facial scars, birthmarks, beards, long hair, or large features. Performers can be any age 18+, any ethnicity, and based anywhere in the UK. You'll need a valid NI number and the legal right to work. Roles are paid £100–300 per day.
Head to the casting notice to apply now.