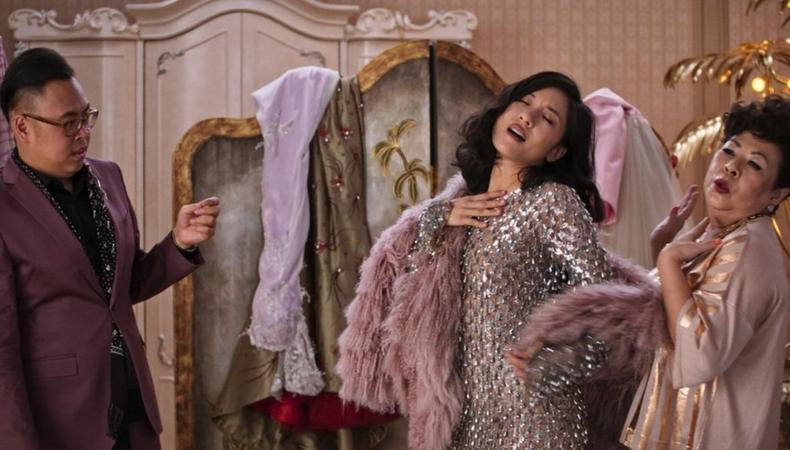 Greenlit means a project is officially a go, so all you have to do is follow these leads to stay up to date. You never know where you'll find an opportunity to land an audition!
"Crazy Rich Asians"
"Crazy Rich Asians" is this summer's hottest film, and the studios know it. So it is no surprise that Warner Bros. is already developing the sequel, with screenwriters Peter Chiarelli and Adele Lim and director Jon M. Chu all returning. The studio will still technically have to give the film an official greenlight once the script is in place, but the rights for both book sequels "China Rich Girlfriend" and "Rich People Problems" were already acquired before "Crazy Rich Asians" hit theaters, and the public interest is already there—the film has dominated the box office two weekends in a row. Once a script is in place and the studio inevitably goes forward with a full production, it's likely Chu and Co. will bring back casting director Terri Taylor for the sequel, which will probably add new characters to the existing all-star cast.
"Jan. 22nd"
With her series "Chewing Gum" either on hold or completely done, Michaela Coel has secured her next project, and one on a timely topic. Coel will write and star in a drama for the BBC currently titled "Jan. 22nd" that explores the issue of sexual consent. Coel will play Arabella, whose experience and issues with consent are at the heart of the story. There's no word yet when production will begin or who is casting the project, but Coel used Jane Ripley and Nadira Seecoomar for casting on "Chewing Gum" and it's always possible she could return to the duo for this new series.
"Fair and Balanced"
John Lithgow has already shown his range, from his role as the Trinity Killer on Showtime's "Dexter," to playing real life icon Winston Churchill on "The Crown," with so many more notable roles in between. Soon, he will be moving onto another portrayal of a well-known factual person: Roger Ailes. Lithgow has been tapped to join the upcoming movie "Fair and Balanced," which details the years of sexual harassment at the Fox News Network that came to light and ended his career. Lithgow will join an already star-studded cast, with Nicole Kidman playing Gretchen Carlson, Charlize Theron as Megyn Kelly, and Margot Robbie as a fictional Fox News associate producer. Jay Roach will be directing the feature. Roach has already dipped into both the biopic and political arenas, with previous features "Trumbo" and "The Campaign." He has used different casting directors for both, though, so this will be a wait-and-see for future additional roles.
"Mrs. Fletcher"
HBO has given the go-ahead to its next big comedy series: "Mrs. Fletcher," starring Kathryn Hahn. The series, a dual coming-of-age story, explores the impact of internet porn and social media on the lives of an empty-nest mother (played by Hahn) and her college freshman son (played by Jackson White). "Mrs. Fletcher" joins a run of recently-successful pilots, following "Euphoria" and "Watchmen," all which have been given a series pickup in the past month. As the series moves forward, Brittany Gischner at Central Casting has been doing background casting for the pilot, and there should be plenty more opportunities to get involved.
"Bewitched"
Reboot and revival fever continues. The newest old addition to the current trend will be "Bewitched," which has just received a commitment at ABC from "Black-ish" creator Kenya Barris. The reboot, written by Barris and Yamara Taylor, of the popular 1960s sitcom of the same name, will feature an interracial family led by Samantha, a hard working Black single mom who happens to be a witch, and her husband Darren, a White mortal who happens to be a bit of a slacker. Casting has yet to be determined, nor has a casting director, but "Black-ish" uses Alexis Frank Koczara. With both Barris and Taylor on board, Koczara could be, too.
"The Hello Girls"
59E59 Theaters has unveiled its fall lineup, which, in addition to the Off-Broadway premiere of Erin Mallon's "The Net Will Appear" and an adaptation of Kurt Vonnegut's "Mother Night," will also include the new musical "The Hello Girls." The show, covering multiple genres from ragtime to jazz, will be set in New York and Paris and tell the story of the bilingual American telephone operators who worked during WWI. Directed by Cara Reichel with choreography by Christine O'Grady, the show will run from Nov. 13–Dec. 22, with rehearsals beginning mid-October. Though a casting notice has already run, casting has yet to be announced so there may be future opportunities, including ensemble, still available.
Looking to get cast? Apply to casting calls on Backstage.