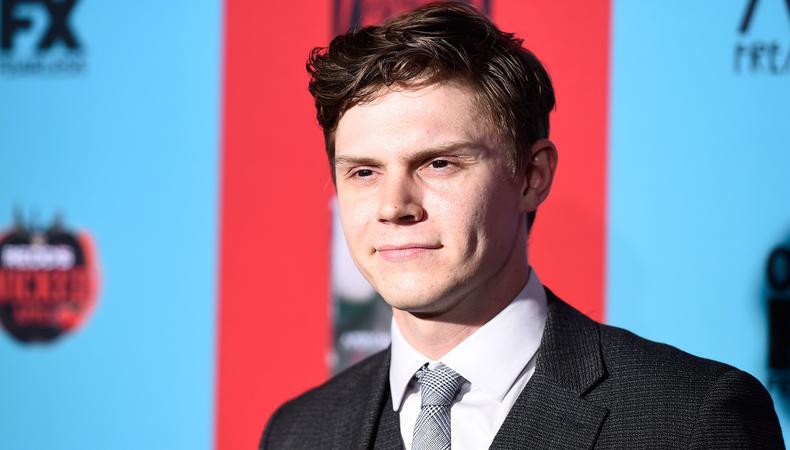 Greenlit means a project is officially a go, so all you have to do is follow these leads to stay up to date. You never know where you'll find an opportunity to land an audition!
"Monster: The Jeffrey Dahmer Story"
Ryan Murphy is heading into familiar territory: a horror series starring Evan Peters. The "American Horror Story" actor will lead Murphy and Ian Brennan's "Monster: The Jeffrey Dahmer Story" for Netflix, playing the titular role. Niecy Nash (who starred in Murphy and Brennan's 2015 series "Scream Queens") has also joined the cast as the show's female lead, Glenda Cleveland, a neighbor of Dahmer's who alerted police and the FBI of Dahmer's suspicious behavior, but they did not listen. Additional cast members include Penelope Ann Miller, Richard Jenkins, Shaun Brown, and Colin Ford. "Monster" will tell the story of Dahmer through the eyes of his victims, examining Dahmer's white privilege and the law enforcement involved with a critical lens, depicting at least 10 times that Dahmer was apprehended by police but not prosecuted. Carl Franklin is set to direct the pilot episode of the 10-episode limited series, and Janet Mock will also write and direct several episodes. Regular Murphy collaborators and "American Horror Story" casting team Ulrich/Dawson/Kritzer are the casting team behind "Monster."
"The Man Who Fell to Earth"
The upcoming "The Man Who Fell to Earth" series has identified three new lifeforms. Naomie Harris, Jimmi Simpson, and Clarke Peters are the latest to join the cast of the project that will star Chiwetel Ejiofor. The Showtime drama series, which is based on the Walter Tevis novel and the 1976 David Bowie-led feature, will follow "a new alien character (Ejiofor) who arrives on Earth at a turning point in human evolution and must confront his own past to determine our future." Simpson will reportedly play Spencer Clay, a CIA agent whose obsession with the alien's true identity drives him to the edge of madness, and Harris will play Justin Falls, a brilliant scientist and engineer who must conquer her own demons in the race to save two worlds. Production is scheduled to begin in London this spring for a 2022 premiere on Showtime. Alex Kurtzman and Jenny Lumet will write and executive produce the series and also serve as co-showrunners with executive producer John Hlavin.
HBO Los Angeles Lakers Series
It's nothin' but net for casting director Francine Maisler with the latest additions to HBO's upcoming series depicting the 1980s Los Angeles Lakers. Jason Segel and Bo Burnham have joined the currently untitled series that will follow the personal and professional lives of the players in the Showtime Era. Segel will play Shakespeare professor-turned-assistant Lakers coach Paul Westhead, and Burnham will play legendary player Larry Bird. They join an all-star cast that so far includes Adrien Brody, Sally Field, Michael Chiklis, John C. Reilly, Jason Clarke, Quincy Isaiah, Solomon Hughes, Gaby Hoffmann, Hadley Robinson, DeVaughn Nixon, Molly Gordon, Rob Morgan, Spencer Garrett, Kirk Bovill, Delante Desouza, Stephen Adly Guirgis, Tamera Tomakili, and Joey Brooks. Max Borenstein serves as writer and executive producer, and Adam McKay directed the pilot and executive produces through Hyperobject Industries.
"Shazam! Fury of the Gods"
Helen Mirren has reportedly closed a deal to play the villain Hespera in the upcoming New Line and DC Films feature "Shazam: Fury of the Gods." The film will be a sequel of the 2019 hit film with Zachary Levi set to reprise his role as Shazam. Rachel Zegler ("West Side Story") has also recently joined the film, which will continue the story of Billy Batson "who, upon reciting the magic word "SHAZAM!" is struck by the Living Lightning of the gods and transformed into his adult superhero alter ego." David F. Sandberg will return to direct from a screenplay by Henry Gayden. Rich Delia was the casting director on the first film. "Shazam! Fury of the Gods" is due out on June 2, 2023.
"Brzrkr"
In other comics-related news, Keanu Reeves' "Brzrkr" will land on both the big and small screens. The co-author and co-creator will now also star in and produce a live-action film and will also produce and voice an anime series adaptation of his BOOM! Studios comic series for Netflix. Described as a "brutally epic saga about an immortal warrior's 80,000-year fight through the ages," "Brzrkr" follows "B," a half-mortal, half-cursed and compelled to violence who works for the U.S. government to fight the battles too violent and dangerous for anyone else. The new projects will reportedly be an expansion on a 12-episode limited series Reeves had been developing for a number of years. The live-action film adaptation is set to be released first, with the anime series to follow. Reeves will also reprise his role in the series and voice his character.
Looking for remote work? Backstage has got you covered! Click here for auditions you can do from home!