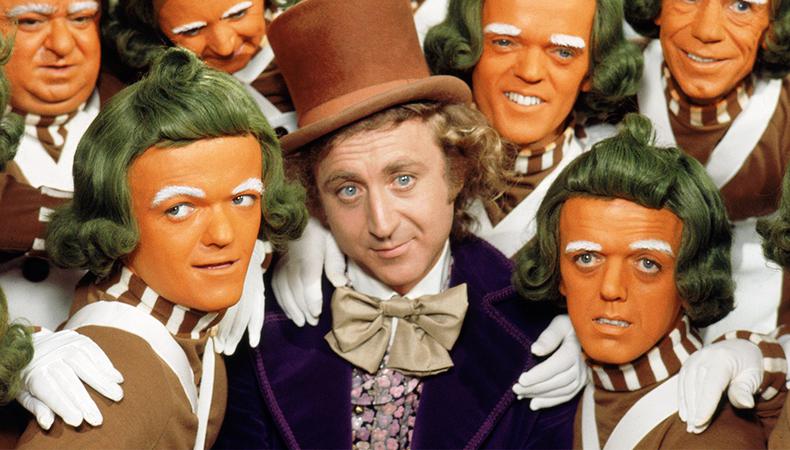 For those working in the film and performing arts industry, greenlit is a term everyone wants to hear. It means a project is officially a go and therefore is a great place for actors to find new casting opportunities. All actors have to do is essentially follow the leads.
So, what's in the works for this week? Easily stay up to date with projects that have been approved by checking out our Greenlit series below. We update the article every Monday to include breaking news when it comes to what's in development and who's casting them!
"Wonka"
A growing cast of stars has found themselves in a world of pure imagination. Joining the cast of the upcoming "Wonka" prequel/origin story film are Sally Hawkins, Rowan Atkinson, Olivia Colman, and Jim Carter, per Deadline. They join the previously announced star Timothée Chalamet, who will play the titular chocolate factory owner, as well as Mathew Baynton, Tom Davis, Simon Farnaby, Rich Fulcher, Kobna Holdbrook-Smith, Paterson Joseph, Keegan-Michael Key, Calah Lane, Matt Lucas, Colin O'Brien, Natasha Rothwell, Rakhee Thakrar, and Ellie White. Paul King is directing from a screenplay he wrote with "Paddington 2" co-writer Simon Farnaby (with prior writers including Simon Rich, Simon Stephenson, Jeff Nathanson, and Steven Levenson). Additionally, Neil Hannon of The Divine Comedy will write original songs for the feature. Filming has reportedly begun in the U.K., and the pic is scheduled to come out on March 17, 2023.
"Washington Black"
Variety reports that Hulu has given the green light to a series adaptation of the novel "Washington Black" with Sterling K. Brown set to star and executive produce. The go-ahead comes after the project received a script commitment with a penalty back at Hulu in September 2019. Based on the Esi Edugyan novel of the same name, the nine-episode series follows the 19th-century adventures of George Washington "Wash" Black, an 11-year-old boy on a Barbados sugar plantation, who must flee after a shocking death threatens to upend his life." Selwyn Seyfu Hinds will write the adaptation and serve as executive producer, and Brown executive produces under his Indian Meadows Productions banner. Says Brown, "Washington Black inspires me! This young man and the adventure he undertakes remind me of how the power of imagination and the creativity of artistry can transform the world in which we live. Selwyn Seyfu Hinds has taken the transcendent words of Esi Edugyan and created a spectacular universe that brings to fruition the power of possibility." "Washington Black" is the first TV series for Indian Meadows and the first TV starring role for Brown since it was announced that "This Is Us" is coming to an end with its sixth season. No further casting has been announced at this time.
"Boston Strangler"
Reported first by Deadline on Monday, 20th Century Studios has tapped Keira Knightley to star in the true-crime drama "Boston Strangler." Matt Ruskin ("Crown Heights") will direct with Ridley Scott and Kevin Walsh of Scott Free producing alongside LuckyChap Entertainment. The film will follow Loretta McLaughlin (Knightley), the first reporter to connect the infamous Boston Strangler murders and break the story of the Strangler. Filming is scheduled to begin this December in Boston. No further casting has been announced at this time.
"Sister Act 3"
Deadline also confirms that Tim Federle ("High School Musical: The Musical: The Series") has been brought on to direct, and playwright Madhuri Shekar ("Evil Eye") will write the upcoming third installment of the "Sister Act" franchise. Whoopi Goldberg will reprise her role as Deloris, the nightclub singer turned nun, and will also produce the pic along with Tyler Perry. Details for the new installment are unknown at this time, but Federle has garnered recent success with the "High School Musical" series and his upcoming Disney+ feature, "Better Nate Than Ever," starring Lisa Kudrow.
"The End"
In more movie-musical news, Tilda Swinton, George MacKay, and Stephen Graham will reportedly star in "The End," a new musical about the last human family, via Variety. The film will be directed by Joshua Oppenheimer ("The Act of Killing") and will be released in North America by "Parasite" studio Neon. No further details about the project are known, but production is scheduled to begin in 2022.
"The Woods"
While J.K. Simmons has made a career of playing villains and anti-heroes, the veteran actor and Oscar winner has actually signed on to play a beast of a different kind. According to Deadline, Simmons, Allen Leech, Isabelle Anay, and Fernanda Urrejola have signed to star in the thriller "The Woods." The film centers on a teenage girl suffering from anxiety due to a tragic event from her past who finds herself hunted through the woods by a sociopath on a murderous rampage. Says Simmons, "I didn't want to play any truly scary bad guys when our kids were young, partly because of how it might affect them if they saw the film and also because I didn't want to bring that energy home with me after an intense day on the set," but that has changed now that his children are adults. Michelle Schumacher will direct from a screenplay she co-wrote with Carolyn Carpenter, and Randle Schumacher will produce for Rubber Tree Productions.
Netflix/Russo Brothers Heist Movie
While "Bridgerton" fans are free to still mourn the exodus of breakout star Regé-Jean Page, they may find comfort in a new Netflix project. Deadline reports that the streamer and the Russo Brothers' AGBO banner are reuniting to make an untitled heist movie from "Fargo" creator Noah Hawley starring Page. Plot details are being kept under wraps, which is based on an original idea by Hawley. Hawley in addition to directing and writing will produce for 26 Keys. Netflix and AGBO made the Joe Russo-written movie "Extraction," which currently has a sequel in progress. Sarah Finn was the casting director for that film; a casting director for the new heist thriller has yet to be announced.
"Shōgun"
The cast of the upcoming FX limited period drama series "Shōgun" has finally been announced. According to Deadline, Anna Sawai, Hiroyuki Sanada, and Cosmo Jarvis will play the three series leads in the project based on the best-selling novel by James Clavell. Additionally, Tadanobu Asano, Fumi Nikaido, Tokuma Nishioka, Takehiro Hira, Ako, Shinnosuke Abe, Yasunari Takeshima, Hiroto Kanai, Toshi Toda, Hiro Kanagawa, Nestor Carbonell, Yuki Kura, Tommy Bastow, Moeka Hoshi, Yoriko Doguchi, and Yuka Kouri round out the ensemble cast in the project, which tells the story from both a Western and Japanese perspective. Jonathan van Tulleken is set to direct the first two episodes from scripts by Justin Marks and Rachel Kondo, "Shōgun" is set in feudal Japan and "charts the collision of two ambitious men from different worlds and a mysterious female samurai: John Blackthorne (Jarvis), a risk-taking English sailor who ends up shipwrecked in Japan, a land whose unfamiliar culture ultimately will redefine him; Lord Toranaga (Sanada), a shrewd, powerful daimyo, at odds with his own dangerous, political rivals; and Lady Mariko (Sawai), a woman with invaluable skills but dishonorable family ties who must prove her value and allegiance." Production is now underway in Vancouver.