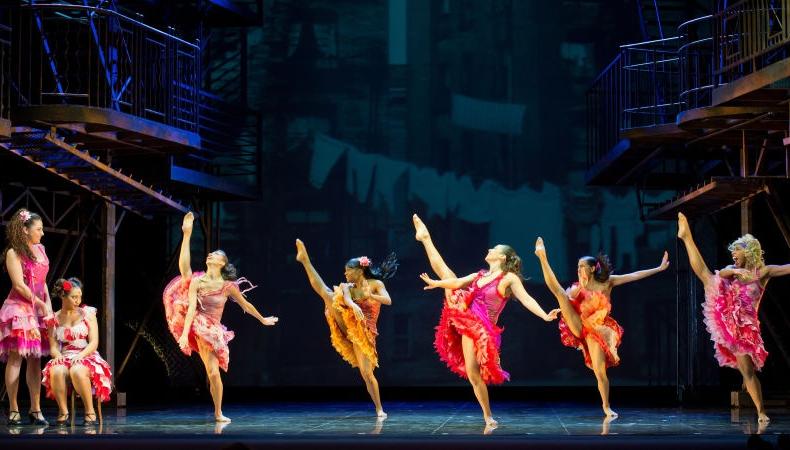 Greenlit means a project is officially a go, so all you have to do is follow these leads to stay up to date. You never know where you'll find an opportunity to land an audition!
"West Side Story"
Something's coming, something good. Announced last week, Leonard Bernstein and Stephen Sondheim's "West Side Story" will once again return to the Broadway stage with a new revival from director Ivo Van Hove. The last revival, in 2009, featured Spanish translations from Lin-Manuel Miranda, and this one will feature all new choreography. This will be Van Hove's first Broadway musical, though the director has previously helmed the Tony-winning play "A View From The Bridge" and "The Crucible," as well as the Off-Broadway staging of David Bowie and Enda Walsh's "Lazarus." The revival will be produced by Scott Rudin and casting has yet to be announced, but as always for Broadway musicals, Telsey + Company and Tara Rubin are strong contenders to do the honors. Keep an eye out for open calls, especially for Latinx talent.
"Game of Thrones" Spin-Off
"Game of Thrones" fans are suffering from withdrawal as the hit HBO series is currently on an extended hiatus before its final season. But while the show takes a year off, production for the "Game of Thrones" prequel spin-off is about to begin. The project is set to start filming in Belfast in October, and, according to creator George R. R. Martin, none of the characters in the current series will appear in the new show, giving plenty of casting opportunities to actors looking to join the franchise. Nina Gold has been casting the original series since the start, so she might stay on to continue to populate the world of Westeros for the spin-off, as well as additional "Game of Thrones"–related projects that are in the works.
"Star Wars IX"
Now that the famed Lando Calrissian has made his way back onto the screen with the recent "Star Wars" standalone film "Solo," detailing his meeting and choice encounters with Han Solo, it's time for the smuggler-turned-Rebel-Alliance-general to show his face in the present day. Billy Dee Williams will return to the galaxy far, far away and join the upcoming "Star Wars: Episode IX," reprising his original role as Calrissian. "Episode IX" will once again be directed by J.J. Abrams, who takes back the helm from Rian Johnson, and is scheduled for release on December 20, 2019. Mary Gail Artz will serve as the casting director for the final installment in the new trilogy, likely with input from Nina Gold.
Joaquin Phoenix "Joker" Origin Movie
If you've been following the wide world of the superhero cinematic universes, you've heard that a standalone Joker film starring Jared Leto is in the works. But that was apparently not enough for Warner Bros., who announced last week they are also producing an origin film for Joaquin Phoenix's Joker, set to begin shooting in September in New York City. Todd Phillips will helm the film and also co-wrote the script with Scott Silver. Mary Vernieu and Lindsay Graham led the casting for the latest appearance of the Joker in "Suicide Squad," so it is possible they will return for this film.
"Black Widow" Standalone Movie
Scarlett Johansson has just pulled out of the Dante "Tex" Gill biopic "Rub & Tug," but that doesn't mean she's got free time. It was just announced that Marvel will be going ahead with its Black Widow standalone film, officially directed by Cate Shortland. The feature will be set before the events of the first "Avengers" movie and will be Marvel's second female-driven film after the upcoming "Captain Marvel." Sarah Finn has been the casting director for all the Marvel movies, so keep an eye on her door as she beings to build the prequel world of Black Widow.
"The Nevers"
Joss Whedon is finally coming back to TV. HBO has recently given a straight-to-series order for the new Victorian drama "The Nevers," a sci-fi drama about a group of women "who find themselves with unusual abilities, relentless enemies, and a mission that might change the world." Whedon will put on all his hats and serve as writer, director, executive producer, and showrunner on the series. This will be his first full TV project since Fox's "Dollhouse" ended in 2010. Anya Colloff has been the CD on all of Whedon's major TV projects, so expect her to make a return for his latest.
"Downton Abbey" Movie
The Abbey is getting even bigger this summer. Focus Features and Carnival Films will team up to begin production on a "Downton Abbey" film this summer, with nearly all the principal cast, including Maggie Smith, Michelle Dockery, Hugh Bonneville, and more set to reprise their roles. Creator Julian Fellowes has written the film's screenplay, and the series' premiere episode's director Brian Percival will helm. Plot details and the film's timeline are currently being kept under wraps, but expect the series CD Jill Trevellick to fill the movie cast ahead of a shoot that will begin this summer.
Looking to get cast? Apply to casting calls on Backstage.