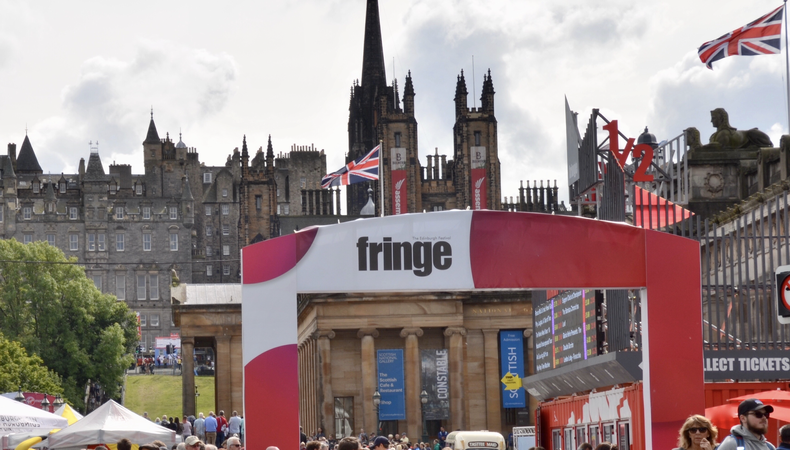 Developments in the business of acting are not always front-of-mind for time-pressed creatives, yet can have a major impact on how their careers develop. That's why we've created The Business, a series to help UK actors and performers stay updated on the key stories that will affect the nuts and bolts of their professional lives. This week, black performers and artists get a boost to help them make it up to the Edinburgh Festival Fringe; find out more about the aspiring actors who've won £300,000 in scholarships and how to apply; Scotland helps artists keep touch with Europe; the mayor of London launches creative enterprise zones throughout the capital and the ENO announces free tickets for under 18s.
Groundbreaking award to tackle the barriers faced by black artists at the Edinburgh Fringe
Sheffield-based black theatre company Eclipse has partnered with renowned Edinburgh venue Summerhall to support black artists bringing work to the fringe. The Eclipse Award aims to help black artists and black-led theatre companies achieve the "notoriously difficult but life-changing step" of producing a run at the Edinburgh Festival Fringe. The £10,000 cash bursary has been backed by actors Noma Dumezweni, Rakie Ayola and Danny Sapani who hope the award will break down the barriers faced by minority ethnic artists at the fringe.
As well as a £10,000 cash injection, the first-of-its-kind award includes a range of marketing, press and technical support – all designed to smooth the process of taking a show to the Edinburgh Fringe in 2019. In a statement Eclipse said: "Despite Brian Logan's claim in 2015 that the festival is 'more diverse than ever', comedian Sophie Duker noted this year that the festival's audience is largely white middle class and it is increasingly expensive for performers to attend, particularly those from a black or minority ethnic background."
Patron Noma Dumezweni, currently reprising her role in Harry Potter and the Cursed Child on Broadway, said: "It's fantastic to see an established company like Eclipse continually opening doors for black artists and pushing to make the theatre industry more representative of the whole of society. Being a part of the Edinburgh Fringe was a major milestone in my career. I'm really pleased to be a patron to this award and to offer my support to the next generation of young black artists."
Eclipse artistic director Dawn Walton described the fringe as a "huge springboard."
She added: "With the Eclipse Award we are hoping to both highlight and remove some of those barriers by providing an opportunity that includes a package of financial support as well as care and advice throughout the process." Applications are open now to black artists and black-led companies based in the UK outside Scotland.
The Stage Scholarships 2018 award £300,000 worth of training
The full list of winners of The Stage's Scholarships 2018 was announced last week, with eighty aspiring performers aged from 11 to 26 part or fully funded on training courses across the country. Running for over 30 years and now awarded in partnership with 12 schools and colleges, more than £300,000 worth of tuition was given to this year's winners, taking up places at everything from summer schools to prestigious drama schools and training academies. Previous scholarship winners include 2004 winner Jordan Laviniere, currently appearing in West End hit Everybody's Talking About Jamie, and Dirty Dancing star Kira Malou.
Winners come from a range of backgrounds and from across the UK. This year included Meghan Smith, 22, from Cardiff, and Lisa Gilroy, 25, from Edinburgh. Both were awarded 50% scholarships for Fourth Monkey's two-year accelerated actor-training programme after completing the school's foundation course. Smith told The Stage that she'd auditioned for drama school every year since she was 18 and not got in. "For a long time I tried to squeeze into boxes that I didn't fit into. But then I found Fourth Monkey and it felt so right. I had finally found a place where the training suited me." Gilroy began acting at 22 after an English Literature degree, becoming involved in Scottish Youth Theatre. "Then I had an epiphany and I realised I really wanted to be an actor." She described the scholarship as more than just money: "Having only really acted for three years, for someone to have the confidence in me to pay for a year of training is huge."
26-year-old Zain Siddique, formerly working in marketing, received a full scholarship for an intensive acting course with Arts Ed. She told The Stage: "I kind of fell into marketing after university. It was never an intention of mine and acting has always been at the back of my head. Then, at the start of this year, I had an accident and had to spend some time in hospital [...] I had a lot of time to re-evaluate things, and I realised I needed to pursue acting because it's what I really love."
The Stage usually launches scholarship rounds in January and awarded them throughout the year with partners around the country. For more information, including how to apply, go to The Stage Scholarships.
In Brief
Scotland funds connections with Europe
The British Council Scotland and Creative Scotland are seeking proposals for £100,000 worth of funding for individuals and organisations in the Scottish arts sector looking strengthen relationships with counterparts in Europe. Hoping to build on existing connections between Scotland and Europe, the fund will encourage and facilitate cultural exchange between nations – something that the British Council Scotland say is "currently of particular concern." Applications are open now.
Read more here.
Mayor launches London creative zones
The mayor of London Sadiq Khan has announced the capital's first six creative enterprise zones, awarding £11 million in funding to support artists and businesses across the capital. Spread across seven boroughs, the zones aim to support artists establishing themselves in local areas, developing skills and job opportunities for local people. Including Brixton, Croydon, Hackney Wick and Fish Island, the creative enterprise zones plan aims to create more than 3500 jobs, 1000 education opportunities and 40,000 square metres of affordable workspace for artists.
Read more here.
ENO launch free tickets scheme
The English National Opera, based at the Coliseum in the West End, is to give free tickets to under-18s every Saturday night for the whole of their 2019 spring season. Described by the ENO as a "seismic leap forward," the initiative is part of a plans to encourage younger audiences and to make them "passionate, rowdy, excited and transfixed" by opera. Free seats will be available for productions including Akhnaten, La Bohème and The Merry Widow. The free ticket scheme will run alongside Access All Arias, an initiative offering full-time students or those aged 16 to 29 the best seats in the house for £30 or less.
Read more here.