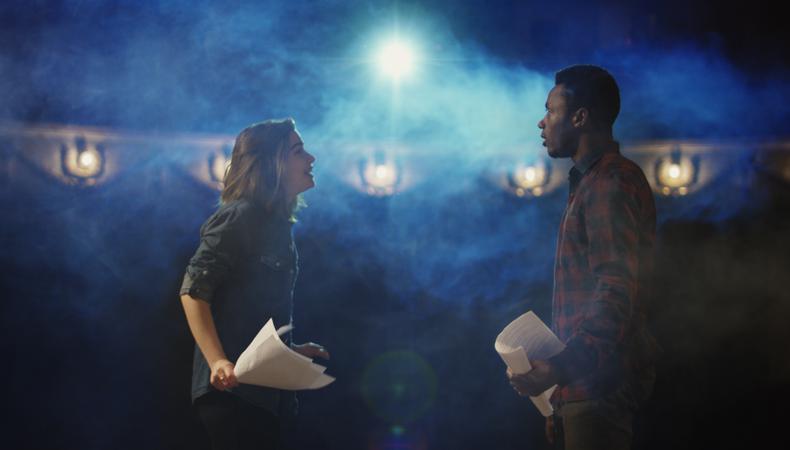 When working as an actor, there are no performance appraisals, no roadmaps for climbing the ranks and no annual pay reviews. Even the most successful actors are still living one job to the next—unsure of what the next five years or even five months will bring. So in a profession as precarious and changeable as acting, it pays to join an organisation that has your back. As the saying goes, there's strength in numbers. By joining forces with other actors, performers and professionals in the entertainment industry, you can access training, negotiate better working conditions, find out about new roles and get legal advice. Being part of a professional guild can also help you feel less alone—whether that's chatting in an online forum or clinking glasses at a networking event.
Equity
Equity is the main trade union for actors and performers in the UK and something of a grand dame in the industry. It was founded in 1930 – the same year that Sir Laurence Olivier made his film debut. It has a long history of fighting for the rights of performers and promoting fair and equal practices in the entertainment industry. Today, members benefit from union representation, free legal advice, and public liability insurance. Equity also continues its campaigning role. They recently campaigned for equal representation of women on TV (for every female character, there are two male ones). And their 'I can't pretend' campaign highlighted the experiences of LGBT actors. To join, you will need to prove that you have worked professionally as an actor or have graduated from one of the UK's recognised schools for drama and performing arts. For an in-depth look at all entry requirements, read How to Join Equity If You're an Actor in the UK.
Membership: Equity operates a sliding scale based on your previous year's income. It starts at £136 a year, rising to £2,729 for those earning over £273,000. Student rates are available from £20 per year. Full rates are here.
READ: Do Theatre Actors in the UK Need to Join Equity?
The Actors' Guild of Great Britain
TAG was set up to provide low-cost ongoing professional training to actors. There are workshops on anything from vocal techniques to horse riding and opportunities to meet leading casting directors. Membership also gets you discounts with headshot photographers, casting services and accountants. To become a member, you need to have at least four professional credits in film, TV, radio or theatre.
Membership: From £12 to £24 a year (which falls to £20 for renewals).
The Actors Centre
The Actors Centre has been supporting actors for over 40 years. Sir Alec Guinness was one of its earlier patrons and today acting heavyweights such as David Harewood sit on the board. But you don't have to be an acting luminary to join. The Actors Centre operates a two-tier membership – premier and standard – depending on how much industry experience you have. Membership buys you access to acting workshops and you can even request your own bespoke training. And if you need a space to rehearse or even a studio to record an audition, they have that too.
Membership: £75 a year
Want to build your body of acting work? Check out our UK auditions.
Women in Film and Television (WFTV)
WFTV is open to any women working in the film and television industry in the UK. Its membership includes actors, directors, presenters, media lawyers, costume designers, and talent agents. It hosts regular free networking nights, workshops and events. You can attend workshops on how to build your confidence or question the producer of Downton Abbey on how she made the series. They also run a yearly mentoring scheme for mid-career women.
Membership: £120 a year (London) or £60 for those who live outside London.
Shooting People
If you are looking to get cast in a short film or are thinking about developing your own projects as a writer or director, then Shooting People is a great community to become part of. It started as the film industry underdog, an organisation dedicated to helping independent filmmakers connect with one another and get their projects off the ground. Their daily bulletins (that can be tailored to your personal interests) feature posts from filmmakers looking for actors, crew calls, competitions, and information about upcoming film events. There's also a lively discussion board where you can post questions or ask for advice from the SP community.
Membership: £39.95 a year
More for UK actors? Check out the magazine.