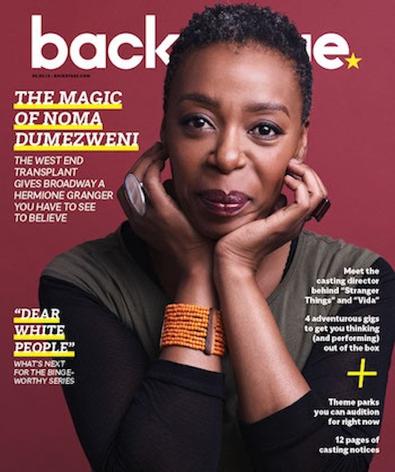 After years of astounding London audiences on the West End, Noma Dumezweni is making her Broadway debut as Hermione Granger in "Harry Potter and the Cursed Child"—and that's exactly where she's meant to be.
A self-proclaimed "huge talker," the two-time Olivier Award–winning actor (first for "A Raisin in the Sun" in 2006 and then again last year for "Cursed Child," before the play's transfer this season) and freshly minted Tony nominee speaks at such a clip that it's a wonder her mouth keeps pace with her racing—often hilarious and explicit, always astute and deliberate—thoughts. That makes it a bit surprising when our Friday morning March interview in Lower Manhattan, with the weather still dipping to freezing temperatures, culminates in a single, bracing lesson for actors at all stages of their career: "The ultimate thing that I'm saying is: Hold onto yourself and that journey might surprise you. Don't judge it. Let go of expectations. That's the biggest fucker: Let go of expectations. It's painful. You have to indulge in the pain for a moment, but don't sit in it; don't make it who you are. Surprise yourself. You can let the pain go sooner, and then the joy will come quicker and then the joy will come brighter…. You are where you're supposed to be, and sometimes it feels like shit, and sometimes it feels great. Be present, stop worrying. There's nothing for you to worry about. This is a lovely place to be."
While the practice of staying in the moment as an actor in the face of a creative career's inevitable highs and lows is a tall order, it's by her practice of mindfulness that one can chart Dumezweni's list of successes over the last few years alone.
It begins with Penny Skinner's "Linda" at the Royal Court in November 2015. The story of her starring turn as a last-minute replacement for Kim Cattrall is peppered with as much theater magic as anything her Hermione, Paul Thornley's Ron Weasley, and Jamie Parker's Harry Potter spin today in Manhattan's Lyric Theatre. Given less than a week between director Michael Longhurst asking her to step in for Cattrall and her first preview, Dumezweni walked out onstage those first performances with her script in hand and tore into a nearly three-hour show that showcased the 40-something Brit not as the character actor she'd previously been known as, but as a leading lady in her own right. The critics raved over what was called the "rescue mission of the year." "It's one of the most extraordinary, thrilling things I have ever done," Dumezweni admits.
While she was making the theater world buzz with "Linda," Dumezweni was already sitting on the news that she'd been cast in "Harry Potter and the Cursed Child" after months of workshopping the piece with playwright Jack Thorne, director John Tiffany, and "Harry Potter" scribe J.K. Rowling. Two weeks after her "Linda" opening, the announcement was made public and news of her groundbreaking colorblind casting made international headlines. A record-breaking run and an Olivier statue for best actress in a supporting role later, and she shows no sign of slowing. ("Cursed Child" has already broken single-week ticket sales records on the Great White Way, at over $2 million, and picked up 10 Tony nominations May 1.) In addition, between "Linda" and "Cursed Child," the Swaziland-born Dumezweni made her directorial debut with the South African–set "I See You" at the Royal Court. She chalks her unseemly string of work up to the fact that she's a working actor, and saying yes is just part of the job.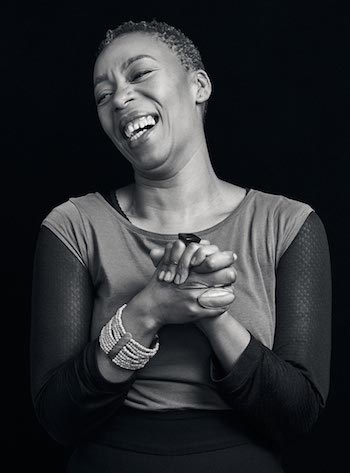 "I've been a jobbing actor, and then this experience comes in my 40s and my whole world shifts because of the context of the piece and the context of the character and the context of the production and the context of where we are in the world right now," she says. "It was this wonderful alignment of the stars because I'd said, 'Yes, yes, yes' in the moments where there was nothing to lose. I really believe that the universe had that planned, and it was up to me to say yes or no to it."
In the year between Dumezweni's Olivier win and Hermione, her cohort of wizards, and their spell-casting children swarming Broadway, an effort has been made across the board to keep the show's secrets airtight, including an ongoing #KeepTheSecrets social media campaign. Any hint of the adventures in store for theatergoers this season is kept under lock and key, even over the course of this interview. But Dumezweni remembers her first workshops standing in as Hermione simply as a means for her theater-making friends to edit and reconstruct their "Harry Potter" play, and nothing more. She never thought that, should the play see the lights of a West End stage—much less Broadway—she'd be cast as the fan-favorite character originated in the film franchise by Emma Watson. Having zero expectations made room for a sense of fearlessness in her approach to the material, but that, too, comes naturally with the territory of early stage readings and workshops. Dumezweni advises actors who find themselves fortunate enough to play in a reading to similarly leave their ego and expectations at the door, no matter the project.
"When it's a workshop, a reading, it's not about putting on a show," she says. "You are there to serve the question of what wants to be delivered that day. It's about solving a problem, because once ego is out of the way, it's, 'How do we serve this moment?' I love that. You're workshopping the thing, so there is no ego—and if there is, you're in the wrong room."
That's why it came as a pleasant surprise when Dumezweni found herself called back time and again for workshop after workshop, and a shock when she was told they wanted her for the real deal. But, she says, it soon enough became clear why she may have been the right Hermione all along.
"Yes, it's going to be an interesting choice, but I can see why the choice is being made," Dumezweni recalls thinking. "[Hermione] resonates with so many girls—and boys—who are not white, who are brown, yellow, red, black. You know what I mean? The world. And that's why those books work so brilliantly, because every individual who reads them goes, 'I know that.' That's what great storytelling is."
In the end, a storyteller is what Dumezweni prides herself on being. Whether it's on the London boards at the National Theatre ("President of an Empty Room," "The Hour We Knew Nothing of Each Other") or the Royal Shakespeare Company ("Breakfast With Mugabe," "Antony and Cleopatra," "Much Ado About Nothing"), at the Lyric Hammersmith ("A Raisin in the Sun") or now the Lyric Theatre in the heart of Times Square, what keeps this stage veteran coming back is the joy of interpreting rich material for audiences the world over. And for "Cursed Child" audiences, she's quick to add, that means approximately 60 percent first-time theatergoers. She and her co-stars have certainly cast their spell.
"The group of actors that the production's casting picked, they're just great actors, because no one can be above the name of Harry Potter. That would never, ever work," Dumezweni says. "We are all storytellers. The majority of us are all character actors who have just walked into and landed this amazing gig that has changed our storytelling lives. Knowing that [now], I go, 'Wow, this is a thing, isn't it? This show really is a thing.' "
---
How to Spin Audition Room Magic
"[When] you walk into the room, be present before you open the door to that room," Dumezweni advises. "Go to the loo and [begin] literally punching your arms up into the air, finding your space and just grounding yourself. It's literally as simple as that, because when you enter a room, the people in the room are already judging you the moment the door opens. Some people turn their light on when they sit down and talk. Oh, no—but I've already judged you from the door. So I say, be present from the moment you open the door and know that you've got as good a chance as anybody…. [Acting is] a little psychopathic. But there's also healing in that, and I really believe that we can be healers in the most beautiful way if we tell the truth. Tell the truth in your audition. Tell the truth of your audition piece. Tell the truth of yourself. Do not hide who you are. Do not think that you're not worth it."
Want to work on the West End stage? Check out Backstage's London audition listings!
Photographed on March 9 in NYC by Chad Griffith; Makeup by Janice Kinjo for Exclusive Artists using Glossier