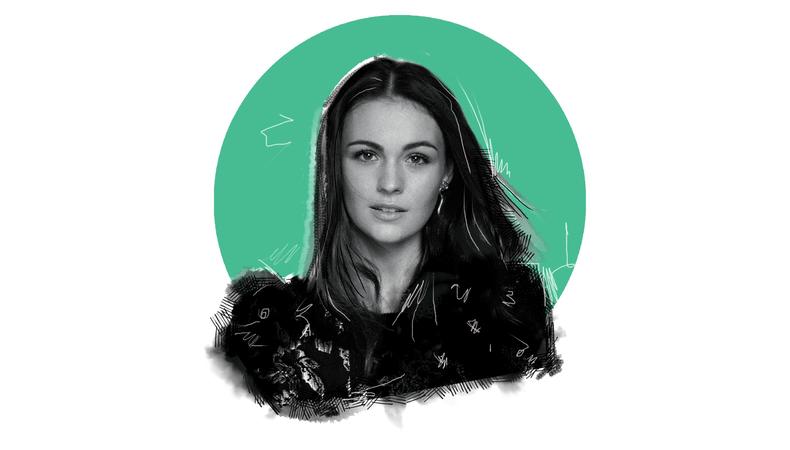 From appearances in Foyle's War and Waterloo Road to capturing the world's attention as Brianna in hit show Outlander, Sophie Skelton has always brought poise and understatement. This year she's fought off zombies in Day of the Dead: Bloodline, starred alongside Nicolas Cage in 211 and survived a Scottish winter for the buzzy Starz series. We caught up with Sophie to find out about starring in the time-travelling drama and why patience is a virtue.
What has your latest role added to your acting skills?
With Outlander it's full-on: filming is day in, day out for months on end. It's fast-paced, too – we might get edits and rewrites very late, sometimes the night before even the morning of a shoot. Or I might only have a couple of days between filming blocks of episodes and be learning the next two episodes without a filming schedule in place. So, there've been so many logistical challenges to overcome and learn about – all the stuff that goes around the job of acting.
Day of the Dead was my first leading role in a feature film and I learnt to deal with the pressure of carrying that on your shoulders. It was also an American set, where things run differently. Firstly, your director isn't the first port of call for questions because the producer is always on set. They're a lot more hands-on than on British TV.
How do you stop from burning out?
Lots of coffee! And the adrenaline of work. I feel just how tired I really am when the project is done. During filming, you just have to get up and be at work at whatever time. There isn't any other option.
Filming Season 4 of Outlander, we had such ups and downs with the weather. This year was the coldest winter in Scotland for a long time and one of the hottest summers – so we were really tested in terms of filming conditions. Where Day of the Dead was in a studio, Outlander shoots outside – right in the landscape. So, you need to learn how not to let the weather affect you.
How do you take the emotion out of the business of the industry?
That never really goes away. There are always going to be roles you feel more attached to than others, and to audition and put them out of your mind is easier said than done. If it's a project you're passionate about, of course you're going to think about it and wonder, especially if there isn't a phone call saying, "It's a no." There's no closure. But, as cheesy as it sounds, I think you need to believe that everything happens for a reason.
It also pays to remember there are so many elements that are out of your control. It could just be that you have the wrong eye-colour or you look like someone else in the cast – you can't let those things get to you.
I first auditioned for Brianna in 2014 and didn't hear anything for a year, so I figured the role had been cast. Then it came around again and I was asked to audition a second time. After that it took a few months before I heard anything and then there was a recall a couple of months after that – it was a very slow process, but I stuck with it. It was one of those roles I became protective over, which doesn't happen often. It just would have felt wrong if anyone else was playing her.
How do you typically prepare for an audition?
If the story is based on a true story then I'll really delve into the history, and research the real-life characters. Otherwise, I make sure to know the script inside out otherwise, little things can throw you. Even when you think you know it like the back of your hand, it can still vanish from your head, because auditions are such artificial environments. You can never immerse yourself in the scene when there's a casting director staring at you and so many other elements that make it a strange situation.
What advice would you give your younger self?
Just relax! Relax about auditions. It's easy to put too much pressure on yourself, and if you go into auditions with that "please cast me" attitude, those are usually the roles you don't get. To be honest, most of the jobs you do get are the ones you're chilled out about – where you feel as if it's not the end of the world to not get it. That reads well in an audition – not in a conceited way, but in a relaxed, "I've got this" way.
Do you have a bad audition story?
I was about 15 and auditioning for a TV show. The character was one of a group of tribal women who were in a big feast scene and ended up dancing around a table. I had to wear a bikini and dance around like a "tribal woman" in an audition room. It was horrific. But I am glad I got that out the way young – anything from there on wasn't so terrible!
What movie should every actor see?
I love watching Audrey Hepburn films. In those '60s movies everything is usually so overplayed, but even when Audrey has to be big she makes things look so natural and real. She's sensational in Roman Holiday.
Does your CV have any special skills on it?
Well, I did ballet from about 3 years old, which has inadvertently been very useful! Obviously, dance training gives you stamina, but filming a scene is just like learning choreography: you have to be specific about hitting your mark and there can be 10 different marks in a scene, so I'll sort of choreograph where to hit and at what point.
Having been trained to embed choreography quickly in my mind from ballet makes everything else run a lot more smoothly. It's great for continuity – often you'll have script supervisors on set who will point out "you did this at this point" and ask you to repeat it for the next take. But if you can remember all that yourself you don't have to think about it alongside your acting.