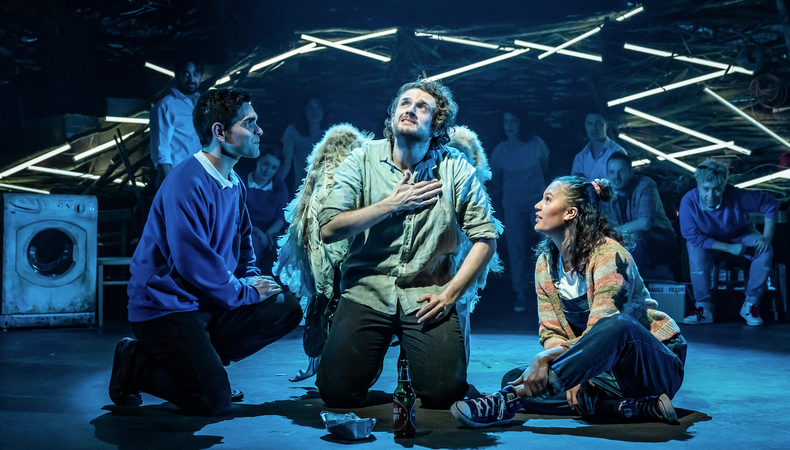 When you're treading the boards, a relaxed performance is no different to a regular one. You're still there to tell the story, perform and get the play's narrative across. The auditorium might be brighter, a little louder and more energetic than usual; but ultimately, it's buzzing and it's like any other work night.
But, if you're used to performing Shakespeare to a deathly still and silent audience, your first relaxed performance might feel a little different. Here's how to manage it.
What is a relaxed performance?
In short, they are performances for audiences that benefit from a more relaxed environment, including those with learning disabilities or who are on the autism spectrum.
Over the past 10 years, more theatres are putting on relaxed performances than ever before. As well as being part of a drive for inclusivity, it's also based on an awareness that there are a lot of people who would love to go see a show but find the expectation of sitting in a dark, silent room challenging.
One in 100 people are neurodivergent, which means their brains process things a little differently to others. The neurodivergent spectrum covers ADHD, autism and Asperger's, and may mean people are more photosensitive or sensitive to sounds than others. Relaxed performances tend to operate with the house lights up and noises on stage may be dulled. The audience can make noise and can come and go as they please.
Amy Beth Evans is a playwright who is also visually impaired and neurodivergent. She's the founder of Access Platform and explains why it's so important actors and theatres consider relaxed performances: "If you set the precedent at the beginning that this is a relaxed performance, it makes the audience more tolerant of each other, and in becoming more tolerant of each other they become more confident to be themselves."
She adds: "You can use the lights and sounds in a less aggressive way which as a visually impaired person (my impairment is photosensitive) I really appreciate. If you have a policy of people being able to come and go when they like, it just makes things so much more accessible as at the end of the day you don't know what will set people off."
How can actors prepare for relaxed performances?
"I tend to approach relaxed performances as I would any other show," says Edward Harrison, who is currently appearing in Skellig at Nottingham Playhouse, as Skellig. "When people get engaged and shout out, for us on stage, it brings us so much joy as it's part of that shared experience."
When Harrison acted in Holes at Nottingham Playhouse last year, he acted in a relaxed performance and says it was an "overwhelmingly positive experience for everyone in the cast."
So, what happens for the actors? Edward explains: "The process of preparing for a relaxed performance involves an assessment of the production by the Playhouse team who then liaise with the director. The director will then brief the actors on any changes, whether that's technical or physical, and then we'll rehearse in any of those changes. Then, we're good to go! The degree of changes alters depending on the material we've got. For Holes, it felt quite minimal, but they were clearly significant and important enough for the audience in the show that afternoon."
"In Skellig, there's a device with torches that shine out into the audience and I imagine it'll be tweaked so we're not shining them directly out." They're just small things, Edward says, but it makes a significant difference.
"It's important to say that in relaxed performances the show is still the same show [but] we might be reducing noises, or elements of surprise," says Edward.
Are there any challenges with a relaxed performance?
Engagement isn't a huge issue. It's live theatre after all, he says. "We have so many variables from performance to performance anyway, whether I don't have my prop, or someone is flashing a camera, or sweets are rustling, that we're dealing with these things anyway. It's part of the liveness.
"Improvisation isn't really a way out of it as you have to stick to the text. So, it's a continued exercise in concentration, and we just plough on no matter what's going on. It's just business as usual."
Kat Dulfer started acting when she was 18 and likes to play autistic characters. She has Asperger's and is acutely aware of what works best when you're performing in a relaxed performance. "When I'm acting in a relaxed show, I always keep how I'm talking in mind, especially in shows that are for disabled people. If I know someone is autistic, I try to keep it quiet and as level as I possibly can. It's important just to be super aware of the audience."
When it comes to different forms of theatre, she feels that it's possible to have audience participation but also understand an audiences' boundaries too. "I'm OK with a non-relaxed performance. I have a lot of sensitivity to sound and sometimes it does make me jump and I'm OK with that. That's why it's important that people are aware that will happen."
Ivor MacAskill and Fiona Manson are currently performing as the Polar Bears in a show at The Unicorn Theatre in London. They're used to staging relaxed performances as most of their non-verbal shows are aimed at small children.
Ivor says: "We've been playing these characters for 10 years and doing these shows, and quite often we'll do relaxed performances. They're not so different from the usual shows we do because our shows are all about listening into the audience and checking that they're OK anyway."
Fiona adds: "We tend to think about the lighting and sometimes we'll bring up the house lights. It's a nicer atmosphere for people to feel supported in. We do it so it's not like coming into a dark space so people don't feel intimidated. Part of our show has moments of improvisation, so if something happens, like someone needs to move or someone shouts something out, we can kind of respond to it." Being flexible is really important, she adds.
Ultimately, as an actor, you don't have to make serious changes as a relaxed performer. Instead, focus on the story, consider the people who have come to see the show and how they're feeling, and concentrate on giving the best show you can. Relaxed shows are a great way to boost inclusivity in theatre, so it's always worth trying to work out how best to connect and story-tell.
RELATED + RESOURCES:
For more from Backstage UK, check out the magazine.