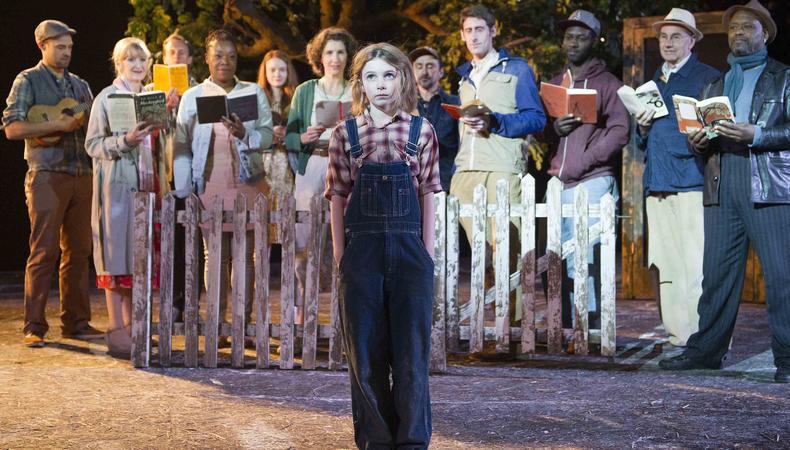 Developments in the business of acting are not always front-of-mind for time-pressed creatives, yet can have a major impact on how their careers develop. That's why we've created The Business, a series to help UK actors and performers stay updated on the key stories that will affect the nuts and bolts of their professional lives. This week, a UK production of To Kill a Mockingbird is forced to close by producers of a US version; actors support a mental health initiative, and a ruling in Northern Ireland could have holiday-pay implications for actors throughout the country.
UK cast and crew plead with Broadway producers to give production the go-ahead
The cast and crew of a tour of To Kill a Mockingbird are pleading with the Broadway producers who forced their show to be cancelled. A UK and Ireland tour of the decades-old production was scrapped earlier this month because the producers of Aaron Sorkin's adaptation of the classic Harper Lee novel claim to have worldwide exclusivity to the story. As it was preparing and rehearsing to set off on a tour of 15 venues, the Christopher Sergel adaptation was pulled after producers of a Broadway threatened to sue if it went ahead. Now the 26-strong cast has signed an open letter published in The Times, asking the producers of the US production to rethink their decision.
Cast members told US producer Scott Rudin: "In a world still struggling with racial injustice, we would be able to share and spread this story, were he to change his mind." They added: "We would not be taking away from his audience but adding to it. We appeal to Mr Rudin to let us finish. Theatres would be able to take down signs saying 'Show Cancelled' and put up ones saying 'With thanks to Scott Rudin.'"
Actors and performers support mental health initiative
Performers Charlie Stemp and Jodie Jacobs have put their names to a new initiative to help performers find free and low-cost mental health support and access workshops and events. Applause for Thought launched on 3 February at the Other Place, with frank sharings from performers and psychotherapists.
Created by performer Raffaella Covino, the singer and dancer told The Stage that "real mental health issues are either ignored, missed or not cared for in the best way. I want to provide physical, tangible help where people can learn about specific branches of mental health issues and then have access to qualified therapists." Monthly sessions will also focus on down-to-earth financial and tax advice, bereavement, low self-esteem, abuse and addiction.
READ: 4 Ways to Handle the Stress + Anxiety of Life as a Performer
NI Opera case has UK-wide 'ramifications' for actors
A win for performers at an employment tribunal against Northern Ireland Opera might have UK-wide "ramifications" for actors, according to the company who are now being forced to pay holiday entitlement for two actors. Northern Ireland Opera lost a case focussed on the entitlement of paid holidays brought by actors Gerard McCabe and Kerri Quinn. The pair hope the ruling will have a knock-on effect for performers and companies, both in Northern Ireland and the rest of the UK, that don't add holiday pay to actors' fees.
Top names join industry discussions
Acclaimed choreographer Arlene Phillips and casting directors David Grindrod (The Phantom of the Opera) and Paul Wooller (Les Misérables) are among the guests billed to speak at a series of industry discussions at the Other Palace in London. Billed as Tea for Two, the series is part of Musical Theatre Fest UK, a two-week festival of new musical theatre, with talks hosted by Paul Taylor-Mills, the former artistic director of the venue. Wooller, who is head of casting for Cameron Mackintosh Ltd, is running an event focussing on the "dos and don'ts of auditions." Events run from 11 February. Read more here.
READ: 11 A-List Casting Directors Offer Their Best Audition Advice
Dignity at work initiative to combat harassment and a bullying
A major new campaign launched by union BECTU is aiming to combat sexual harassment, bullying and long working hours. Tying together several strands of the union's campaigning, BECTU's core message is now that members should be "treated with dignity wherever they work." The union, who cover media and entertainment industries, including off-stage theatre workers, is to launch a best-practice charter under the dignity at work banner after releasing the results of a survey that showed more than half of women and a quarter of men working in creative industries have encountered sexual harassment at work.
READ: Equity Takes Aim at Actor Exploitation
ENO hires to improve diversity
English National Opera is to hire four new choristers from black, Asian and minority ethnic backgrounds alongside new placements offering BAME directors the chance to work alongside acclaimed opera directors, in a bid to improve diversity in the opera industry.
READ: Theatres Decide Action Plan to Diversify Staff
London fringe venue to reopen under new management
North London fringe venue the Lion and Unicorn Theatre is to change ownership and relaunch with focus on new writing. Not-for-profit organisation Proforca Theatre Company is taking over the operation of the black-box studio space with the company's Artistic Director, David Brady, and will be leading the 60-seat venue alongside Executive Producer and Theatre N16 founder Jamie Eastlake, who is to run an artist development programme there.
David Tennant does a podcast
Actor David Tennant has launched a podcast called David Tennant does a Podcast with…, with Episode 1 featuring the Oscar-nominated Olivia Colman (The Favourite). Upcoming episodes include visits from Michael Sheen, Krysten Ritter, Jodie Whittaker, Sir Ian McKellen, Whoopi Goldberg, Jon Hamm and – as a break from actors – former Prime Minister Gordon Brown.