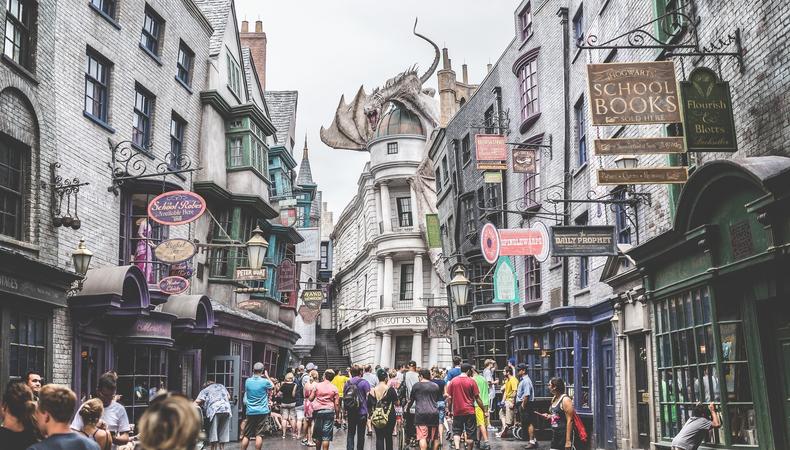 Be part of a new world as an actor in one of these immersive experiences. If "Sleep No More" is more your speed than Broadway, this type of gig could be the perfect way to get into character. Whether you are getting in the Halloween spirit with a haunted house or creepy experience, want to join the Wizarding world, and more, immerse yourself in a different kind of project and get started today.
'UNHINGED' AT WINCHESTER MYSTERY HOUSE
This new immersive horror experience is seeking male and female talent, aged 18 and older, for unspecified roles. There will be 3–4 rehearsals between August and September with performances scheduled from Sept. 6–Nov. 2. Talent will be paid a $4,750 stipend. Apply here!
THE WIZARD'S CAULDRON IMMERSIVE EXPERIENCE
The Wizard's Cauldron immersive experience is casting talent to play potion masters. The "Harry Potter" inspired bar is looking for talent, aged 18 and older, to make fun drinks, create scenes, and perform other tasks for guests. Experience with improv and immersive events is preferred, but not required. Performances will be held weekly from August to October in Sydney, Australia. Talent will be paid an hourly rate based on experience. Apply here!
XTREME SCREAM PARK 2019
Character actors, shock actors, and more are needed for this season's Xtreme Scream Park in England. Talent, aged 18 and older, is wanted. Acting experience is a plus. Training will take place in August and September with park dates set in September and October. Talent will be paid the national minimum wage. Apply here!
'THE SLEEPY HOLLOW EXPERIENCE,' NYC & TARRYTOWN OPEN CALLS
This immersive re-telling of "The Legend of Sleepy Hollow" is seeking its leads and ensemble members. Male and female talent, aged 20–30, is wanted to play Icabod Crane, female talent, aged 20–30, is wanted to play Katrina Van Tassel, and more. An open casting call will be held on July 15 in New York City and July 16 in Tarrytown, New York. Rehearsals will take place on Sept. 23 with the show running from Oct. 4–Nov. 3. Talent will be paid $400 per week minimum. Apply here!