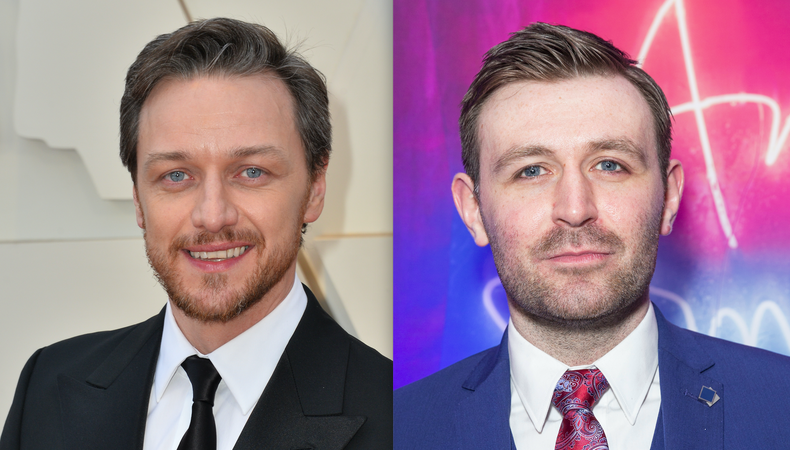 Hello, and welcome back to Week in Review, our roundup of industry-wide news. From stage to screens big and small, we've got you covered. It's everything you need to know and all you can't afford to miss.
James McAvoy and James McArdle hit back at 'whining Scottish accents' review
Peter Gynt lead James McArdle and fellow Scot James McAvoy have hit back at Sunday Times reviewer Quentin Letts after his review of Peter Gynt, about to open at the Edinburgh International Festival. Letts, whose "racist" comments about the casting of RSC actor Leo Wringer last year were condemned by the theatre, last week described Scottish accents as "whining" in his review of Peter Gynt, which stars McArdle as a modern-day version of Henrik Ibsen's Peer Gynt.
Speaking to STV, McArdle said Letts was "infamous for saying things like that and I think it's a bit pathetic. I don't want to give him credit as a real reviewer to be honest." He added: "This whining Scottish accent is currently playing one of the biggest parts ever written in one of the most famous theatres in the world." James McAvoy called Letts' comments "derogatory" and said: "We could have a post-show discussion about why you think it's okay to label the sound of an entire nation." Read more here.
Six The Musical heads to Broadway
Six The Musical, the Olivier Award-nominated show that hands the mic over to Henry VIII's six wives, is to transfer to Broadway. Marking a major step up for the hit West End Show, co-writers Toby Marlow and Lucy Moss said they were "unbelievably excited" that the musical, which started life at the Edinburgh Fringe two years ago, is now heading to New York and will reach an even wider audience. Playing at the Brooks Atkinson Theatre from 12 March next year, the New York cast is yet to be announced. The musical was also in the news this week as Marlow stepped into hotpants and heels to save the show after a cast member was struck down by illness. Marlow played Catherine Parr for two sell-out performances. Read more here.
Agatha Christie's The Pale Horse comes to the BBC
Filming has started on The Pale Horse, the latest screen adaptation of an Agatha Christie mystery. Rufus Sewell will lead the BBC drama in the role of Mark Easterbrook, a man who is forced to investigate how he came to be one of a list of names found in a dead woman's show. Drawn into rumours of witches in the small village of Much Deeping, Easterbrook fights to find a rational explanation among tales of dark arts and distrusting locals. Playing alongside side Sewell are Kaya Scodelario, Bertie Carvel and Sean Pertwee. Shooting now in Bristol, the cast is completed by Henry Lloyd-Hughes, Poppy Gilbert, Madeleine Bowyer, Ellen Robertson, Sarah Woodward, Georgina Campbell, Claire Skinner, Rita Tushingham, Sheila Atim, and Kathy Kiera Clarke.
READ: Get Cast With Elle Fanning, Nicholas Hoult, Nicole Kidman + Ralph Fiennes In Major New Productions
NFTS to launch new Leeds hub
The National Film and Television School (NFTS) is to open a hub in Leeds next year, becoming its third base outside of London. NFTS director Jon Wardle said the new hub recognises "the direction of travel is more out of London production" and that the school will train up skilled talent in the region. The new base coincides with Channel 4 relocating their HQ to the city and plans for a major new studio nearby. Alongside this, NFTS have made clear the school will further expand to other regional cities, including Cardiff and Bristol. The Leeds hub will open in January 2020 with around 150 initial students expected to enrol.
Theatres urged to employ more BAME actors
Equity's minority ethnic member's committee has urged theatres to employ more BAME actors instead of employing actors from outside the EU, claiming BAME performers are "locked out" of castings in favour of those with international profiles. The group said they welcomed performers coming to the UK and that a "rich exchange of cultures and working practices is good for the performing arts" but that "these should not come at the expense of work opportunities and levels of pay for our members." Read more here.
READ: What Is Equity + Why Should You Care?
Roxana Silbert accused of East Asian 'importing talent'
New artistic director Roxana Silbert has been criticised for "importing talent" after announcing her first season at Hampstead Theatre. British East Asian actors labelled it "unethical" for the venue to fly in Asian American actor Celeste Den for new production King of Hell's Palace instead of using a British Asian actor. British East Asian Stories Matter (BEATS) said it was "shocked and saddened" by the move: "The role in question is for a female in their 30s and we believe there is an abundance of British-based East Asian actresses who could play it."
In a letter, the group said Hampstead Theatre had a "lamentable record" for casting British East Asian actors and claimed they were aware of only one casting of one British East Asian actor in a role not already defined "as a character of that heritage". BEATS also criticised the hiring of director Michael Boyd for the production, claiming that by the end of the year Boyd will have directed "more East Asian-themed plays in major British theatres than any British East Asian theatre director."
The King of Hell's Palace sees writer Frances Ya-Chu Cowhig explore a conspiracy in 1990s China, where a young woman uncovers the exploitation of people for their blood plasma. Originally staged in Chicago, the new production opens at Hampstead on 5 September.
For more from Backstage UK, check out the magazine.