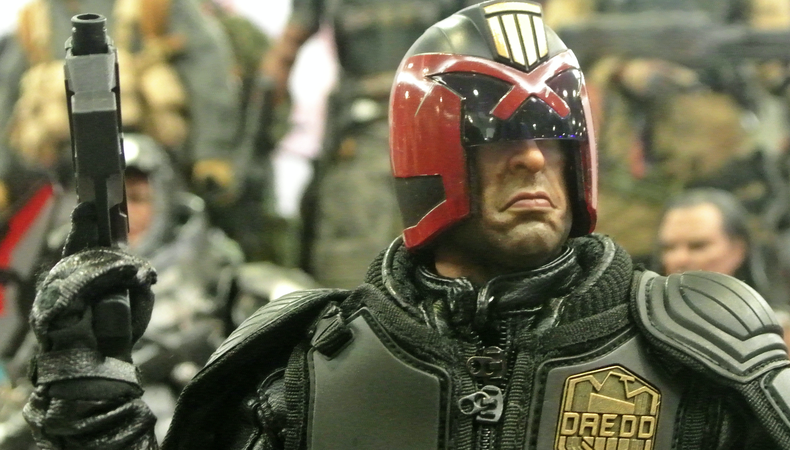 Rebellion, the company behind video game series Sniper Elite and the shepherds of the upcoming Judge Dredd television series, have announced a £78 million investment into a new UK-based film and TV studio.
In what could potentially become a huge player in the industry, the studio, located 50 miles outside of London in Didcot, will reportedly create up to 500 new jobs. Inside, the facility covers 220,000 square feet including a 25,000 square feet sound stage.
"The UK has a desperate shortage of studio space, at exactly the moment demand is at its highest for many years," Rebellion told Backstage. "Rebellion Film Studios is open for business right now, not in several years' time. It's a remarkable and immediate boost to this country's film and TV industry.
"This is an incredibly exciting opportunity for us because these studios are being purchased not simply to rent out as a facility but because we are making our own productions. While we know the projects we're going to start with, with the world's largest archive of English-language comics – and a rich, deep list of fiction titles – then if the possibilities for TV and film projects aren't endless then they're very close to it."
There has been much excitement surrounding Rebellion's acquisition of 2000 AD, which will see Judge Dredd: Mega-City One and Rogue Trooper come to screens. For the former, Karl Urban has been in talks to reprise his role after 2012's Dredd, and the studio plans to shop the project around to streamers such as Amazon and Netflix. Rogue Trooper, meanwhile, currently boasts Source Code and Warcraft director Duncan Jones as attached.
With a brand new studio space imminent, however, the production company's ambitions are not limited to these two projects alone: "We have plans," co-founder Jason Kingsley told Variety. "We have a lot of scripts in development, we have got a lot of scripts written, we have pilots that are looking for people to work with, we have people going out to the US to talk to the people who are the routes into market."
Outside of future screen roles, Rebellion and its peers have also opened up many opportunities for video game voiceover work, which has become an important part of the industry for performers.
News of fresh investment in the UK film and TV industry will be music to the ears of many at a time when games studios such as Telltale Games and Sony Liverpool have been closing down with alarming frequency. It also comes hot on the heels of some other key investments into the UK screen industry from overseas and closer to home.
On the decision to set up the studio outside of London, the company said: "The former printworks at Didcot was the perfect site for what we wanted to achieve – the large internal spaces are almost tailor-made to be turned into sound stages and the fact that it can start operating as a studio immediately demonstrates what a great site this is.
"Its location is also key – Milton Park sits in a creative hub for technology just 15 minutes from our main office in Oxford, half an hour from our other studio at Audiomotion in Wheatley, and under an hour from London and Heathrow. All this made the site absolutely ideal for Rebellion Film Studios."
For those interested in getting involved in upcoming projects from the studio, Mega-City One and Rogue Trooper are currently not at the casting stage, Rebellion told us, "but work continues apace on these projects and we're excitedly looking forward to what the next year brings!" Stay tuned.