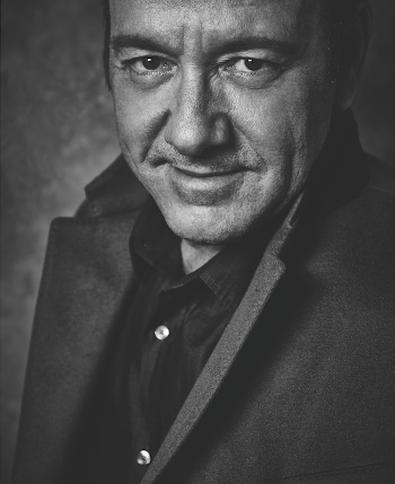 Two-time Oscar winners don't abandon Hollywood and dedicate a decade of their lives to the theater—and certainly not in London, where they can't even drop by a late-night talk show to maintain mainstream media face time. But if Kevin Spacey has proven anything over the last 20 years, it's to expect only the unexpected from him.
In a year that has already seen Netflix release the second season of "House of Cards"—the political thriller with which Spacey and director David Fincher legitimized streaming series—and Spacey's ebullient, photobombing presence on awards shows, the actor is now in select theaters and on VOD with "Now: In the Wings on a World Stage," Jeremy Whelehan's documentary about the 2011–2012 worldwide tour of the Bridge Project's "Richard III," directed by Sam Mendes ("American Beauty") and starring Spacey.
Though Spacey says he's frequently rejected offers to participate in similar films, the timing seemed right to go behind the scenes of "Richard III," the final installment of the critically acclaimed three-year Bridge Project, a collaboration between the Brooklyn Academy of Music, the Old Vic, and Neal Street Productions to bring together the best of London's and New York City's actors. The first two years involved two shows in repertory; for the final year, "Richard III" stood alone.
"Sam felt that anything we did would pale next to 'Richard,' " Spacey says. "So we ultimately decided not to do a second play, which I am eternally grateful for."
Spacey is sitting in a conference room at the offices of NPR in downtown Manhattan, in the midst of a frantic press day for the premiere of "Now" at the Tribeca Film Festival. He has more than a passing interest in promoting the film; in addition to the many hats he wears in it—star, company leader, actor, practical joker—he is self-distributing the film via his website, www.kevinspacey.com. Spacey points to the remarkable opportunities afforded by digital media as the impetus behind taking on yet another role. "[The industry is] opening up with these new streaming series, and young people are being discovered producing their own things," he says. "That's one of the reasons I decided ultimately to self-produce and self-release the documentary—because I believe in it, I believe the industry often undervalues things like this, and I'd like to see how much of a crossover there might be. So here we go!"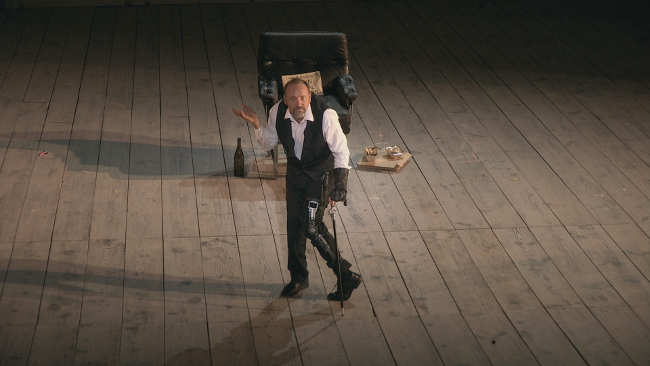 That sense of offering merely a shrug and a blind leap in the face of the great unknown also characterized Spacey's 2003 announcement that he would be leaving Hollywood to run London's legendary Old Vic Theatre for a decade. But the perception of that choice has everything to do with America's culture and nothing to do with Spacey's interests.
"The decision to move to London was based on a lot of factors, but primarily because I had done what I set out to do in film and it was time to do something else," he says. "I wanted a different kind of challenge, and I wanted to attack something in a different way, and I wanted it to be about a company and not my personal ambition. But the theater has always been my primary allegiance."
Which is why the constant questions from fans on the street—"Why theater? I don't get it"—served as a compelling reason for Spacey to share that allegiance in "Now." "[Those questions] just illustrate that people tend to put more value on movies and television than they do on theater," Spacey says. "And what does that mean for those of us who call ourselves theater rats?"
For the "theater rats" who co-starred in "Richard III" and ended up profiled in "Now"—including Gemma Jones, Nathan Darrow, and Michael Rudko (see sidebar)—what comes across is a deep love for performing in its purest form. And not only that, but audiences actually witness a tangible bond building among the company, one that appears to be unusually strong.
"Part of that [camaraderie] is a function of the fact that everyone in the company was having a really new experience," Spacey says. "Nobody had done what we did and no one had gone to the cities we went to. And a transatlantic company had never been done before. The length of time, the intimacy of traveling in the way we all did together. And the stuff we all did offstage, some of which we captured. Those things will stay with us. And so for me, it's nice to have a little bit of the travelogue as well, because that was a huge part of the experience."
As part of traveling the world with "Richard III," the cast was also able to enjoy the local sights—which in this case meant the Great Wall of China, among many other field trips. All that travel was also good for the play. With new sights and sounds every week or so—even a new route to the theater—there was never a chance that a performance could grow stale. A lucky thing, too, given that every new theater required the cast to do a tech performance for the new backstage crew and then a full dress rehearsal. Spacey occasionally exerted his right to let his understudy step in for one of those performances, given the physical demands of the role.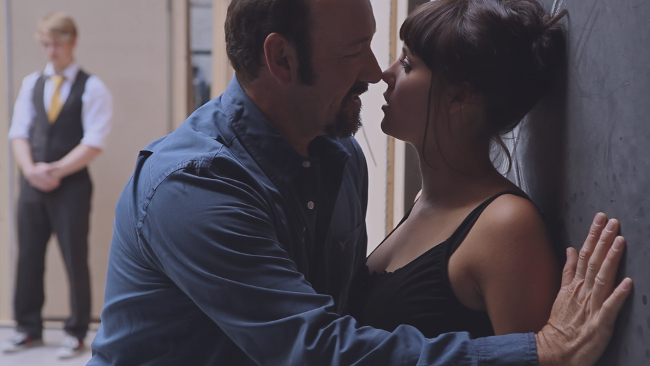 "I talked to a lot of actors who played Richard III, and although I was kind of hoping they'd give me some incredible insight into the secret of playing him, none of them gave me that," Spacey says. "But all of them literally said the same thing: 'Be careful.' " Playing a disabled man takes its toll on a performer, and with the warnings of previous Richards ringing in his ears, Spacey had a series of discussions with trainers and physical therapists about how to make Richard as effectively grotesque as possible without endless trips to doctors.
"What maybe people don't know is that the stage was not flat; it was a raked stage," Spacey says. "So that means every actor, if you're facing forward, is being pushed forward. By making the choice of being on one toe and crouched, I was the only actor onstage who was in complete balance. It's what I think saved me from injuring myself for 10 months of playing that monster."
The endurance needed for the role is on ample display in "Now," though one of the burning questions with which audience members who saw the stage production left the theater remains unanswered: How did Spacey manage to dangle upside down for the play's final moments? He laughs.
"That was my favorite part! Everyone in the theater was nervous, but for me, after crumpling up my body for three hours, it was the best stretch ever. I was like, 'Keep talking, Richmond, keep talking. Do a speech from "Henry V," I don't care.' " Spacey laughs again. "I was moved that people were concerned, but I was fine."
Inspired by this post? Check out our theater audition listings!