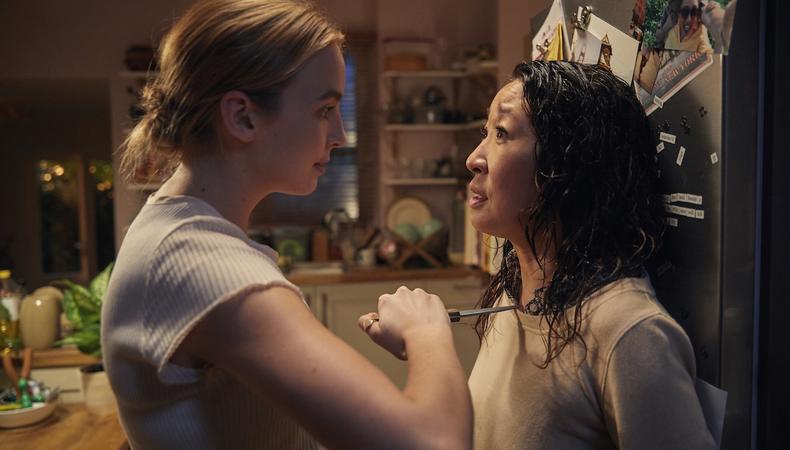 When "Killing Eve," an unassuming series from BBC America, premiered last spring, it quickly rose to the top of the TV landscape and caught the attention of viewers and critics alike, increasing its audience week over week for eight gripping episodes.

Season 1 of the hit series from "Fleabag" creator Phoebe Waller-Bridge follows the tango between the titular MI6 agent Eve Polastri (Emmy nominee Sandra Oh) and the exceptionally skilled Russian assassin Villanelle (Jodie Comer). Eve becomes obsessed with tracking down Villanelle as she carries out a European killing spree; meanwhile, Villanelle learns she is being monitored, and the cat-and-mouse game begins. In addition to Oh's Emmy nod, Waller-Bridge nabbed a nom for best writing for a drama series.
READ: Jodie Comer Proves Drama School Is Not a Requirement
Executive producer Sally Woodward Gentle is to thank for the magic made when she brought Waller-Bridge's talents to Luke Jennings' Villanelle novellas. "I'd met Phoebe and I was keen to see what the material would be like through a Phoebe kaleidoscope," she tells Backstage.
Bringing the written characters to life was going to be a challenge—especially Eve, who they felt had to be cast first. "We wanted somebody around 40 who had settled for something that wasn't the dream," she says. "It was important that there was a degree of weariness. The actor needed to embody that sense of disappointment but still have the brilliance, genius, and ability to tap into how extraordinary they were when they were younger and see that be reignited," Gentle recalls, saying that she and the "Killing Eve" team drew up a list of actors who would fit that bill, "and it wasn't that long." Another caveat was that BBC America wanted one character to be American despite the series' U.K. setting. "The character that felt right was Eve," Gentle says. The ethnic melting pot of London made her backstory easy, and Oh (previously best known for "Grey's Anatomy") became the obvious choice.
READ: Your Official 2018 Emmy Awards Calendar
CDs Suzanne Crowley and Gilly Poole saw more than 100 tapes for Villanelle. "We didn't want Villanelle to be like 'Nikita' or 'The Girl With the Dragon Tattoo'—that male fantasy version of what a woman who'd come for them might look like," Gentle explains. "We wanted her to be able to disappear into a crowd." Comer did a callback with Oh in Los Angeles, auditioning with the two characters' meeting in Episode 5. "There had to be chemistry between them, this extraordinary chemical reaction that's not necessarily sexual, but has hints of it. They had it. Their acting methods are very different, but they were completely within the same piece. That was really important."
The cast was in place, but the scripts were written as the show shot, which gave the actors an opportunity to influence the characters they were playing. "The actors bring a bit of themselves to it," Gentle says. "We'd say, 'I hadn't really thought about it from that perspective. I can definitely work that quality they have and their interpretation into the writing.' Jodie, Sandra, Kim [Bodnia, who plays Konstantin], and Fiona [Shaw, who plays Carolyn] all brought something new and fresh that went into the scripts."
The result resonated with viewers, as well. "Having those two women at the center was more surprising than we anticipated," Gentle admits, and having women behind the show affected everything even more. "How you dress somebody, how you photograph it, what you prioritize in the edit, and even music cues make a difference. Anything that appeals to the male gaze version of a dominatrix, [a] female cliché, isn't in our heads. We see complicated but brilliant women doing what people do, which comes naturally because we're women," she says. That reinforcement of the female gaze worked. "Everybody trusted in each other that this was worth doing, and the gorgeous thing is it came out all right."
Ready to get to work? Check out Backstage's TV audition listings!