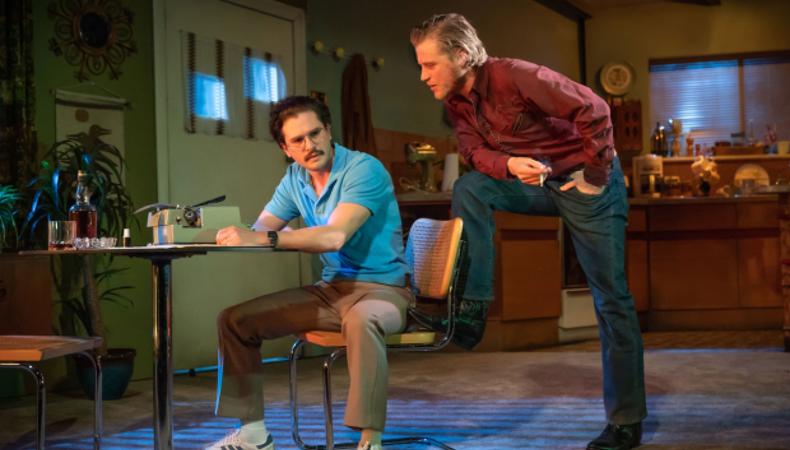 If you feel like Oscar Wilde when he said: "I love acting. It is so much more real than life…" then you're in the right place! With industry news, the latest castings, and upcoming projects, we'll make sure stay updated on the ever-changing theatrical world. Whether it's West End, fringe or regional theatre, we have your back.
Turns out Jon Snow knows more than nothing.
Kit Harington graces the stage rather than the screen in Sam Shepard's True West, an American family drama centred around two brothers. Johnny Flynn, Donald Sage MacKay and Madeleine Potter round out the cast taking the stage at the Vaudeville Theatre. With direction from Matthew Dunster, set and design by Jon Bausor, sound design by Ian Dickinson accompanied by original music by Johnny Flynn, and lighting design by Joshua Carr, this 1980s piece promises a different look at the Harington we are familiar with.
Shine like the sun: Bonnie Langford works 9 to 5.
In 2019 Dolly Parton's musical 9 to 5 will open at the Savoy Theatre for a limited run. Bonnie Langford, beloved by fans of EastEnders, joins the cast as Roz Keith. Amber Davies, Brian Conley, Natalie McQueen and Louise Redknapp have been previously announced as cast members. The show will be directed by Jeff Calhoun and opens on 28 January.
Who tells their story?
West End hit Hamilton welcomes new cast members on 3 December. Saying goodbye to their roles are Rachel John (Angelica Schuyler), Obioma Ugoala (George Washington), Giles Terera (Aaron Burr), Christine Allado (Peggy Schuyler/Maria Reynolds) and Michael Jibson (King George III). Jamael Westman will take a short break from his title role as Alexander Hamilton and standby Ash Hunter will step in. Allyson Ava-Brown will step into Angelica Schuyler's shoes, Dom Hartley-Harris will wield George Washington's sword and Jon Robyns will take over Olivier Award-winning King George III role. Company members Sifiso Mazibuko and Courtney-Mae Briggs will step into the roles of Aaron Burr and Peggy Schuyler/Maria Reynolds, respectively. Robson Broad, Joe Griffiths-Brown, Lisa Darnell, Sinead Long, Ellena Vincent and Emile Ruddock join the ensemble along with Karl Queensborough as the alternate Alexander Hamilton.
The laughs don't have to end.
We don't have to say goodbye to The Comedy About a Bank Robbery just yet. The show will now run until early November 2019 at the Criterion Theatre. From mid-December Liam Jeavons, Jack Whittle, Jean-Luke Worrell, and Julia Frith join the cast. Mischief Theatre has struck gold with their comedy productions The Play That Goes Wrong and Peter Pan Goes Wrong and this show is following in those successful and hilarious footsteps.
Always held in our hearts.
We are rapidly approaching the closing date of Kinky Boots in the West End. After a successful four-year run at the Adelphi Theatre, a 2016 Olivier Award for Best New Musical, and incredible talent gracing the stage in high-heeled boots, January 2019 will see the last performance of this Cyndi Lauper musical. Luckily, the show is touring the UK, so if you missed your chance in London, you'll be able to catch it regionally!
It's all made up!
The Edinburgh Fringe hit Showstopper! The Improvised Musical is returning to London. Starting 22 January, the show will do an eight-week run at the Other Palace. They will also continue their monthly slot at the Lyric Shaftesbury. Each night, the company uses an audience suggestion to create an entirely improvised musical, including choreography. You will never see the same show twice.
UK premiere of Our Lady of Kibeho announces its cast.
Opening at Northampton's Royal & Derngate, Our Lady of Kibeho by Katori Hall will have its UK premiere in January 2019. Under the direction of James Dacre, the cast will include Gabrielle Brooks in the lead role of a schoolgirl who believes she has been visited by the Virgin Mary. Also onstage will be Ery Nzaramba in the role of Father Tuyishime and Michelle Asante as Sister Evangelique. With movement, music, aerial work and magic, this show is not to be missed.
The greatest showman goes solo.
Hugh Jackman, who has gone from playing the mutant Wolverine to singing and dancing as PT Barnum and everywhere in between, will play the UK with his solo show The Man. The Music. The Show. as part of his world tour in 2019. With four performances in Manchester, Birmingham and London, audiences can be delighted by songs from Les Misérables, The Greatest Showman, Oklahoma and The Boy from Oz – amongst other cinema and musical theatre hits. Tickets go on sale 7 December.