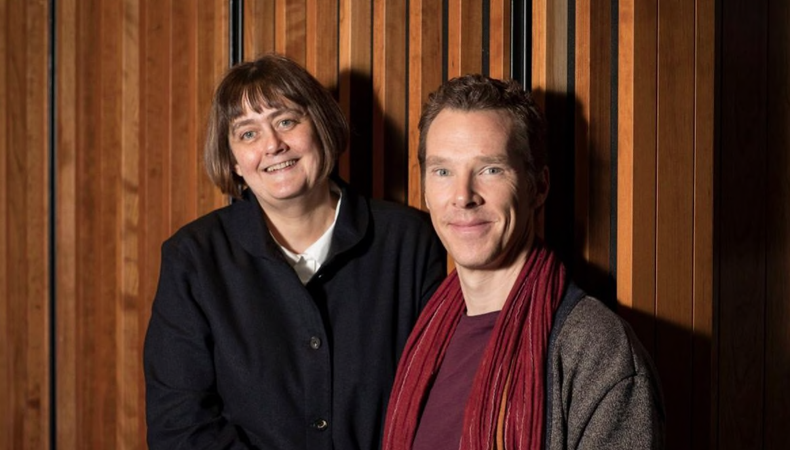 Developments in the business of acting are not always front-of-mind for time-pressed creatives, yet can have a major impact on how their careers develop. That's why we've created The Business, a series to help UK actors and performers stay updated on the key stories that will affect the nuts and bolts of their professional lives.
LAMDA slash audition fees to just £12
In a move supported by LAMDA president Benedict Cumberbatch, new LAMDA director Sarah Frankcom has slashed audition fees by 75% for first-round applicants in order to "find the best talent from across the UK."
The former Manchester Royal Exchange artistic director announced the replacement of flat-rate audition fees, which originally stood at £54, with two-stage fees. Applicants will now pay £12 for initial auditions across all courses followed by a £48 recall fee. LAMDA also announced they would reduce the cost of recalls for the majority of candidates.
Frankcom, who has promised big changes in how LAMDA operates, said the drop in cost was about creating greater opportunity: "For too long we have talked about removing barriers to students from challenging and low-income backgrounds, but the cost of the first audition for these aspiring actors has too easily been a barrier to them seeking their chance to audition."
Drama schools have come under increasing pressure to drop auditions fees in order to encourage applicants from lower-income backgrounds, with some smaller schools already removing fees altogether. Audition fees for RADA's BA Acting course are as much as £76, with Guildhall charging £66 and Bristol Old Vic charging £55 –though certain fee waivers are available at all three schools. Read more here.
READ: The Acting Conservatoires UK Actors Should Know
Olivier award-winner sets up fund for actors in North East
Michael Jibson, best known as King George III in the London production of Hamilton, has established a fund to help young people from Hull and East Yorkshire access drama training. Set up with Hull-based producer and director Andrew Pearson, the support for actors from the region ranges from travel expenses for auditions at London drama schools to assistance with fees.
Jibson, who has appeared on screen in The Last Jedi and recently won an Olivier award for Hamilton, said he could only afford drama school because of grants and sponsorship. He said the fund will give "an opportunity for young people with talent in Hull and the surrounding areas who may feel it's too difficult financially to pursue a career in the arts."
Alongside financial support for those applying to higher education in the arts, the fund will also help young people participating in productions at "nationally renowned youth theatre organisations" and will offer mentoring from experienced performers. Jibson has asked for local businesses to sponsor the fund in the future, saying he wants to ensure there "continues to be a northern voice in the arts and access is still open to people from all backgrounds." Find out more here.
Equity launches guidelines for working with LGBT+ performers
A guide for working with LGBT+ performers has been launched by Equity. Created by the union's LGBT+ committee in consultation with All About Trans, the guidelines focus on supporting actors in the trans community and cover working with performers and creatives. The union say the guide "seeks to empower the industry" to redress the lack of trans people across media, with committee member Tigger Blaize hoping the "toolkit of ideas" will encourage casting directors to "feel confident in approaching performers who identify as LGBT+." The guide was launched at an event hosted by the National Theatre, who said this week it was phasing out the use of "ladies and gentlemen" in announcements.
Recommendations include teams hiring script consultants ahead of casting, providing "quality information" in casting breakdowns instead of just gender, and considering the safety of trans performers in venues. The guide also includes a glossary of terms, like AFAB or AMAB (Assigned Female/Male at Birth) and definitions of sexual identities. The text calls for casting teams to "take courage" as "this is a new area to many, and it is OK to make mistakes."
READ: What Is Equity + Why Should You Care?
Musicians' Union lead calls to protect freelancers from harassment
Equity has backed a petition from the Musicians' Union (MU) to strengthen the law to prevent sexual harassment against freelancers "before it happens." The MU is calling for the government to include protections for freelancers in all new laws to prevent sexual harassment at work, giving freelancer workers an equal level of protection to those in fixed employment. The campaign is in response to research from the union which shows that 48% of members surveyed were sexually harassed at work, while 61% claimed to feel at greater risk of experiencing sexual harassment because of their freelance status. Read more here.
Royal Conservatoire students call out 'abuse'
Students and alumni from the Royal Conservatoire of Scotland have gone public with claims of "grave discrimination and abuse" at the school. Launching a petition, the students claim an internal investigation against staff members on the Contemporary Performance Practice degree upheld their complaints but has yet to result in any action being taken by the school. Read more here.
ProFile holding recordings for d/Deaf and disabled performers
The National Theatre and Spotlight's video database for d/Deaf and disabled actors, ProFile, is running two filming dates for new performers in December at Manchester Royal Exchange. To register to be on ProFile, head to their website and complete the Take Part form.
BECTU launch 'Dignity at Work' campaign
Union boss Philippa Childs has launched a campaign which sends a "bold" message to employers about achieving dignity at work for all staff. The campaign has five main strands: Equality, Diversity and Inclusion, Bullying and Harassment, Quality of Working Life, Talking Terms, and Sticking Together. The union will formally launch the campaign in London on 12 November and in Manchester on 21 November. Read more here.