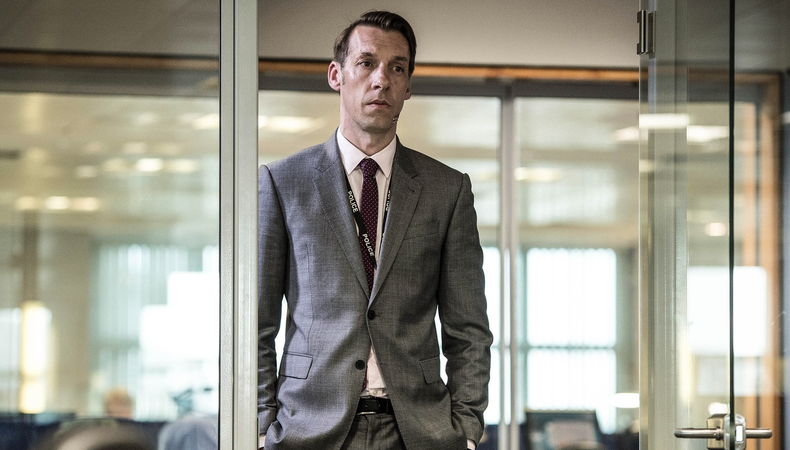 One sleepless night Craig Parkinson found himself planning a podcast. "I'd had trouble sleeping. I thought: I've been an actor for 20 years, I love podcasts, what will happen if I turn the spotlight on other actors and chat for an hour? So I decided to make it."
With that, The Two Shot Podcast was born. Despite notable performances in British indie films, critically acclaimed plays and a raft of telly, Parkinson is now best known for playing Dot, the criminal mastermind who infiltrated a police anti-corruption unit on Line of Duty. Dot, known as "The Caddy", gripped the nation as he tricked and murdered his way out of trouble for three seasons ahead of the climactic feature-length finale. Along with writer Jed Mercurio, Parkinson and his co-stars created something so engaging that the Guardian called it less like watching TV than "being abducted by it."
But even during the excitement of Line of Duty, Parkinson was looking ahead to the podcast he'd dreamt up. He contacted producer Thomas 'Griff' Griffin, spoke to his Line of Duty co-star Vicky McClure – and within a matter of weeks, sat down with McClure to record Episode 1.
In less than a year, it's been featured in numerous "best podcasts" list, and Parkinson has put out an episode every Thursday, reaching 320,000 downloads.
From Doctor Who to Grey Worm
Since McClure, he's interviewed other co-stars and performers ranging from Jodie Whittaker, Daniel Mays, Tamzin Outhwaite and the legendary Andy Nyman, to beat poet Argh Kid and comedian Ingrid Oliver.
Parkinson knew his listeners wouldn't just be actors, so he aims for universal human stories, and records in quiet cafés or the guest's own kitchen. Conversations are informal, and he discourages people coming on and "selling their wares or plugging" ­­– which sets it apart and makes for wide-reaching conversations. You won't hear about upcoming projects ­– but you will be immersed in an actor's childhood, their journey to acting and even their toughest decisions. Parkinson says that recording can sometimes feel like "a form of therapy" and he knows "it's a big ask for people to open up about their past and emotions." Parkinson's interview with Danny – a struggling actor who left the industry to pursue another career – is a good example.
It was, he says, "a very conscious decision" to include an actor who walked away from the industry. "We talk about our great successes but it's vital to know that actors can be out of work for long periods and stop because it's making them unhappy. Although everyone takes their career very seriously, you've got to know when to say no and switch off."
Switching Off
Now he's learning how the gruelling schedule of podcasting can take its toll. Parkinson's been doing intense 48-hour sessions, recording seven episodes in one stretch. He admits "that's a lot of listening and talking. By the end of it I get on the train with all these people's stories swimming around in my head, some of them dark and emotional." Just like an acting gig, he's "learning to switch off and put those stories aside so I don't take them home." He pauses before revealing that "doing these podcasts has emotionally affected me more than my career as an actor ever has."
Although Parkinson "feels lucky to have spent so little time out of work over the last 20 years," the podcast fulfills a yearning to be creative with his downtime. "There's a need for all creative people to do something to fill the gap, get it out of your system, not wait around for the phone to ring or a certain script to drop on your doorstep." It's obvious that Parkinson needs this podcast as much as the listeners do. "I feel it's healthy. It's so different and I'm learning from it – it's fulfilling."
He adds: "All actors would like to be more in control of their careers but we're always at the beck and call of others. With the podcast, myself and Griff have complete control over who we talk to, what we put out. That's a great counterbalance to acting."
As with many of the podcast guests, Parkinson is passionate about opportunities for actors from average backgrounds to break into the industry and believes that "even if you don't want to get into acting as a career, it's healthy for children to be so open – we should nurture that. Doors should not be closed so early to ones so young."
A Foot in the Door
Perhaps his most unexpected success was Line of Duty. When he signed up, Parkinson had no idea who his character would become. And he's glad: "It's a gift as an actor not to know! Had I been pulled aside and been told I was this mastermind I might have played that and given something away. It would have been terrible."
Alongside the epic journey of his character, Parkinson had another challenge: the interrogations. "Like a wrestling match where opponents never leave their seats – a lesson in how to let the camera do the work." But as well as getting his head around the police speak ("My line is, 'A B3129.' How can I remember that? You can't emotionally connect to that as an actor!") the tight schedule meant staying late to run scenes ahead of filming.
"You're shooting on multiple cameras but in just one take. With a scene that's almost 30 minutes in length, you don't want to be the one who drops the ball because you've got to go all the way back to the beginning! Game over."
Thankfully, it's far from game over with the podcast. Although Parkinson's to-do list gets longer each week, "the podcast is No. 1 at the moment," and he's "excited and honoured" to have the opportunity to keep it going.
Check out The Two Shot Podcast back catalogue and subscribe for weekly interviews with actors.