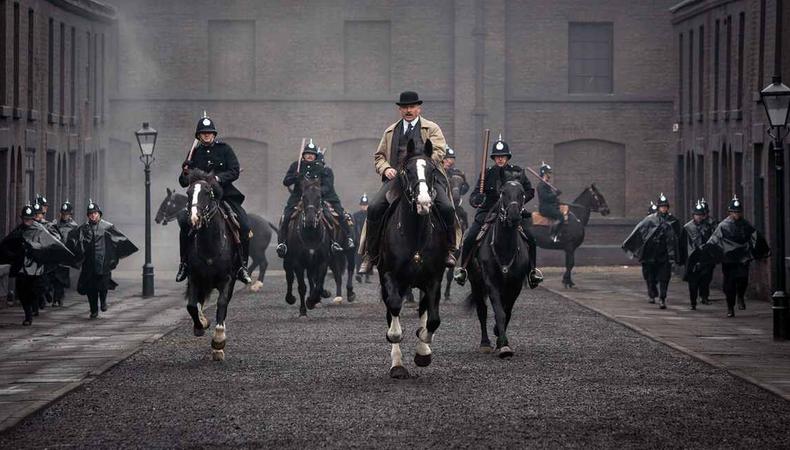 Hello and welcome back to our roundup of news from across the industry. From stage to screens big and small, we've got you covered. It's everything you need to know and all you can't afford to miss.
Industry and critics split on Donmar appointment.
Last week, the Donmar Warehouse announced their pick for new artistic director: Michael Longhurst will take over from Josie Rourke in March 2019. Rourke previously worked alongside Longhurst at The Bush and said he's a 'thoughtful leader who commands huge respect in the theatre community'. The director has a varied CV, working across new plays, revivals and musical collaborations. In a statement on the appointment, Longhurst said, 'I saw my first show at the Donmar aged 15 and later even slept overnight on the street in the returns queue...I am so proud to undertake the challenge of filling this amazing space with exhilarating artists and important stories and am deeply honoured to be following Josie as the new artistic director'.
The industry has been split on the appointment. Guardian critic Michael Billington's verdict was positive, despite suggesting that the incoming AD needed to give the theatre a 'more distinct identity', but critic Sarah Crompton suggested that Longhurt's appointment represents a 'return to the white male tradition' at the Donmar. Both of the Donmar's previous artistic directors have been 'great white males' of British theatre: Michael Grandage and Sam Mendes.
Crompton said 'There are many women waiting in the wings for their chance to run a theatre. It would have been cheering to see one of them given a chance'. HighTide's Steven Atkinson said that attention should instead be focussed on how Longhurst is a 'working class grafter who's worked his arse off' and The Stage's Lyn Gardner focussed on the director's reputation as a 'great storyteller with instinctive flair'. When Rourke joined the Donmar in 2011, she was the first woman to run a major British theatre and alongside producer Kate Pakenham brought female-led and all women productions to the fore.
Equity president on stopping harassment: 'There's a lot further to go'.
Actor and outgoing Equity president Malcolm Sinclair told The Stage that the campaign to eradicate bullying and harassment in the industry will stall if actors are too afraid 'to make waves'. Speaking at the press launch for David Haig's play 'Pressure', Sinclar told the paper that drama school students are most vulnerable to harassment because they fear being labelled as 'tricky' if they report it.
He said that Equity has had a dedicated helpline 'for years that wasn't used very much, because people didn't know about it or didn't want to make waves', adding that although actors feel more comfortable speaking out now, 'it is still difficult for drama school students to speak out, because they don't want to get a reputation for being tricky.'
Tour collapse reignites calls to crack down on rogue producers.
A national tour of the musical 'Thoroughly Modern Millie' was cancelled last week, leaving cast, crew, and venues in the lurch and renewing calls for a crackdown on rogue producers. In a statement, the tour producers blamed the collapse on poor ticket sales putting the company in financial difficulty and confirmed that they were 'sadly and regretfully' cancelling the musical with immediate effect. The cast and crew had no notice but were informed that the producing company would be going into liquidation, with Equity investigating and assisting members affected by the cancellation.
In an email, producers told the cast the production had been 'playing to very small audience numbers' and that sales 'had not been enough to cover the costs'. The Stage also reported that the show was not being produced on an Equity contract. Equity's Paul Fleming told the paper that in his seven years supporting members, no tour on an Equity contract had collapsed and that an Equity agreed contract meant 'quality assurance' - ensuring members are given notice and producers meet obligations. Fleming said that the union will lobby to change company law allowing producers to dissolve a company and set up another despite owing money to employees. 'It allows some rogue producers to head up multiple companies again and again, and then dissolve them' and that Equity will push 'to improve accountability' in the industry. As part of their Professionally Made Professionally Paid campaign, Equity is also seeking confidential survey responses about performer experiences in student film.
Stage Production News
The Old Vic announced their new season last week with top billing going to hip-hop musical 'SYLVIA', starring Beverley Knight. The much-awaited world premiere sees the story of suffragette Sylvia Pankhurst told through a mix of 'dance, hip hop, soul and funk' with original music by Josh Cohen and DJ Walde ('Mad Hatter's Tea Party'). Co-written by ZooNation's Kate Prince and author Priya Parmar, it opens the season in September. There'll also be a world premiere of 'Wise Children' by Emma Rice's new company of the same name and new play 'A Very Expensive Poison' by Lucy Prebble ('Enron'), an adaptation of the book by Luke Harding about the murder of Alexander Litvinenko in 2006. The season ends with '17c', a multimedia dance show by Annie-B Parson based on the diaries of Samuel Pepys. The Old Vic's production of 'A Christmas Carol' returns over the festive season, with Stephen Tompkinson taking over the role of Ebenezer Scrooge. Season casting is by Jessica Ronane.
Screen Production News
James McAvoy ('X-Men') and Clarke Peters ('The Wire') are in talks to join the cast of the BBC's adaptation of Philip Pullman's fantasy trilogy 'His Dark Materials'. According to the Daily Mail, McAvoy is confirmed as aristocratic explorer Lord Asriel, the role played by Daniel Craig in the 2007 film adaptation 'The Golden Compass', in a 'coup for the Beeb'. 'Logan' star Dafne Keen is confirmed as protagonist Lyra, an orphan who lives in a parallel universe. Peters is to play the master who raises Lyra, with both actors reportedly starting shooting in Wales later this month.
One of the U.K.'s leading film and TV studios last week announced a £50m project to create a major new complex within Liverpool's Art Deco Littlewoods building. What was once home to the headquarters of the football pools is to be taken over by London's Twickenham Studios as they move out of the capital. It will feature two new sound stages to meet the growing demand from international film production. Liverpool has increasingly become a go-to for outdoor locations, including Birmingham-set 'Peaky Blinders' and 'Fantastic Beasts and Where To Find Them'. Twickenham Studios will take over 85,000 sq ft of the Littlewoods building, with other film and TV companies expected to follow. Read more here.
Check out Backstage's London audition listings!