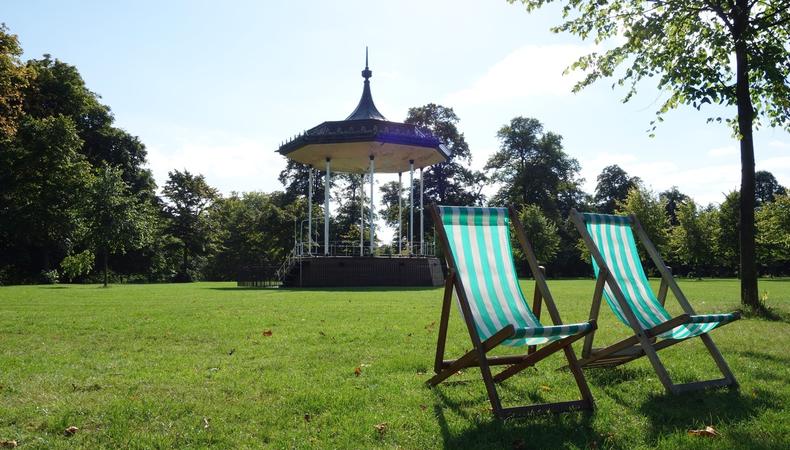 As much as everyone in this industry likes to boast about how hard they work, taking breaks and time for yourself is important. If you're in the middle of what some call "funemployment" then spending your free time wisely without spending money is vital. Even when you are in work, it's important to build a routine and lifestyle that doesn't have to crash to a halt when you enter your overdraft. You will learn to live cheaply because you have to. But this isn't a guide to finding cheap things to do. This is a guide to navigating, enjoying, eating out, and even working out in London, one of the most expensive cities in the world, for free.
Transport
Walk. Central London isn't so big that you always need to get on the tube and there are many tube journeys which take the same time or longer than the walk (have you ever changed at Bank?). Save yourself £2.90 a ride and get some exercise.
Food
Pret and Eat are out to convince you they are the cheap option. Pop-up restaurants and food stalls are out to convince you that you need vegan ice cream for lunch. Yes, it's all lovely, but save your cash for plays not pies. The Radha-Krishna Temple offers free hearty vegetarian lunches across London, the most popular being off Russell Square, weekdays from around midday. The etiquette is that you queue, bring your own Tupperware if you can and arrive hungry. The portions are gigantic and they usually give you free doughnuts, bread, cake, and fruit too. If you do have spare change then consider donating to help keep this wonderful tradition alive.
Tea or Coffee
If you live near a Waitrose then well done, you've made it. For those of us who are still making it, Waitrose offers a free hot beverage with every purchase if you register for their My Waitrose loyalty card. It used to be truly free, but as you could buy a grape for 2 pence, we are calling it "pretty much free." It's certainly free-er than a £3.60 flat white. Expect people stealing all the free sugar packets or soy milk and long queues at lunchtimes. If you're in Covent Garden then cross the road to Holborn Little Waitrose. If you're towards Soho head up to the bliss that is John Lewis Foodhall for that "pretty much free" tea or coffee.
Beer
Yup, free beer. Lots of pub chains offer a free pint when you sign up to their mailing lists. Fullers, Youngs, and plenty of smaller chains offer it. Just surrender your details and they'll send you a voucher for a free drink.
Culture
I've already written about seeing theatre for free, but did you know that London has cultural spaces other than theatres, film studios, and casting rooms? That's right, there's a whole other side to the arts! London has the nation's best museums and galleries, all free thanks to (and here's something you don't often hear) Tony Blair.
If you want a few hours amongst treasures of the ancient world or to observe tourists at their finest, the British Museum is the place to go. Avoid it during school holidays. Pro tip: Tate Modern is a nightmare. Try the calm of Tate Britain in Pimlico instead.
If art and fine craftsmanship is your sort of thing, check out the Victoria and Albert, right next to the Natural History Museum in South Ken. Be sure to see their costume collection, which hosts pieces from a wide range of events, from productions at The Old Vic to David Bowie's trousers as well as the performance archive, which holds an annual festival.
The Horniman Museum is one for South London folk or those that fancy a bus ride to the leafy streets of underappreciated Sydenham. Enjoy the (frequently hilarious) collection of stuffed animals and the weekend market stalls inside a giant heated greenhouse.
The Wellcome Collection is a fascinating departure from arts, focusing as it does on science and society. Consider it the thinking person's Science Museum with the best gift shop in London.
Music
The Royal College and The Royal Academy of Music are just two music schools which offer free concerts at varying times and locations. The Southbank Centre is the most overlooked venue on the Southbank, home of free world-class live music and regular events. If you're looking for something a little more lively, try Hootenanny's in Brixton where most gigs are free.
Work Space
Once in a while, even those of us who are great at working from home need to get out of the house. Hogging a table near a plug in Caffe Nero is fine if you want to be stared at by the staff for eight hours, but London has places built specifically to get work done, most of which let you bring in your own food.
The Barbican is a public space. This means that you can pretty much do what you want here, within reason. Its cavernous design means that the noise of visitors creates a pleasant underscore, there is a well stocked public library, a gigantic rooftop conservatory, ample table space and free wifi. Drop into the free Curve Gallery whilst you're there.
The Southbank Centre is another friendly public building. A little known secret is that if things get cramped on the ground floor, you can head upstairs to a row of tables with great views over the river.
The British Library. Think of the most studious place you can imagine and multiply it by eight, that's the BL. You can join for free if you want to use the reading rooms but there is a huge amount of space where you don't need a membership card. There's free wifi, water fountains and plenty of great coffee and food options for lunch. Arrive early to secure a desk.
Exercise
The whole "it's too expensive to join a gym" thing doesn't wash here. Firstly, London has some of the best parks in the world and you're never far away from one, often with running paths or tracks. Many also have outdoor gyms with well maintained, quality equipment and some run community classes (check borough websites for this).
Any major sportswear brand you can think of runs free classes, from running to yoga. Try googling Nike, Lululemon, Reebok or Asics along with "free exercise" and feel your chicken wings quiver.
OurParks is an initiative that could have been designed for freelancers and the funemployed. It offers free classes with qualified instructors at locations across town, with most classes available at off-peak times. Have a look and see what you can handle.
Finally, take a taster session for a class. Yes, they will try to sign you up. Yes, they will try to take your card details. Yes, they'll probably hassle you via email. But London has so many free introductory classes across a range of exercise programs that you'd be unlucky to bump into the same trainer twice.
Do you have any other great tips for free stuff in London?
More for UK actors? Check out the magazine.