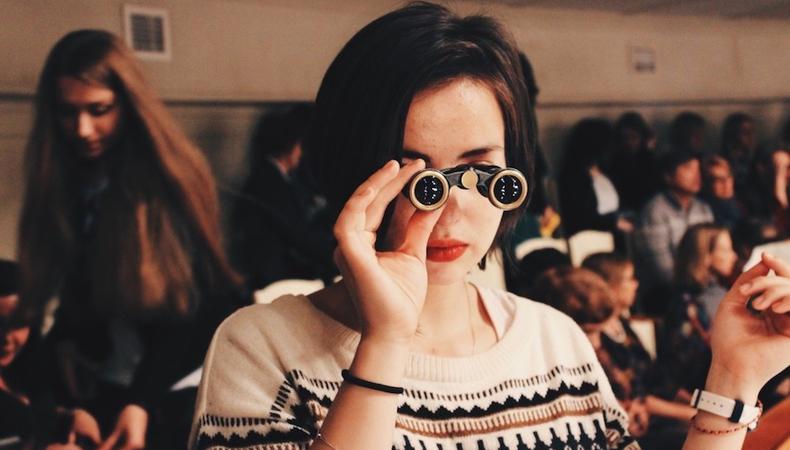 Theatre is an expensive hobby. But what about when seeing theatre is no longer a hobby, when it becomes a part of your job? When you need to research a director, a play, or a theatre space? When it's keeping up with what and who is happening? Years back, a mentor told me I should be seeing a play three times a week until I'd been to every theatre in London. I tried and, as much as it was artistically thrilling to see so much theatre, it was financially disastrous. After wondering how anyone could afford such a lifestyle, I had a realisation: they weren't paying and if they were, it wasn't the eye-watering amount of full-price tickets. It was time to get smart about seeing theatre, to make it an affordable part of my week. Here's how you can do the same.
Fill up on free theatre by being a filler.
The Audience Club is a brilliantly simple idea: if a show has seats that need filling, The Audience Club sends their friendly, appreciative and incognito members along. Despite the slightly dated website, it's bigger than ever and periodically open for new members. Registration, membership and tickets are all completely free, there's no limit to the amount of shows you attend—the only catch? You'll be asked to make a one-off donation to a charity when signing up and pay a small booking fee for each ticket.
Once you get a ticket, you commit to turning up. You'll also be expected to be discreet. That means no boasting in the bar or tweeting about your freebies. Tickets come from theatres and producers looking to fill the stalls on press night or previews, so you might end up in a West End show where others have paid upwards of £80 a seat or watching previews of a new play at a small venue. The quality can vary but there's something for every taste.
The Audience Club focuses on theatre but also provides fillers for concerts, dance and stand-up. If your tastes go beyond that, then check out My Box Office. They cover all the usual theatre in much the same way as The Audience Club but also have tickets for film screenings and sporting events. If you've got money to spend or the parents are in town they also offer some heavily discounted tickets to top shows.
READ: The Best Theatre Cafes in London for Working and Networking
There is another breed of filler: those who go rogue. Outside of all known schemes, they queue up outside box offices across London and wait for returns. Unless a show is sold out, theatres don't publish information or rules on being an informal filler because they'd rather people bought tickets upfront. But if your constitution is tough enough and you've got a few hours to kill (or lines to learn) then queuing up for unwanted, unsold or standing tickets can be a great way to see theatre on the cheap. If you're going down this route, be extra friendly to the people at the box office and know your budget. If you only have a tenner to spend, then stick to it. Turn down the £30 tickets until something cheaper comes along, especially if it's a big auditorium. Also, keep on the lookout for ticket holders who have been stood up. They're usually the person sheepishly ripping apart a pair of tickets and talking to the box office staff about delayed trains.
Cheap theatre.
Old age brings wisdom, respect and characterful foreheads. Youth means cheap tickets. While you can, take advantage of the many ticket offers for young people. Age ranges vary from theatre to theatre but generally, if you're under 25 there's a ticket scheme for you. The Donmar Warehouse has launched the generous YOUNG+FREE scheme for their whole programme, the National Theatre runs Entry Pass for under 25s, which comes in at just £10 a ticket and The Barbican runs Young Barbican, which comes in between £5–£10 for theatre and just £5 for new cinema releases. There are many more, and as the landscape is forever changing it would be foolish to create an exhaustive list here. Before you book at a theatre, Google and check. It's worth mentioning that subscribing to mailing lists, ticking the correct age range choice and booking as soon as the announcement comes through is the best way to secure these tickets as they tend to go fast.
If you've outgrown the young ticket schemes, sign up to theatre mailing lists to be alerted when new productions go on sale and bag those cheap preview tickets. The show might not be running at its smoothest but it's a cheap way to see top theatre for less. The Old Vic sells at least half of preview seats for a fraction of the normal ticket price and many other theatres keep prices low for the first few performances.
For festival shows in Edinburgh or at London's Vault Festival, check for 2-for-1 deals on the site and do a little sifting on social media in case anyone has posted discount codes for certain nights. Stagedoor is also great for deals.
Review.
If you want to see even more, go and review. You don't need to harbour the ambition to become the next Lyn Gardener to become a reviewer. There are plenty of review sites which cover fringe theatre, and if you can write a sample without any serious errors of spelling or judgement, you can review. A Younger Theatre is frequently on the hunt for new reviewers to join their team across the country. After a brief email exchange, you'll get a spreadsheet of all the shows they have access to and can take your pick. The sharp-tongued might want to find a pseudonym to write under in order to save the future embarrassment of being recognised by someone you've trashed in print.
Just tap water, please.
There will be a day when you can afford a glass of wine before the show, in the interval and for the catch up with friends afterwards. Until then, fill your Chilly's with a (non-sparkling!) white. And every supermarket in London worth its off-license sells little cans of gin and tonic, rum and coke and miniature bottles of rosé. Don't crack them open in the lead's long pause, don't leave your rubbish under your seats and don't drink them in the bar. Do enjoy yourself on cheap drink while saving that £20 you shouldn't have even thought about spending in the first place.
Do you have any other great tips for free or cheap ways to see shows? Post them in the comments for other Backstage.com readers!
More for UK actors? Check out the magazine.