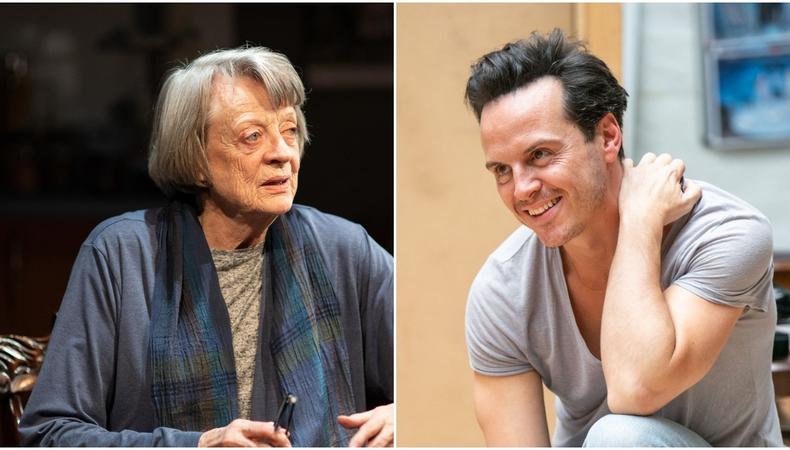 Hello, and welcome back to Week in Review, our roundup of industry-wide news. From stage to screens big and small, we've got you covered. It's everything you need to know and all you can't afford to miss.
Maggie Smith and Andrew Scott lead Evening Standard Awards
Last week saw the 65th Evening Standard Theatre Awards crown Maggie Smith as best actor, 57 years after her first gong at the awards in 1962. Smith won for A German Life at The Bridge Theatre, a 100-minute solo play and her first stage role after a 12-year absence. Andrew Scott took home best actor for his critically lauded performance in Noël Coward's Present Laughter at The Old Vic, topping off a year that saw him catch the nation's attention as the Hot Priest in Fleabag. Fresh talents Laurie Kynaston and Jasmine Lee-Jones also took home awards; Lee-Jones for writing seven methods of killing kylie jenner and Kynaston for his acclaimed performance as tormented teenager Nicolas in The Son. Read more here.
Director asks what's really behind cinema chain pulling movie
The director of a Blue Story, a feature drama based on London gangs, has spoken out after the film was banned by Vue cinemas following a mass brawl, with fans calling for a boycott of the cinema chain. Director Rapman (AKA Andrew Onwubolu) has insisted an incident involving a machete at a Birmingham cinema had nothing to do with his film's content and asked to see evidence behind the 25 other "significant incidents" reported by Vue across the country. The chain claims the film, which has a 15 certificate, has attracted a significantly younger audience, with ticket holders resisting proof of age being behind some of the incidents.
Rapman, who found fame as the creator of YouTube series Shiro's Story, argued there was "no connection" between the Birmingham brawl and his debut feature, claiming the film's narrative is not justifying or celebrating violence. He told the BBC's Will Gompertz that something else might be behind Vue's scrapping of the film, saying: "And then you start thinking, is there hidden reasons there? What's the owner like? Has he got an issue with young urban youth? Is he prejudiced? Does he believe that this film brings a certain type? Is there a colour thing?" A spokesperson for Vue said the decision to pull Blue Story from its 91 cinemas was "categorically not" related to race. However, claims of Vue being "institutionally racist" preceded calls to boycott the cinema chain. Read more here.
New theatre company to showcase trans and non-binary actors
A theatre company dedicated to showcasing talent from the trans and non-binary community has been set up in London. The Trans Voices Company has been replicating a New York cabaret showcasing trans and non-binary performers since June this year. But now they hope to address a lack of casting opportunities for transgender performers by producing plays and a regular musical theatre showcase at London's The Other Palace.
Led by performer Harrison Knights, the Trans Voices Company aims to develop a full repertory company in the future but will start with a January 2020 showcase. Speaking to The Stage, Knights said Trans Voices was "just as diverse as a cis company" but that trans performers "have a label put on us straight away and we are judged by our label before our ability." Knights hopes the company can also launch training aimed at trans performers.
READ: The Future of Trans Actor Visibility
Claims against Shakespeare's Rose total more than £378,000
Actors, agencies, a council, and a local scaffolder are among those owed hundreds of thousands of pounds after failed pop-up Shakespeare's Rose Theatre went into administration earlier this year. Claims on Companies House show a total of £378,000 is outstanding, with the largest amount (£71,472) owed to a local scaffolder, with many actors and stage management staff individually owed thousands. The pop-up, which ran in a car park in York and at Blenheim Palace in Oxfordshire, folded at the end of the summer after a poor box office meant the company took on "unsustainable losses" from their 2019 season.
Equity is supporting 76 members who are owed pay and contributions and the wider theatre industry has gone public over the additional £5 million of debts against boss James Cundall, who runs six companies globally under the brand Lunchbox Theatrical Productions. Producers of internationally successful shows like Les Misérables and Matilda are trying to recover funds from Cundall, who has yet to comment publicly about the scandal. Read more here.
Screen production news
David Tennant will play notorious serial killer Dennis Nilsen in Des, an upcoming drama about the man who murdered at least 12 young men in London throughout the late 1970s and early 1980s. The Broadchurch star and former Doctor Who co-stars with Daniel Mays, who plays the police officer who brings him to justice. Jason Watkins (The Crown) will play biographer Brian Masters, who collaborated with Nilsen on his biography, Killing For Company at huge personal cost. The three-part drama for ITV will explore the personal and professional consequences for Masters of coming into contact with Nilsen, who died in 2018, and has a script written by Luke Neal that aims to explore the impact on victims' families.
Looking to get cast on screen or stage? Check out our UK auditions
Stage production news
Hit musical Dreamgirls is heading out on its first-ever UK tour, starting in Bristol next September. Based on the film of the same name, the musical follows a group of young singers living in the 1960s and trying to find fame and fortune. Opening at Bristol Hippodrome on 12 September 2020, the tour takes in Milton Keynes Theatre, Her Majesty's Theatre in Aberdeen, and the Edinburgh Playhouse. Dreamgirls ran in the West End from November 2016 to January this year, with a book and lyrics by Tom Eyen and music by Henry Krieger and direction and choreography by Casey Nicholaw. Tour casting is yet to be announced, but original casting was by Pippa Ailion & Natalie Gallacher.
More for UK actors? Check out the magazine.