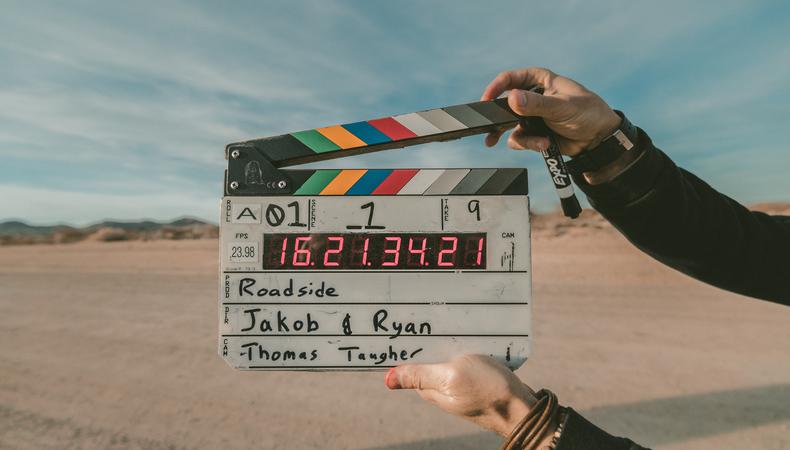 It's a tough time for actors right now, but The Slate – Backstage's live series of classes, seminars, and digital exercises – will help turn time on your hands to your advantage.
We all know what actors can't do in lockdown, but one thing you can do is make your first showreel or refresh an old one. Filmmaker and editor Warren Blackmore, together with casting director Hannah Williams, recently gave Slate viewers a live masterclass on how to cut together a strong reel and what goes into a great one. The full tutorial is available here, but these are the key takeaways:
Be ready to edit
Warren: "Before watching the tutorial, get your footage together and download and activate a seven-day free trial of Premiere Pro, the programme you'll need to edit with. This gives you the programme fully unlocked and is enough time to edit your showreel."
Think of a showreel as part of a 'package'
Hannah: "This down-time is a good opportunity for people to be refining their whole package. By that I mean, thinking about what's on your CV, looking at your showreel again, and putting research into the agents you're approaching. It's important to keep your showreel up to date. Make sure it's representative of you and shows a range. And keep it to three minutes or less. If you're not sure about a bit of content and it's just there to bulk out the reel, don't include it. Casting directors don't have much time – we can't always watch a three-minute reel all the way through. A lot of the time we're flicking through, because if your performance in the first scene isn't quite right for the role we're casting then perhaps the next thing is. We want to see variation there. As a rule, if in doubt, take it out."
The standard reel format
W: "At the start of any showreel should be your slate. Import your headshot, resize and move it to the right of the frame and then put your name, agent and Backstage profile on the left. I would say this should play for three seconds, and it should quickly fade into your first scene. The reel should also end with your slate, which you can copy from the start.
You'll need the credits for each clip. You want the title, the director, and maybe the production company underneath, all in the bottom right corner. The format is: one second of the scene without the title, fade in the credits and keep them up for three seconds, then fade them out. In terms of quality and format, it should be 1080p and 25 frames per second. It needs to be an MP4 file because that's universal. It'll work on YouTube, and if you send it to someone via email they can watch it on anything, including phones. You can also upload it to your Backstage profile. If you're sending it, make sure you name the file: YOUR NAME SHOWREEL."
H: "When you upload it, it's nice if you can make the thumbnail [the image which we see before the video plays] as your slate. With YouTube or Vimeo, you can choose which frame is your thumbnail, so pick your slate image."
Keeping the viewer interested
W: "A scene needs to show your performance and keep our viewer engaged. As much as everyone loves showing as much work as you can, you generally need to condense it into something more manageable. So, once you have your first clip in, cut the shot. Delete anything you don't need."
H: "It's brutal, but you need to remove the dead space. Unless it's a nice look from you, or a real moment, we don't have time to see it."
W: "If you're not the focus of a scene, edit to bring the focus back onto you. There's nothing wrong with a scene that's got the focus on someone else, but for the purpose of your showreel, just bring it across to you in whatever way you can."
How to order your reel
H: "This is not the definitive way to cut a reel, but it's what I think works best. When you've got multiple scenes from a project, I quite like them to be in order rather than interspersed. So, you've got the highlights of one performance all in one and we can skip through and see something different later on. If you have performances which are very similar, try to break it up by adding the one that is most different in the middle of those so each scene doesn't feel like more of the same."
Creating showreel material
H: "Your reel should contain as many clips as you need to show a good representation of you as an actor. If you don't have any credits at all and you're trying to get something together for a showreel, I would rather see something than nothing. It's more likely we'll take a chance if we can see you, even if it's a self-shot monologue. I'm much more likely to bring you in if your performance is good than if I've only seen headshots. As long as the content is good and it's a good performance, use what you have or can make."
W: "There are a lot of aspiring filmmakers out there as well as students and people just out of film school, and they all need actors to shoot. So, find what's shooting and do as much as you need to build your showreel."
H: "Backstage is a great resource for that because of the scope of stuff that's casting there – everything from massive feature films and commercials to student films, or even before people go into film school. So, keep your profile updated and keep applying for things on there."