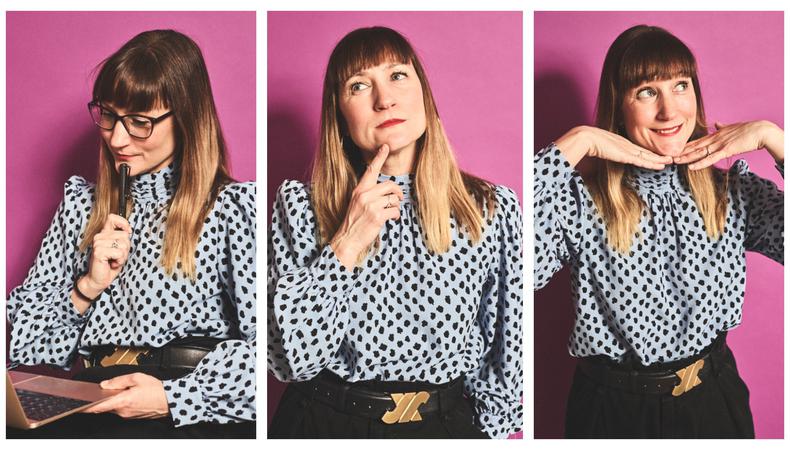 Back to the Front is a series where actor Naomi Wattis test-drives an array of different acting and performance courses to help you ready yourself for a return to the acting frontline. This week, she samples an "Autobiographical Theatre-Making Webinar" taught by accomplished performance artist Bryony Kimmings.
A career in performance is a bold choice and we all have our reasons for making it. For many, it's about the need for connection—to connect with an audience and communicate human experience in a way that allows them to feel joy and sorrow, to forgive themselves and resolve to live differently.
Oftentimes, once a job ends and we lose the camaraderie of a team and an audience, we're back to square one as though it never happened. Creatively flabby and out of shape, the thought of working again seems implausible. Now more than ever while we are in lockdown, the feeling of connection that lights our spark may seem completely beyond our grasp.
But what if we could do something to sustain us between jobs? Not only to keep us connected and present in the industry but also to get us match-fit and ready for the game in terms of practice and technique for when the next casting comes around? Musicians and athletes train daily to sustain their discipline, so why not actors? And what would the impact be if we did? I'm on a mission to find out.
What is the mission this week?
Bryony Kimmings is a performance artist who specialises in creating art out of crises, so her Autobiographical Theatre Making Webinar is pretty timely. She's the high priestess of autobiographical theatre and an associate artist at Soho Theatre. Her broad CV includes devising shows for Theatre de Complicité, as well as writing the screenplay to Last Christmas with Emma Thompson, which was a huge hit at the box office. Her stage show I'm a Phoenix, Bitch sold out its run at Edinburgh Festival and won an Offie award before touring internationally. I'm feeling that my creative skills could do with rising from the ashes, so this online workshop could be a good place to start.
What is the deal?
The workshop costs £30 and runs on Zoom for five hours. Kimmings is warm and dynamic, fizzing with energy, ideas, and colour – the webinar is live but she still manages at least three different costume changes.
"You need to feel good to make art," Bryony says at the top of the day (which seems a tall order as I contemplate how long my roots have grown during lockdown, and how the last time I wore makeup was to go to Tesco.)
But I am wrong. Listening to Bryony unfold her creative process is life-affirming, not least because it involves a lot of dancing and dressing up. But crucially, she breaks each part of her process down into manageable chunks and, as if by magic, the thought of creating an autobiographical piece of theatre no longer seems like something that only other people could do.
What do you learn?
Her projects begin with a question that she sets about answering through the work. In rehearsal and development, the question is literally pinned to the wall of her studio, and she takes months to research it from all angles as she pieces her shows together.
"I'm giving you a framework to inspire creativity, not a didactic way of working," she explains, as we come up with a list of questions and think about the shows we would make to answer it.
We explore how we would like our audience to feel at the end of the show and the stages it would take to get them there. I had never really considered all the different formats you could use to get a narrative across but we are asked to imagine our show as a cabaret, game show, walking tour, flash mob – the list went on and on. I close my eyes and I can visualise "Quorn the Musical" selling out at the Edinburgh Fringe next year.
She invites us to join her in a process she calls "blitzing" – dancing and brainstorming – and soon I am twerking around the shed where I write and scribbling down notes about whose career I would like to have, what my dream venue would be, and how much money I would like to earn (Phoebe Waller-Bridge, The Royal Court, a million pounds please).
What's the verdict?
This is a perfect tonic, part therapy, part workshop, and part disco. I feel my energy rising and my mind is opening up to possibilities beyond the shed. She later sends us her playlist and I would happily sign up to this course again for that alone.
For further details of Bryony Kimmings' work and courses, visit her website.