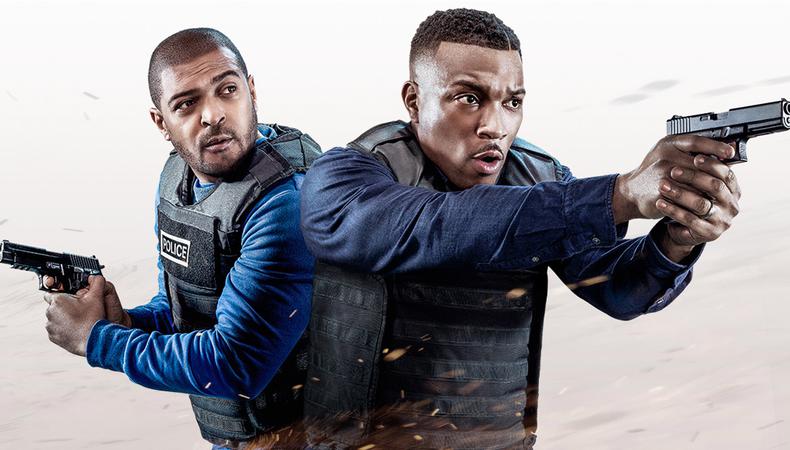 It's a tough time for actors right now, but The Slate – Backstage's live series of classes, seminars, and digital exercises – will help turn time on your hands to your advantage.
There are plenty of brilliant takeaways for actors and creators in our chat with the multi-talented and multi-hyphenate actor-writer-producer-director and rapper Ashley Walters, including how his cop drama Bulletproof came to be, and on the importance of seeing – and breaking – boundaries.
What drew you from acting to directing and producing?
"I realised that in order to get the roles and work I wanted, I'm going to have to produce, I'm going to have to write. I've worked with some really brilliant directors, Sarmad Masud being one of them. One day, he broke it down to me; he was like: 'What do you want to see?' He said: 'Imagine there's a woman standing on a boat in the middle of the sea – what's the woman wearing?' And I said: 'she's wearing a yellow summer dress and a nice hat.' And he asked: 'What direction is the boat going in; what does the boat look like?' And he kept on with questions like that, and when we finished he was like: 'You just directed your own film.' Directing is about the way you want to see things. Everyone will have different ideas or perspectives, but when you direct, it becomes your perspective. I'm interested in being creative in that sense, and having some control over the projects that I'm involved in."
How did Bulletproof come about?
"Eight or nine years ago, Noel Clarke and I sat down in a Starbucks, and the night before I had come up with an idea: black cops, London, undercover, badass guns, car chases, explosions, etc. Noel was already an accomplished writer and producer, and he gave it a bit more flesh. We wrote down the beats, where we wanted the journey to go. After that, it sat on the shelf for seven years. And Noel will hate me saying this, but we had a few confrontations about it, because I didn't understand producing at the time. He understood the ins and outs, and also some of the systemic racism that is in the industry. I used to ring him like, five in the morning and say: 'What the hell is going on? Where's our show?' But I soon realised that he was doing the right thing – people were saying to him that one of the characters needed to be white in order for the show to be greenlit. And his stance was: 'Well then, that show goes to the grave with me, it's not going to happen unless this is the way that me and Ash want it to be.' "
On representation in Bulletproof
"There's no takeaway from Bulletproof, there's not a message that we're trying to push. It's just some clean, harmless fun. If there's anything we try to make sure happens with the show, it's that we represent ourselves correctly. The whole thing has been built on solid black male role models. We understand that we are part of the media and also part of the movement that is shaping what the media is, especially for black people in the UK. It's important that we address certain things. As much as I love Top Boy – I'm the biggest fan of that show and it does what it does – but there is another world. And it's really empowering to see young black boys wanting to be Bishop and Pike, wanting to emulate those sort of characters. And like Noel always says, back in the day we had Knight Rider. And you know, when you were in school, as the black kid, all you could be was the car. So, it's nice now we're able to bring a bit of that American harmless fun to those audiences."
How did you get involved with Kingdom Drama School?
"It was founded by Najan Ward because he was an actor who struggled in the beginning of his career. And as much as he wanted to go to places like RADA or LAMDA, he couldn't get past the audition stage, he couldn't get through because it was so rigorous. It demands that you understand Shakespeare and all sorts of things that a lot of people don't have access to and will never have access to – it's elitist. So, the idea with Kingdom was to make a school that gave the same education to actors for a fraction of the price, without all the hold-ups and the red tape that you have to go through to get in. So when I came to join, Najan said he wanted to make it bigger, better. He wanted to connect students to the industry, bridge that gap. When I actually went there and spoke with the students, I realised how difficult this industry is, and it made me more determined to make this school everything that it could be. I think the USP is that there's no age limit, there's no ageism, there's no sexism, there's no racism. If you were driving a bus for 15 years and the next day you just wake up and decide that you want to try being an actor, come to Kingdom. It's as simple as that."
On living for the 20% and never making it
"I always say to people, especially my students at the school, 80% of everything is not going to happen. You're not going to get there, it won't work out, or whatever. You've got to live for that 20% and not worry about everything else – that other 80%. Also, you have to set goals for yourself. You have to see boundaries and try and break them all the time. Because, the minute you go: 'Ah, yes, I made it,' you're on your way down, in my opinion. For me, everyone's always like: 'You're doing so well – you're amazing,' or whatever. But in my mind, I haven't done half of what I need to do yet. Just you watch. You have to have that attitude to be a winner."
Check out the full Q&A with Ashley for an exploration of his character in Top Boy, how the show is made and why he'll still be making music as Asher D at 60.