Welcome back to our weekly roundup of what's happening in the worlds of screen and stage!
First off, Backstage London is very happy to report that, as of Friday afternoon, it is four degrees hotter in London than in Cannes. However, the heat surrounding Netflix at the film festival just won't go away.
One week on the from Netflix having their logo booed by audiences, Ben Stiller spoke out in support of the streaming service. He suggested that straight-to-Netflix productions are appealing because "they're the only ones who are making interesting movies in [a] mid-budget range" and that the rest of the industry has focussed on making high-income blockbusters and franchises. Stiller is at the festival promoting Netflix's family dramedy "The Meyerowitz Stories" along with Adam Sandler, Dustin Hoffman, and Emma Thompson. Director of "Okja", Bong Joon-ho added that he "loved working with Netflix" because he had "total freedom in terms of the casting, shooting, and editing".
Robert Pattinson is tipped by to win Best Actor (or as it's called at Cannes, Prix d'interprétation masculine) for his portrayal of a young career criminal looking out for his vulnerable brother in the Safdie Brother's heist movie "Good Time". The film received a six-minute standing ovation as the credits rolled. The same treatment was given for Adam Sandler in "The Meyerowitz Stories" (seriously) though apparently the applause only lasted 4 minutes. The most baffling question—who's timing?
Back in London, the British Urban Film Festival (BUFF) has announced it's partnering with sponsors BT to host a festival in the iconic BT Tower later in the year. The awards, which began in 2005, are back to celebrate urban independent cinema.
In casting news, British actor Cynthia Eviro announced via Twitter that she is to star alongside Viola Davis ("Fences") in the new Steve McQueen film "Windows". A thriller set in modern-day Chicago against a backdrop of crime, passion, and corruption, it also stars Liam Neeson, Colin Farrell, Robert Duvall and breakthrough British actor Daniel Kaluuya ("Get Out").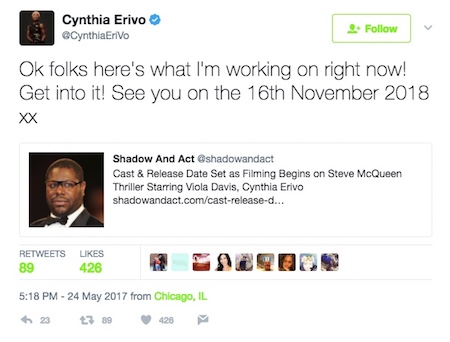 Three exciting shows have just opened in London for audiences and reviewers to get their teeth into: Emma Rice's farewell production of "Twelfth Night" at The Globe (after she was pushed out of the role of Artistic Director late last year), Jack Thorne's reworking of "Woyzeck" at The Old Vic starring John Boyega, and a remixed version of Dion Boucicault's Broadway hit "The Octoroon" is at The Orange Tree Theatre, which is stirring up a critical storm with its investigation of race and representation.
The full cast has just been announced for "Fiddler on the Roof" at the Chichester Festival Theatre. Alongside Omid Djalili and Tracy-Ann Oberman will be Chris Jarman from "Harry Potter and the Cursed Child" as Lazar Wolf, Emma Kingston ("In the Heights") as Hodel and Liza Sadovy ("Wicked") as Yente.
Have we missed anything exciting? Post it in the comments below! We'll be back next week for more news.
Check out Backstage's London audition listings!