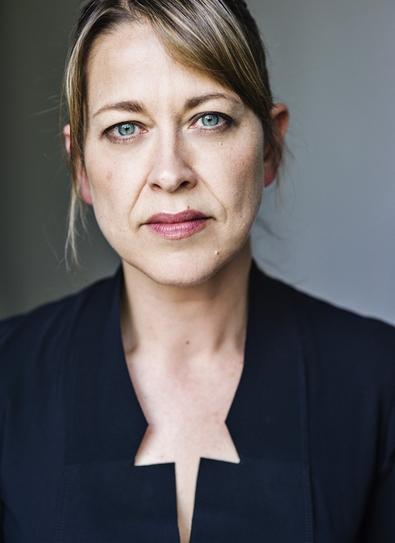 It took mere moments for Nicola Walker to blow her audition for "A View From the Bridge."
Immediately after entering the room, Ivo van Hove, the acclaimed avant-garde theater director helming the Arthur Miller classic, asked Walker how well she knew the play. "It was that thing where your mouth starts moving before you've engaged your brain," she recalls. "I said, 'Oh yeah, I know the play really well. I studied it for O Level and as a result it was bleached of any emotional meaning.'
"And there was a silence in the room. And then he said, 'Oh, so you're really looking forward to this audition.' And I thought, that's it! The director I've spent the last 10 days reading about, watching stuff, getting more and more drawn into understanding how this man works, and finding it fascinating—I've blown it, in the first 12 seconds."
After having tea and several conversations with the director, however, Walker booked the role of Beatrice and eventually went on to rave reviews in the West End production, which will open on Broadway Nov. 12 at the Lyceum Theatre with a cast that includes Mark Strong and Russell Tovey. Although this marks her American debut, Walker is confident the Brooklyn-centered "A View From the Bridge" will resonate just as much—if not more so—for New York audiences. She's also glad the cast will again have plenty of rehearsal time leading up to opening.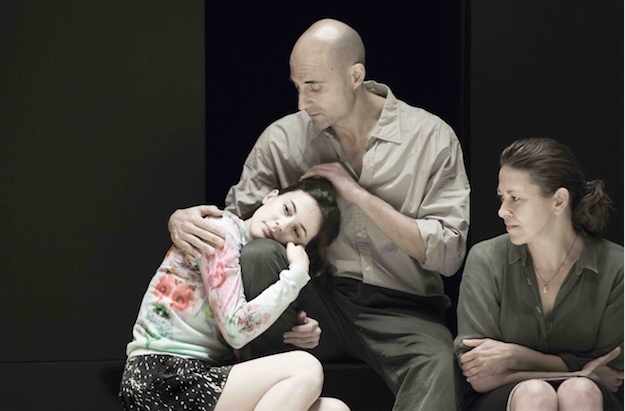 Phoebe Fox, Mark Strong, and Nicola Walker in "A View From the Bridge." Photo by Jan Versweyveld.
"It usually takes a couple days to get used to the space but we didn't feel that," she says of the London run. Several other aspects of the show's rehearsal process proved unusual for Walker; van Hove expected everyone to be completely off-book, on their feet, and in their costumes from day one. "You would come in in the mornings and put your costume on," she remembers. "Normally you're holding onto your own clothes and your script and all those things are making you feel you're safe. Like it's not time to really commit yet. But the way [van Hove] works is, 'Go on, commit, this is your character, these are your words, this is your space.'
"And day two, we lost our shoes," she adds. "He took our shoes away."
Walker's last acting job, her Olivier Award-winning turn in the National Theatre's "The Curious Incident of the Dog in the Night-Time," felt like a "natural progression" to this one, she says—a completely different but equally challenging role. "I took a long time after 'Curious,' to find something I really wanted to do." But when the prospect of van Hove and Miller crossed her path, this time her gut reaction said it all. "I thought, that's hard. And fantastic."
Although "A View From the Bridge" was last seen on Broadway only a few years ago, Walker says this production will be like none other. She won't reveal much else, except to give ticket-buyers an unusual piece of advice: "Sit onstage!"
Inspired by this post? Check out our Broadway audition listings!