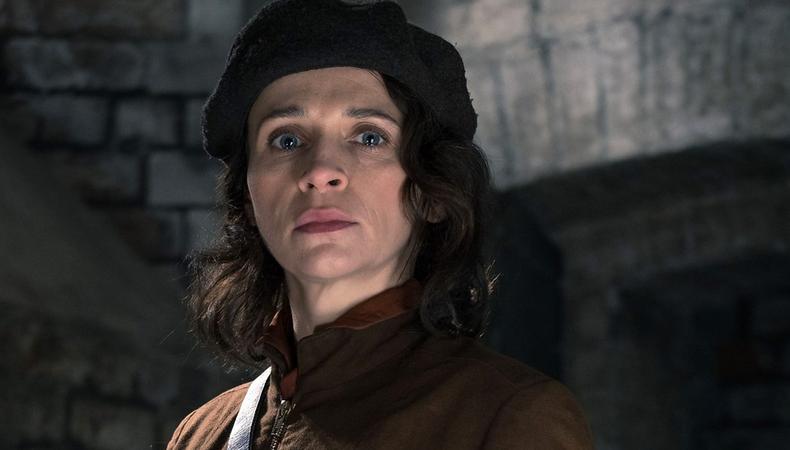 The following Career Dispatch was told to our UK editor by Charlene McKenna, who plays Captain Swing on 'Peaky Blinders.' The sixth and final series is now available to watch on BBC iPlayer.
I grew up on a mushroom farm in Monaghan in Ireland. I was the youngest of six, and the only girl. There's a gap of five years between myself and the last boy, so I had a weird mix of only-child syndrome and youngest-child syndrome, which bred a sort of creative loneliness, along with a need to please and perform.
Everyone worked on the farm, me included; we were always busy. My father had lots of diggers and low-loader wagons, which made for great stages. I would perform for anyone who'd watch, or even just the mushrooms. When I was 11, the local village was putting on a musical, and I got involved. It was Oklahoma! I think that's when I finally caught the stage bug. A year later, I joined a new youth theatre in Monaghan, which meant I got to do a huge range of stuff.
I always had a weird 'I don't want to train' thing, partly because I didn't think acting was a realistic career to pursue. It's hard to equate growing up on a mushroom farm with making it in film and TV. Now, I would probably tell my younger self to go to drama school; but at the time, I didn't even apply. Perhaps it was self-protection—or even self-sabotage—that stopped me. I'll never fully know.
I got my first TV job when I was 16. I did an acting for screen course, and through that, I got an audition for a Disney show about teaching kids English. After that, I did a couple of ads and a production of Romeo and Juliet in Monaghan.
Then, I got a random phone call asking if I wanted to go meet Neil Jordan and Cillian Murphy about the film Breakfast on Pluto. I actually cried when that happened—not out of joy, but because it felt like the universe was being cruel, dangling something in front of me that would never happen. When I got the part, I remember Cillian smiling and saying, "Go and celebrate." What he really meant was, "This is the start of your career," but at the time, I didn't really appreciate that.
I think my journey shows that there are no fixed rules. Obviously, if you can go to drama school, that will give you training and valuable experience—but you don't necessarily need that. We're all essentially in the same boat, and there are no guarantees. Early on, I felt a sense of impostor syndrome, like I'd got in through the back door; so I felt like I had to go above and beyond what everyone else was doing. I kind of burned out in my late 20s. I was doing lots of shows and becoming quite famous, but I never really took the time to ask myself if I was OK. I was away from my friends, and it was all just getting to be too much; but I didn't allow myself to admit that it was hard.
I'm in a good place now. Working on Peaky Blinders has been fantastic, not least because I got to reunite with Cillian. I was quite shy with him and a bit awkward, because I'm just such a fan. He's so good at what he does. I think when we worked together the first time, I was so naive, that I wasn't intimated. I was just having a good time, like a puppy let loose. Ignorance is bliss!
"When I was having a difficult time in my 20s, I was lucky to be surrounded by good people"
My next project is Holding, adapted from the novel by Graham Norton. He came to the set, and he was so lovely. We compared stories about a woman who worked at a toll booth who had been so excited to meet us. That was an immediate icebreaker. He's everything you would hope—exactly like he is on TV.
I'm lucky that I have a really solid group of family and friends around me. There's no bullshit; they call a spade a spade. When I was having a difficult time in my 20s, I was lucky to be surrounded by good people. There are some brilliant, grounded people in the industry, but it's also a gift to have friends who aren't part of it. They help you realise that fame and all that stuff is actually complete nonsense. It can be fun and it can get you a table at a restaurant, but it's ultimately meaningless.
If I could pass on any advice to my younger self, it would be to go home. Keep your feet on the ground. And remember, success is always tidal. You'll be hot, and you'll be cold; you'll work lots, and you won't work at all. But keep going, because the tide always turns.