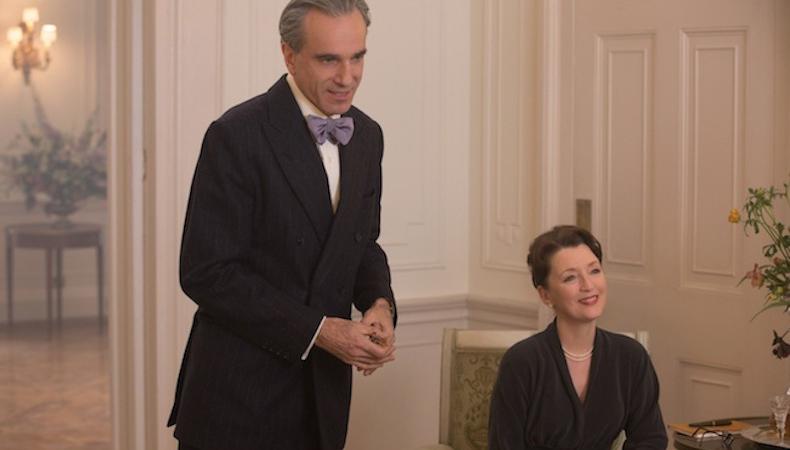 Few people know Paul Thomas Anderson as a filmmaker as well as JoAnne Sellar. As his longtime producer, alongside husband Daniel Lupi, Sellar has had a hand in every PTA feature since 1997's "Boogie Nights"; that's "Magnolia" (1999), "Punch-Drunk Love" (2002), "There Will Be Blood" (2007), "The Master" (2012), and "Inherent Vice" (2014)—a handful of widely regarded modern classics in their own rights. Sellar's creative relationship with Anderson continues today with "Phantom Thread," starring Daniel Day-Lewis, whom Anderson led to Oscar gold with "There Will Be Blood," as dictatorial fashion designer Reynolds Woodcock; Lesley Manville as his sister, Cyril; and Vicky Krieps as his lover and muse-of-the-moment, Alma.
READ: Lesley Manville Has Choice Words for Actors Who 'Behave Like an Ass'
The 1950s-set "Phantom Thread" posed a new prospect for Anderson—and a homecoming for Sellar. It was the six-time Oscar nominee's first time shooting on location in London and Sellar's first time working in her home city in the 25 years since she moved to Los Angeles. As producer, Sellar says her main preproduction responsibilities through the end of 2016 and into January 2017 were squaring away funding with production companies and distributors (hat tip to Annapurna Pictures and Focus Features), fleshing out the film's ensemble with casting director Cassandra Kulukundis (also on Anderson's regular roster of collaborators), scouting for filming locations (the main home serving as Woodcock's fashion atelier was surprisingly "challenging to find" in the city), and more. Basically, all of the day-to-day duties that keep the film running fall in part to Sellar. Then, when it comes to filming, she's all about the actors: "I'm around and interacting with them and taking care of their needs more and making sure everything's fine for them," she says.
Aside from filming in London, another joy "Phantom Thread" brought to the table was the opportunity to work with such a talented cast. Day-Lewis was always attached to the project ("They've been looking for a project to work together on since ['There Will Be Blood']," Sellar confirms), but the film stands out from Anderson's other work precisely thanks to its complex women. "Quite often in Paul's films, [they] are very male-oriented," Sellar says. "It was great that he had written all these great parts for women and we had cast such great actresses to portray them."
Manville came on as Woodcock's surly sister by Day-Lewis' own suggestion. "Paul and myself know her work very well, especially from Mike Leigh's films," Sellar says. "We really hadn't gotten that far with thinking about any other person." Casting Alma, however, required hiring a relative unknown. Kulukundis cast a wide net in search of Eastern European talent; Anderson recognized Krieps from her roles in "Hanna" and "The Chambermaid," and he called her in.
READ: Vicky Krieps: The 'Phantom Thread' Scene Stealer Reveals Her Process
"She did a great screen test, but she didn't know she was reading for this film," Sellar says.
"I think she actually thought it was just a student film or something. So she read the section that Cassandra sent her, and then Paul and Daniel met her in London. We [then] had a really great audition with her and we pretty much gave her the role on the spot."
One must wonder, though, if Krieps was at all intimidated acting alongside three-time Oscar winner Day-Lewis. "This was a huge undertaking, but I was always totally amazed that she never seemed to be fazed by the fact that she just got cast in this Paul Thomas Anderson film and was going toe-to-toe with Daniel in an equally as large role as his. She really held her own…[standing] up to Reynolds Woodcock, the most demanding man in the world."
Want to act on the big screen? Check out Backstage's film audition listings!