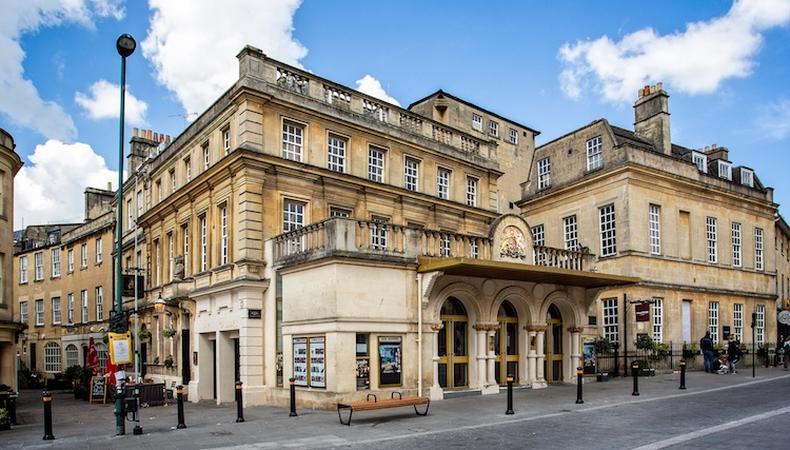 Hello, and welcome back to our roundup of news from across the industry. From stage to screens big and small, we've got you covered. It's everything you need to know and all you can't afford to miss.
All-white season brochure deemed "whitewashing".
Theatre Royal, Bath was criticised last week for their all-white season brochure and accused of "whitewashing" and "wilful arrogance" after hailing it as "greatest lineup ever". The 2018–19 season brochure features photos of 16 actors, including David Suchet, Elizabeth McGovern and Robert Lindsay. No non-white performers are shown, which caused an uproar on Twitter. The campaign group Act for Change asked if Theatre Royal, Bath "well ever join the conversation", referring to the promotion of BAME performers and artists. Bath is currently home to the world premiere of Dusty: The Dusty Springfield Musical by Jonathan Harvey, opening in June and gathering critical acclaim ahead of a UK tour.
The brochure advertised their summer headliner, Jonathan Church's production of The Price by Arthur Miller, starring David Suchet. Elsewhere in the season is a production of The God of Carnage by French-Iranian playwright Yasmina Reza and Florian Zeller's The Height of the Storm, set to transfer to the West End this autumn. Actor Daniel York said the way the brochure promoted the season was "about as diverse as a cricket kit", adding that the city of Bath was "horrible place to be minority ethnic" when he grew up there. Bath local Naji Darwish claimed that diversity was not seen as an issue at the successful producing theatre and used the hashtag #GeorgiantheatreGeorgianvalues. The Stage picked the story up but said that Theatre Royal, Bath did not respond to a request to comment.
Pride film stars sign an open letter after Turkish ban.
The cast and crew of the Bafta-nominated film Pride signed an open letter condemning the banning of a screening in Turkey. Authorities in the capital of Ankara stopped a showing of the 2014 film about Welsh miners and gay activists joining forces. Signatories include cast members Bill Nighy, Dominic West, Imelda Staunton, Andrew Scott and Joe Gilgun, and director Matthew Warchus, as well as some from the real-life campaigners group whose story inspired the film.
According to The Telegraph, last week the governorate in Ankara banned a screening of Pride organised by a communist LGBT group, claiming such events could "incite hatred and enmity". The letter stated that signatories were "disturbed by reports of the growing repression of the LGBT+ community in Turkey culminating in the recent ban of the annual Pride parade and police violence against those who courageously defied the ban". It called on the ambassador for Turkey in London and the UK foreign secretary Boris Johnson to condemn the actions of Turkish authorities. Pride has already screened on several occasions in Turkey, including at the Istanbul Film Festival in 2015. Released in the UK in 2014, it was nominated for three Baftas, winning outstanding debut by a British writer, director or producer for writer Stephen Beresford and producer David Livingstone.
Two key artistic directors announce departures.
Steven Atkinson announced he is to stand down as artistic director of new writing company HighTide in 2019, after 12 years in the role. Atkinson co-founded the company in 2007 and has directed, developed and produced new plays by up-and-coming writers, including Ella Hickson, Nick Payne, Luke Barnes and Al Smith. He said that creating and leading HighTide was "a brilliant start to my career" but that "it's the right time to take up new opportunities in theatre producing". HighTide presents a year-round programme of new work, including at the Edinburgh Festival Fringe where the company recently announced five new premieres ahead of their Walthamstow- and Aldeburgh-based festivals.
Also, last week the Traverse Theatre in Edinburgh announced that artistic director Orla O'Loughlin is stepping down to join the Guildhall School of Music and Drama as vice principal this autumn. O'Loughlin joined the Traverse in 2012 and has nurtured some of Scotland's most exciting new writers, as well as curated the theatre's celebrated festival programmes. She said she was "incredibly proud of the work we have produced, the writers we have developed, and all of the awesome companies we have programmed, and I am especially delighted by the international impact our plays and their writers have had on audiences around the world". O'Loughlin will continue to direct shows at the Traverse throughout 2018–19, including Kieran Hurley's new play Mouthpiece running this December.
Screen Production News
Ali G and Borat star, Sacha Baron Cohen, has hinted at a new film project taking aim at Donald Trump's business school, Trump University. The short cryptic video tweeted by Baron Cohen has been viewed over a million times since it was posted on 4 July, the US' independence day. It reads, "A message from your President @realDonaldTrump on Independence Day", and is accompanied by a short video containing archive footage of Trump insulting the character comedian and saying, "I only wish he had been punched in the face so many times right now he would be in the hospital." The clip ends with Trump saying, "Go to school, learn about being funny" and the words "Sacha Graduates Soon", before closing with a logo for Trump University.
Read more here.
Stage Production News
Welsh actor Iwan Rheon (Misfits, Game of Thrones) is to star in the dystopian thriller Foxfinder in the West End. The play by Dawn King was first performed at the Finborough Theatre in 2011 and won the Papatango Theatre Company New Writing competition that same year. It's being revived by Sherman Theatre artistic director Rachel O'Riordan, making her West End debut. Rheon, best known for playing Ramsey Bolton on Game of Thrones, will take the role of William, a "foxfinder" who roams the countryside looking to put an end to dissent. Foxfinder will run from 6 September until 5 January 2019 and is casting another male and two female roles now.
Read more here.
Heathers the Musical is to transfer to the Theatre Royal Haymarket after the end of its run at The Other Palace later this summer. The musical, based on the 1988 black comedy starring Winona Ryder, will run in the West End from 3 September to 24 November. Carrie Hope Fletcher stars as the teenage misfit in a musical that has gone from a work-in-progress production downstairs at The Other Palace in 2017 to a fully fledged production. The transfer is directed by Andy Fickman and will be cast by Will Burton.
Read more here.
Check out Backstage's London audition listings!