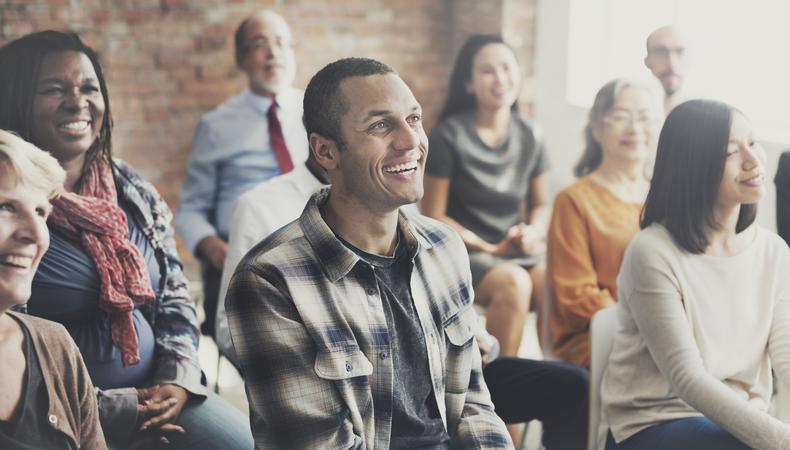 Glasgow has a few, Manchester has plenty but London has too many to mention. Scratch nights are events where short pieces in the full variety of theatrical forms are tested in front of an audience, usually for the first time. They might be short plays by writers made specifically for the event, as in the case of the Daily Plays at The Pleasance or the long running Rapid Write Response at Theatre 503. They could be work that a playwright and director have been paired together for, as with Etch. Or they could be more fluid affairs where companies, artists and performers want to try out material at the earliest possible stage.
For actors, these events are a goldmine of opportunity and provide a useful access point to the industry. If your primary interest is film, it may be that you've never acted in front of a live audience—let alone one crammed into a basement and in the process of getting plastered. Enter the church of the scratch night and be baptised. There are plenty of reasons why you should be performing in scratches; here's just the top six.
1. Meet new people.
The phrase 'it's not what you know but who you know' has deservedly negative connotations. It perfectly sums up industries, like this one, where connections often mean much more than skill or discipline. 'Twas ever thus but, rather than moan, go out and do something about it.
Scratch nights need a lot of performers and so are accessible to even the least experienced actor. Somewhere, at this very moment, a young writer has written a comedy about 11 flat mates and the director is going spare trying to cast it ahead of the first and only rehearsal next Tuesday. Get in touch with scratch night organisers, state your interest and ask to be involved. Better still, go and see a scratch and talk to people. Events like Etch match writers, casts and directors together; many others have an ever-changing lineup of performers they call on. You might meet future collaborators, other actors you want to work with or even a playwright who'll write a monologue for you. Networks don't build themselves.
2. Try new things.
Scratch nights are pretty diverse affairs. Six sad monologues in a row and we'd all be running for the doors. To avoid an exodus, organisers curate performances to complement each other. A comic two-hander might be sandwiched between an off the wall monologue and a devised piece with audience interaction. These events are perfect for actors looking to stretch their muscles with something new or just original, inventive writing. Organisers love to find people who are open minded and up for a challenge.
3. Test out your work.
Every actor has an idea that simmers away for months, but few do anything about it. If you've never written anything then you're exactly the person who should give it a go and make a submission. There might be a character that you want to explore but nobody's created the part yet. Do it yourself and ask the organisers if there's space to try it out. Scratches are perfect for longer projects where makers need time away from the blank page or a deadline to get the process moving. The best thing is there's a ready audience, lubricated by drink and ready for whatever you throw at them. Some scratch nights ask for audience feedback at the end, others have audiences willing to offer it up in the moment. Either way, you'll learn what works and what doesn't.
4. Keep busy.
Only you can let yourself go stale. There's nothing worse than pining for work and letting the frustration build as nothing comes along. Scratch nights require very little commitment for the huge reward of a stage, a spotlight and ten minutes of people's time. For energetic actors finding it difficult not being busy scratches are a valve to release some of that pressure. For those that feel themselves losing the joy they are a hopefully fun burst of activity and an opportunity to remind yourself why it is we all do this.
5. Capture and hold attention.
Scratch nights make use of venues great and small as well as some tricky non-theatre spaces. No actor can claim they've been tested until they've made their voice heard above the clink of glasses and slurping of beer. Informal staging and basic lighting means that actors must learn how to make themselves powerful on stage quickly and work with efficiency. Nothing ruins a dramatic pause like hearing someone ask what flavours of crisps are behind the bar. After you've worked this crowd, everything else will be a breeze.
6. Be the audience.
Perhaps the most overlooked aspect of a scratch night is that you are an audience member too. Rarely is there a backstage area—actors usually get up to do their piece and take a seat again when it's over. Unless your slot is last (in which case you'll probably spend the entire evening looking over your lines or trying to remember your cues) there's plenty of time to sit back and watch. See how other actors work the material, the stage and the audience. Chances are that there'll be a mix of trained and untrained actors as well as a variety of skills and backgrounds. What does the comedian do that you could learn from? And what about the clowns? Seriously, we can all learn from clowns.
There's also nothing healthier than to be reminded that other performers are really, really good. There's a lot of brilliant people out there, making engaging and original work and giving superbly crafted performances at the drop of a hat. It's not only about learning to raise your game; scratch nights should remind us all that we're only as special as the work we show, not the work we think or talk about.
Have you acted in a scratch night? Tell us about your experience!
Check out Backstage's London audition listings!