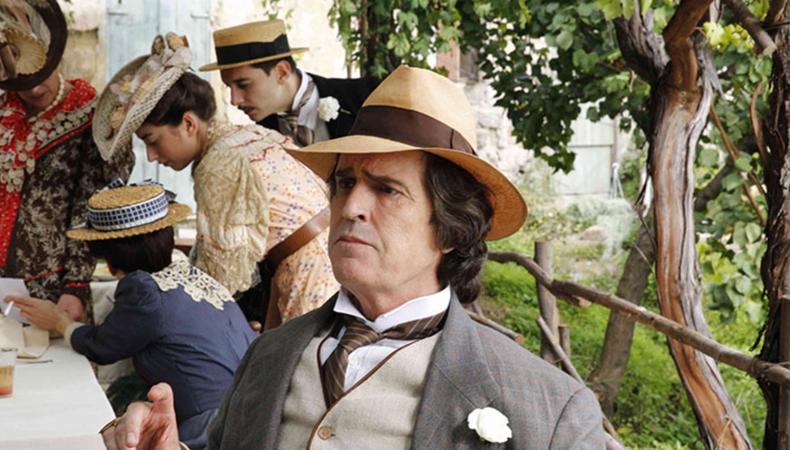 Cinema is awash with portrayals of doomed Irish wit and writer Oscar Wilde, best-known for writing the repeatedly produced British societal comedy of errors, "The Importance of Being Earnest" and the novel "The Picture of Dorian Gray." Wilde died in exile in Paris, aged only 46, following two years of hard labor in an English jail for sodomy and gross indecency, the legacy of an ill-advised libel suit against the father of his lover, Lord Alfred "Bosie" Douglas.
It is these lost years which writer-director-actor Rupert Everett depicts in Sony Pictures Classics' biographical feature "The Happy Prince" (opening in L.A. and New York Oct. 10, with a nationwide rollout in subsequent weeks). "I love the idea of this last great vagabond of the 19th century, shuffling around in darned suits and smelling of sweat, cigarettes, and piss," Everett tells Backstage. He's certainly no stranger to Wilde's work, and had played his longtime idol in revivals of David Hare's play "The Judas Kiss," in 2013 and 2016, in part to prove his mettle to potential film investors—a means of fulfilling his vision of putting Wilde's final days on the big screen.
Playing the character he has dubbed the "patron saint of gays" required the still-handsome Everett, 59, to disappear into an unflattering fat suit and speak copious amounts of dialogue in fluent French. It has won him arguably the best reviews of his impressive career. Wilde's own grandson, Merlin, has asserted that Everett's "The Happy Prince" is "probably the best" depiction he's seen.
"I wanted to get my acting career back on track," Everett says unapologetically, "and I didn't want to let go of that." He was also unapologetic about making the film his first as a director, having been turned down by a "whole string" of potential helmers. It was perhaps the universe itself having its say on the subject, the film clearly an allegory for the charismatic, intelligent heartthrob of an actor who perhaps never scaled the career heights he may have, had he not come out in 1986.
Everett's predictably whip-smart script, he says, became the "quickest part" of the process. Once he had committed to directing, he wasn't "that scared"—although, he notes, "other people were. Also, a lot of a director's work really takes place before a film starts. So I was very lucky, or very clever, to choose the really good people." Colin Firth, on whose casting as Wilde's close friend Reggie Turner the film's entire budget was contingent, described the script as one of the best he'd ever read, to Everett's surprise. "It's not easy to have that responsibility, but he really came through for me." The same proved true for Tom Wilkinson as the Catholic priest who gives Wilde his last rites and Emily Watson as the writer's long-suffering wife.
The film also relies heavily on two comparatively unknown British actors: Colin Morgan as Bosie, Wilde's longtime romantic obsession, and Edwin Thomas, making a feature film debut as Wilde's unfailingly loyal friend Robbie Ross. In fact, the film really becomes a story of unrequited love: Ross' for Wilde. "Edwin has one of those faces that you can pin your own fantasy onto," marvels Everett. "It's a strange cinematic phenomenon that some actors possess—not to do with good looks, although they may be good-looking—but with some weird, invisible openness, availability that the camera picks up and magnifies somehow."
Ultimately for Everett, the arduous process of bringing "The Happy Prince" to fruition is credited partly, of course, to Wilde. "He's been with me all the time making the film," he says. "I just feel very certain about the whole thing and I think that was to do with him."