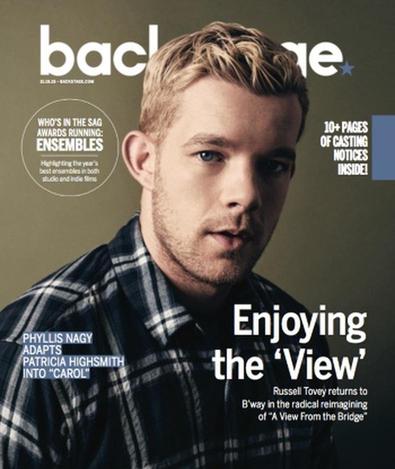 The last time Russell Tovey was on Broadway, he crossed the Atlantic with the cast of "The History Boys," a massive success in the West End. That was almost a decade ago, and in the years since, Tovey's profile has increased dramatically. Now he's back in New York City with another hit London import—but this time one with which he had nothing to do originally.
The production is "A View From the Bridge," last seen on Broadway just four years after "The History Boys" premiered. The reaction to director Ivo van Hove's minimalist reimagining, starring Mark Strong as misguided patriarch Eddie Carbone, was so wildly enthusiastic that the show found its way west within the year. But original Rodolpho Luke Norris was unable to join the rest of the cast. Enter Tovey.
"I just got a call from my agent and she said, 'How do you fancy replacing the original Rodolpho for the Broadway run of 'A View From the Bridge?' I said, 'That's an easy yes,' " Tovey says backstage in his dressing room before an early preview of the show. "And that was it. I went and met the casting director at the Young Vic in London, I put something on tape for Ivo to see, and two days later I had it."
That should be some indication of how far Tovey has come since the days of "The History Boys." He's garnered strong reviews and audience adoration in everything from BBC's "Being Human" to HBO's "Looking," not to mention a string of well-received plays in London and a popular Instagram account that documents his dog, his love of modern art, and his enviable body.
But while his experience with "Looking" began with several auditions and dejections (see below), the process of importing "Bridge" has been smooth, easy, and calm. Part of Tovey's immediate comfort with van Hove and the production came from having seen the show during its run, so he was able to visualize exactly what this version looked like during talks.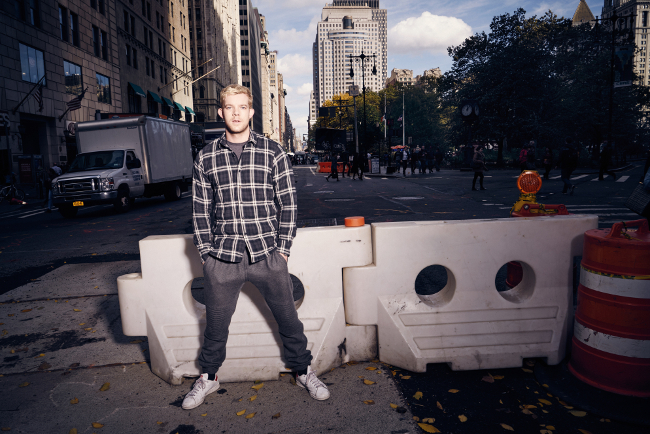 While other revivals have luxuriated in the play's Red Hook, Brooklyn, setting—in 2010 you could practically smell the garbage floating in the channel—van Hove and set and lighting designer Jan Versweyveld have replaced the shadows of the bridge with a rectangular box, brightly lit, blindingly white. The result, as Versweyveld says, is that "it's the footprint of a Red Hook house, and we lift up the walls and see what's happening in the house. Also, of course, lifting up the box is a great theme of Pandora's Box, which has a lot of potential danger and human misery coming out of it."
Plenty of misery comes out, as anyone familiar with Arthur Miller's play knows. But that misery has never seemed quite as brutal as it does here. Performed barefoot, without an intermission, the engine of this Greek-by-way-of-Brooklyn tragedy races along without allowing the audience a moment to relax. We are pinned to our seats as Eddie systematically destroys his life by allowing his love for his niece Catherine to consume him, eventually betraying his family and his community in an effort to save her from the man he sees as a threat: Rodolpho.
While the show never lets up onstage, the rehearsal process was a surprisingly relaxed one. Even with the addition of new cast members—Michael Zegen joined Tovey as Marco—and three weeks of preparation, the show was in such immediately strong shape that van Hove only worked his actors for half the day.
"The Day 1 rehearsal was all in costume, all on set, all lit, and everyone was doing what they'd done before," Tovey says. "And we walked on and did the whole scene. And then it was, 'I think you should go left instead of right on that line. Let's do it again.' "
At least that allayed Tovey's fears of joining what was already a hit show. "You feel a responsibility. You don't want to be the weak link," he says. "That's a terrifying prospect. [The cast members were] all lovely, obviously. If they were really cliquey, like mean girls, that would have been a different situation. But they all understand and want someone to come in and be the best."
There's no second-guessing the work for van Hove or the cast, even though some in their situation might be tempted to question the apparent ease of this incarnation. "There's a trust there because everyone believes we're in a groove—[let's] stay in the groove and let's keep going with that," Tovey says. "And if I felt like, 'Shit, I need to do this scene and work this out,' they'd be supportive. So I'm not going, 'I'm under-rehearsed and I don't know what this bit is.' This show is what having that energy is like. If you can channel that into the character, that can add something. Because this show has that crackling energy of what's going to happen next."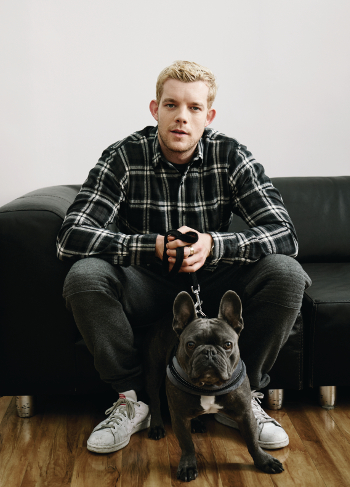 As for what's happening next for Tovey, he'll be using his day off to fly to San Francisco to film the finale movie for "Looking," in which he'll reprise his role as Kevin, the questionable lover of Jonathan Groff's Patrick. And then he'll be on to other projects, looking for a character with enough emotional depth to interest him and a team of creatives that inspire him. As he puts it, "The best thing about progressing as an actor and your 'profile' growing is the access to talent. That's the most exciting thing about work begets work. To work with people who are creating magic with you, that's the most thrilling thing about my career so far; the people I get to call my friends that I can get in a room with and be taught by."
Which is not to rule out another turn on Broadway in the near future. "To be here and start from scratch, that'll be next!" Tovey says.
---
Looking for a Role
Tovey originally auditioned for the role of Patrick on "Looking."
"[Creator] Andrew Haigh came to see a play I did called 'Miracle' about four years ago and he messaged me afterward to say, 'Let's do something some day,' " Tovey recalls. "Then 'Looking' came up and I said, 'Great, he knows me,' and did an iPhone tape, which was a big mistake. They said, 'Really nice but terrible quality. Can you do it again?' So I did it again."
HBO was impressed enough that it flew Tovey out to L.A. and provided him with a hotel in West Hollywood and a car to drive him to the screen test, "which was the most nerve-racking thing ever. I was being put in different groups with different Doms, different Augies. And then eventually it was just me and Jonathan [Groff] going in. He was just so kind and sweet to me when I turned up. He was, like, 'I loved "The History Boys" '! And I flew back and I was convinced that he'd gotten it. So I got home and in the middle of the night, checking Twitter, I found out that Jonathan Groff got 'Looking.' I was totally gutted. They said, 'We love you and we'll write you a part.' You hear that a lot—and then you never hear anything."
This time, however, Tovey did hear. He was sent the role of Kevin, who comes into the series as Patrick's partnered boss who embarks on an affair with him. Not that he was their only choice; Tovey still had to put himself on tape. "I did 10 versions, all American accents, and then as I was leaving, I said, 'Let's do one British quickly because I'm going to leave and they're going to want me to do one with a British accent.' So I did it and they said, 'We love the Brit! The Brit is what we want! You got it!' "
Want to read more? Check out our Backstage covers here!