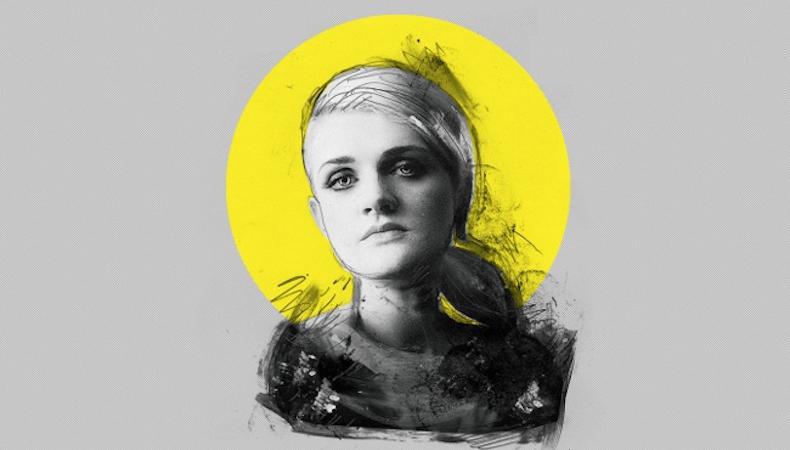 On the day of our interview, Gayle Rankin arrived early at the Public Theater, where she's appearing opposite Oscar Isaac as Ophelia in "Hamlet." "Just a light, four-hour play," she jokes. But "Hamlet" is probably more familiar to her than "GLOW," the Netflix series about female wrestlers in the 1980s that began streaming last month, in which she plays the mysterious Sheila the She-Wolf. We chatted with the New Yorker-by-way-of-Glasgow about coming to the U.S. for school and staying, and how she managed to land a part (after three tries!) as one of the Gorgeous Ladies of Wrestling.
What has working on 'GLOW' added to your acting skills?
It's a whole new vocabulary for me…and not just wrestling, although that's pretty amazing. How many people get to [train as a professional wrestler] in their lives? But playing this particular character, too. Sheila's not like anyone else. Everyone thinks she came onto the show as this character, ready to be a wrestler. But that's really who she is.
On the show, the auditions for the prospective wrestlers are brutal. What was your own 'GLOW' audition like?
I interviewed for two parts before I auditioned for Sheila. First Ruth, which is hilarious, because now I cannot imagine anyone other than Alison Brie [in the role]; then for Reggie. I was [outside the door] and they kept me waiting [for a long time]. Finally, the casting assistant comes out and says, "I don't have amazing news—Reggie has just been cast. But we have another role for you, though we don't know what the character will be exactly." That was Sheila.
READ: How to Audition for Netflix
How do you typically prepare for an audition?
I swing wildly back and forth. For the Noah Baumbach film I did last year ["The Meyerowitz Stories (New and Selected)"], I showed up at the casting office, got my sides, prepared for 20 minutes, and went in. Obviously that went really well for me. I do enjoy going in cold and pulling things out of myself. But I also like to read the full script and do a little character work—unless it's close to [who I am]...which it rarely is. I like to go outside myself.
How did you get your Equity card? Your SAG-AFTRA card?
I got my Equity card when I replaced Merritt Wever in a Tony Kushner play ["The Illusion"] with, like, five days' notice. I had five days to learn a whole three-act play in verse. And I got my SAG card, of course, from doing "Law & Order." It's a rite of passage.
You came to the U.S. from Scotland at age 17 to attend Juilliard. What advice do you have for other U.K. actors?
I would never do anything differently. But [I tell actors to] try to figure out where you would like to have a career. What are you attracted to for your life? Then take a good look at what work is being made in those places. America seems so shiny and there's big business here, sure, but there's big business in England and Europe as well.
Want to land your own Netflix audition? Check out Backstage's TV audition listings!