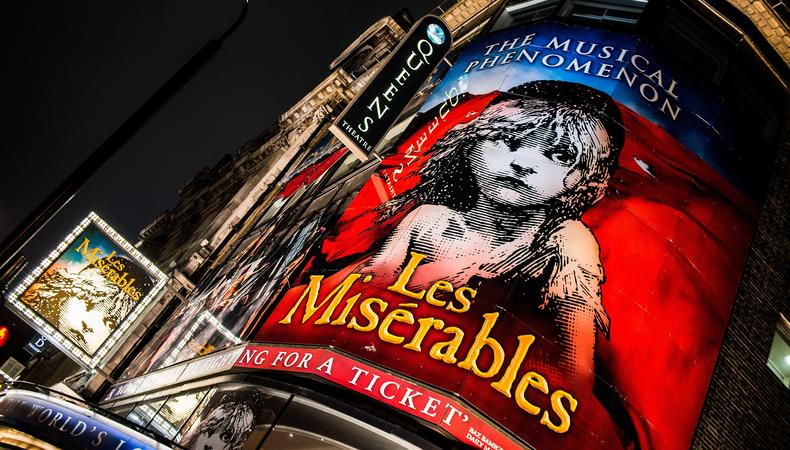 In London, the West End is the crème-da-la-crème of theatre. But what kinds of skills do you need to get on stage in one of these historic playhouses? Let's take a look at the kinds of shows that make it to the West End and what actors can do to pave their way towards a West End career.
What's out there?
Many of the biggest theatres in the West End are showing some of the most popular musicals in theatre history: Wicked, Les Misérables, Mamma Mia, Hamilton and so on. These shows are huge in scope: singing, dancing, acting, brilliant costumes and technical theatre. To get cast in them you have to be a triple threat. Your training must include singing and dancing alongside acting. Many of the performers in these shows have trained at places like Bird College, Mountview, Guildford School of Acting, the Royal Academy of Music and Arts Ed.
But if musical theatre isn't your game, don't worry. A number of West End theatres are showing some of the greatest plays written in the English language, and incredible translations of international work. The Curious Incident of the Dog in the Night-Time, The Inheritance, The Play That Goes Wrong and Don Quixote are all currently playing at West End theatres. A Shakespeare play is on in the West End nearly every evening of the year. There's a current Pinter season on at the Harold Pinter Theatre featuring some of the best acting you can imagine. Actors in these plays studied at places like RADA, LAMDA, Central, Royal Welsh, Royal Scottish, Bristol Old Vic, Italia Conti and other top drama schools in the UK and abroad.
Dom Hartley-Harris, currently playing George Washington in Hamilton, says you don't necessarily have to draw clear lines. He told us: "I trained at the Royal Birmingham Conservatoire and gained a degree in Acting, having previously studied performing arts at college and being involved in a local youth theatre – to whom I still owe the confidence I have today. Because of this, I believe I've been able to have a sense of fluidity and 'blur the lines' somewhat between straight plays, musicals and screen acting – with the help of an amazing agent."
How do I get there?
Hartley-Harris says: "Go and see shows and plays. Whatever I haven't learned on the job, I have learned from watching actors I admire and peers alike. It helps you know what type of theatre you're passionate about and the climate of the field you're choosing to enter." Whilst at the show, buy a program. Look into what actors studied where, follow them on social media and find out who represents them. This is another step in the right direction: getting the right agent who can work alongside you to make your dreams a reality.
As you're deciding where to train, take the time to look into the programs and see what they specialise in. If your dancing needs work and you want to be a musical theatre performer, find an institution that offers dance classes. Choosing the right program is important: if you're pursuing a BA, it's three years of your life. So, ensure that your research is in-depth, contact the schools and see if they have alumni who would be willing to speak to you.
Get out there
During your training, you will likely have the opportunity to do workshops and networking events with people from the industry. Make sure you're always being yourself, and be confident! Casting directors remember people who make a good impression. Agents are often scoping out students during their training to see who they might like to sign once they've finished. Events, shows and showcases are all ways to introduce yourself to the industry and make your mark before you've even graduated.
Do your research
There are nearly 50 theatres in the West End with a multitude of offerings. Being specific about your dreams is key. Putting in the work of researching and getting to know the industry is essential. Training and networking will put you in the driver's seat of your own career.
And as Hartley-Harris says: "The first and most important lesson – one I learned whilst training – is to know yourself.
"Honing your craft is one thing, but it's all about conviction. If you enter either training or the professional world of acting half-heartedly, you will fail."
The West End is the height of theatre in the United Kingdom, but it isn't a pipe dream. With determination, perseverance, support, and passion, it can be your reality.