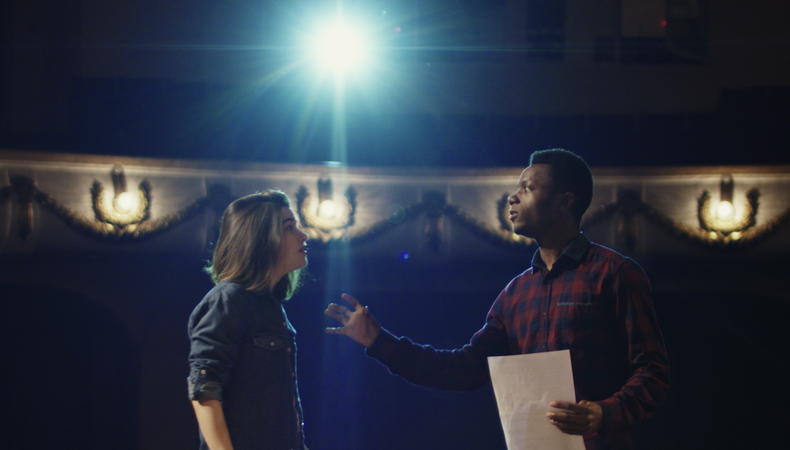 Developments in the business of acting are not always front-of-mind for time-pressed creatives, yet can have a major impact on how their careers develop. That's why we've created The Business, a series to help UK actors and performers stay updated on the key stories that will affect the nuts and bolts of their professional lives.
Spotlight's joining criteria 'discriminatory'
Casting platform Spotlight has been labelled "discriminatory" by performers and agents who claim it is stopping new or returning actors aged 25 and over from building careers. At present, Spotlight's rules require older performers to be graduates from a year or more of full-time professional training at an accredited drama school or university, or have four or more professional credits as featured, named speaking roles. Credits must be in feature-length film, TV, or theatre and do not include commercials, short films, or roles as a background artist.
Spotlight argues the criteria maintains professional standards. However, actors and agents are calling for change, claiming that many late starters to acting are being blocked, with the rules preventing them from accessing opportunities, and are calling on the casting site to overhaul its eligibility criteria to broaden access. Agent Susie Blundell told The Stage: "Performers coming back into the industry or joining it later in life are thwarted at the first hurdle." She added: "As agents, we know what we are looking for in talent, and we are saying: 'We think they are good enough' but you are saying 'no.'"
Actor Stacey Pomeroy called the rules "'discriminatory," claiming that "below the age of 25, the criteria are less stringent, but once you hit 25 they're expecting you to have brushed shoulders with [Martin] Scorsese or something." Agent Josh Boyd-Rochford described the criteria as a "relic of the past," with Spotlight holding the "industry to ransom." He said: "No one gave them this power. They've just been around for such a long time. To say you can't be an actor unless you have four professional credits, you can't be an actor unless you have been to an accredited drama school, is ridiculous."
READ: How to Get Cast on Backstage In the UK
Industry body launches guidelines for sex on screen
Directors UK has launched "first of its kind" guidance for directing scenes featuring nudity and simulated sex. The industry body for TV and film directors claim the new guidelines respond to the need for "shared professional expectations" on set when working with sensitive content and aim for the codes become industry standard. Launched as Game of Thrones star Emilia Clarke spoke out about being pressured to perform nude, the guidance comes at a time when the industry is taking stock of how intimacy on screen works for performers.
Made in consultation with Directors UK members and industry experts, the set of best-practice guidance aims to create a safe on-set environment that allows directors and creatives "to make daring work" in collaboration with performers, producers, and intimacy coordinators. Advice covers rehearsal techniques, directing scenes of sexual violence, planning shots to adhere to contract clauses, and finding creative and safe solutions to challenges. BAFTA-winning director and Directors UK boss Susanna White said the guidelines will help directors create a respectful environment on set and "approach sensitive content with professionalism." Find out more here.
NYT to offer free auditions with social media app TikTok
The National Youth Theatre (NYT) has joined forces with social media platform TikTok to offer free auditions for its acclaimed course next year. NYT's partnership with the tech company sees 14–25-year-olds who upload 15-second videos tagged with "#NYTfindyourstage" in with a chance to win a free audition, which usually costs between £39 and £46. Designed to help young people "struggling to find or afford a route into the creative industries," a total of 120 free auditions will be given out for NYT's auditions across the UK.
The partnership will also see NYT creating micro-dramas for TikTok, the social media app that is hugely popular with teenagers and young adults, as well as providing bursaries for those taking part in NYT's 2020 programme. The theatre hopes its work with TikTok will "inspire, entertain and educate" new audiences on the app and counter some of the government's cuts to arts education. Artistic director Paul Roseby said the audition scheme meant reaching "beyond those already enjoying the huge benefits of exposure to theatre at an early age and reach talented, creative young people where they're at, on platforms like TikTok." Read more here and apply for a TikTok NYT Bursary place here.
Want to get cast on stage or screen? Check out our UK auditions
Fourth Monkey offers new accelerated acting degree
The actor training company is offering a new accelerated degree in acting, and is waiving audition fees in celebration of its 10th anniversary for all applicants. Fourth Monkey's two-year Acting BA will be on offer from September next year. Find out more here.
Traverse Theatre offers £1 tickets to boost access
Edinburgh's Traverse Theatre is to offer £1 seats in a bid to bring in audiences who would not otherwise buy tickets. Those eligible include under-25s and those receiving job seeker's allowance, employment support allowance, universal credit, or carer's allowance.
BBC to 'shift the dial' of disability representation
The broadcaster has committed to improving disability representation on- and off-screen, pledging job opportunities on flagship shows, career development, and support for disabled employees. The BBC also announced a raft of dramas led by disabled talent, including But When We Dance, the return of the comedy series Jerk, and a series of monologues curated by actor Mat Fraser. Read more here.
More for UK actors? Check out the magazine.