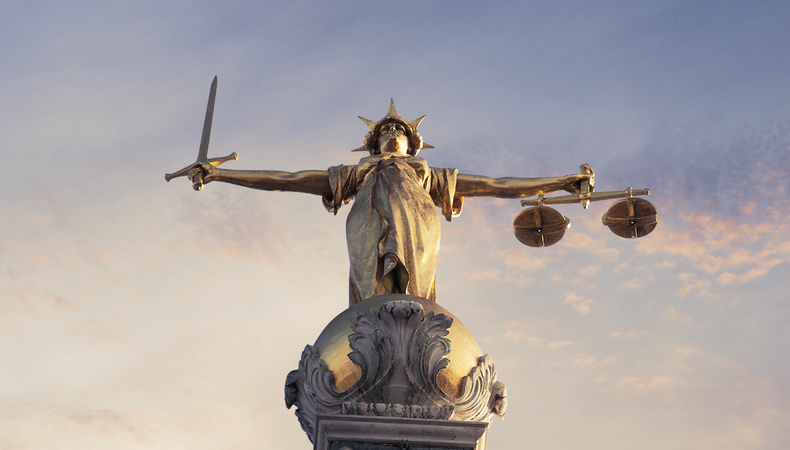 Welcome to the definitive roundup of legal news from across screen and stage industries. We follow the major stories, changes, and updates that performers need to know.
Actor who lost role after homophobic comments sues producers
An actor who lost her role in a musical after making homophobic comments on social media is suing producers for religious discrimination. Earlier this year, Seyi Omooba was replaced in a production of The Color Purple where she was due to play Celie, a character portrayed as having a relationship with another woman. Following the discovery and widespread criticism of a Facebook post in which Omooba said: "I do not believe you can be born gay, and I do not believe homosexuality is right," she was dropped from the production at Leicester Curve and subsequently claims she can no longer act. Now, the actor is set to pursue legal action against the producers and her former agency for "religious discrimination."
Represented by her father Ade Omooba, she is arguing that "the theatre has acted unlawfully and discriminated against [Omooba] because of her Christian beliefs." Omooba is unrepentant about her comments and claims the production asked her to choose between her career and her faith. She told the Mail on Sunday: "I stand by what I wrote, but had I known that it would have come to this, I would have set my account to the privacy mode." In an impassioned piece for The Stage, editor Matthew Hemley argued Omooba's legal action was attacking theatre "from within," and called for readers to continue to "fight against homophobia, especially when it finds its way into an industry that is known for its tolerance and acceptance."
Digital performance rights a tricky area for actors
Actor and motion capture performer Andy Serkis called for greater rights and protection for digital performers. Speaking as an actor who has given form to landmark digital characters, including Golem in The Lord of the Rings trilogy, Serkis questioned where the ethical and legal boundaries lay for digitally captured performances. He warned that understanding the authorship and ownership of such materials could be tricky, and if an actor's performance is reused in subsequent films "there should be remuneration for that actor, no question."
At present, digitally captured performances remain a grey area for rights, with Equity's royalties guide containing no mention of digital-only performances or motion capture that might be reused. Back in 2016, Holby City actor Guy Henry provided the motion capture for the CGI reincarnation of Peter Cushing's character Tarkin in Rogue One and last year it was confirmed that lead actors in the Star Wars franchise were being scanned for potential future use, making digital performances and likenesses a big area of concern for actors in the present, let alone the future. Especially because, as the Guardian noted in 2016, it is "difficult" in English law to protect your own likeness and "unless an actor…has taken steps to protect their image, it is unlikely that permission would be needed."
Stalking victims in theatre given guidelines
Actors and performers with stalkers now have guidelines to tackle the situation, as Equity warns that distress felt by those being stalked in the industry can have a "life-changing" impact. Stalking is a criminal offence, regardless of who the victim is, but Equity warned actors are vulnerable to stalkers because of their visibility and social media use "as part of their career." A spokesperson said this new resource follows reports of members receiving unwanted attention from those who have "have seen them on stage and on television and feel they have some kind of connection."
READ: What Is Equity + Why Should You Care?
Actors given card to tackle 'intrusive' audition questions
Performers are to be given advice on how to handle "intrusive questions" at auditions as part of a push by Equity to protect actors. The union claim the guide will help stop unlawful or discriminatory behaviour at auditions by detailing which questions shouldn't be asked – and how to report those who ask them. Equity said women, in particular, could be asked for "inappropriate personal information" and stressed that subjects such as age, disability, marital status, and sexual orientation were inappropriate at interviews. The "casting questions card" from Equity also makes clear that race, religion, and gender reassignment are out-of-bounds subjects.
Kelly Burke, from Equity's Women's Committee, said that being asked about certain subjects can be stressful "because you know that any answer you give (say, telling someone your real age versus playing age) could lose you the job." Burke made clear that "this kind of information is protected under the Equality Act," adding that actors should not be expected to disclose any information they wouldn't be asked about "in any other kind of job interview." Read more here.
Equity introduce casting yes/no in new contract code
The "soul-destroying" feeling of finding out you've not won a role through a press release or tweet announcing who did may be a thing of the past as Equity push to get all actors a yes or no after auditions in new contract terms. The union have included a yes/no response in their new West End, commercial, and subsidised theatre contract. The code of conduct demands theatres commit to productions informing actors beforehand or during the audition of how and when they will be notified about the outcome. In an open letter to the casting industry, Equity president Maureen Beatty said the right to know if you have been cast is a "basic dignity at work."
What started last year as the Twitter hashtag #YesOrNo was quickly adopted into Equity's first-ever Casting Manifesto, with the union saying all performers deserved to be informed about the results of auditions. Its inclusion into the union's contract sends a clear message to the industry, along with additional conditions that aim to make auditioning easier on performers mental health and pockets. Under new terms, productions must offer at least 48 hours of notice ahead of auditions, and the code demands performers to be given "out-of-pocket expenses" after a second-round audition.
READ: Casting Directors: Give Actors a Yes or No, Says Equity
Immersive actors to get 'personal alarms'
Performers in the new immersive theatre adaptation of The Wolf of Wall Street are to be given panic alarms and safe words in order to deal with harassment from audience members. Last year the police were called after incidents at an immersive production in London and Equity have warned of reports of "nightmarish" situations faced by actors in productions without safeguards in place. The news is a reminder that employees have a legal duty to protect the health, safety and welfare of their employees.
READ: Why Wolf of Wall Street Immersive Actors Need Alarms
Call to make class discrimination illegal
Equity has backed a Trades Union Congress campaign to make discrimination based on class illegal, which includes calls for organisations to report on class pay gaps. Just as discrimination on the basis of race, sex, and disability is illegal in the workplace, Equity wants organisations to be under a legal duty to "close the class gap." Read more here.
Musicians Union battles busking ban
The Musicians' Union (MU) is fighting busking restrictions in some of London's busiest spots after Kensington and Chelsea announced tougher regulations on street performers. Public Space Protection Orders (PSPOs) now restrict or ban busking in certain areas of the borough, with performers risking a fine if they break the rules. The MU said it "completely opposes" the use of PSPOs to regulate busking and has partnered with campaign group Keep Streets Live to battle the decision.
For more from Backstage UK, check out the magazine.