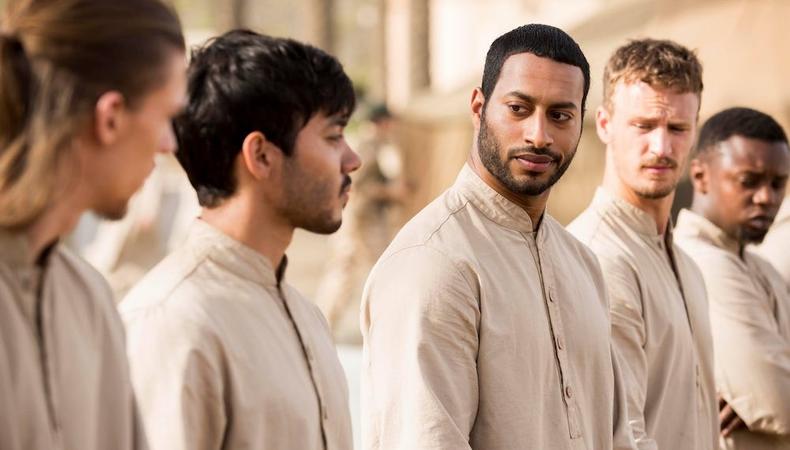 Hello and welcome back to the Backstage U.K. roundup of the news from theatre, film, and TV. This week we have goings on and announcements from the Edinburgh International Television Festival as well as the welcome news that a London fringe success is transferring this autumn.
State of the nation drama.
Peter Kosminsky's four-part drama "The State" was broadcast over consecutive nights on Channel 4 last week and has been praised by critics as "compelling" and "essential viewing". The story follows British Muslims who travel to join ISIS and their experiences inside the radical Islamist state in Syria. Kosminsky wrote and directed but is best known for directing the TV adaptation of Hilary Mantel's "Wolf Hall" and drama "The Promise".
The series has been a breakthrough for young actor Sam Otto, who played Jalal, a man from London who journeys to Syria hoping to discover more about his dead brother. Otto has been flying under the radar with roles in short films for a couple of years but 2017 and 2018 see him star in this flagship TV series and two upcoming features: "The Flood" about an immigration officer played by Iain Glen and "The Boy with the Topknot", a 90 minute BBC drama based on the memoirs of the same name and starring Sacha Dhawan. "The State" also featured much loved "Eastenders" actor Nitin Ganatra as Jalal's father.
Big news from the Edinburgh International Television Festival.
As critic Lyn Gardner picked up her Total Theatre Award, the Fringe was gearing up for the bank holiday weekend and tired performers who had lost their voices struggled through their last shows. Meanwhile, the Edinburgh International Television Festival was just getting into full swing, becoming the platform for some exciting news about upcoming productions, casting, and brilliant new opportunities being created for those cracking the industry north of the border. This year, the eagerly awaited MacTaggart lecture about the state of broadcasting, delivered by veteran journalist and sock/tie combo master Jon Snow. You can see the speech here.
Though we already knew that acclaimed writer Russell T. Davies has created a new drama called "A Very English Scandal" for BBC One, there was much speculation over who would star opposite Hugh Grant after his role was announced in May. Now it's been revealed that Ben Whishaw is to portray Norman Scott, the ex-lover of disgraced British politician Jeremy Thorpe, played by Grant. Thorpe, leader of the Liberals and the youngest leader of any British political party in a hundred years, was accused of conspiring to murder Scott in 1979. He is the only British politician in modern times to stand trial for murder.

The three-part drama is based on a book by British journalist John Preston and scripted by Davies, who rebooted "Doctor Who" in 2005 and created dramas "Cucumber", "Tofu" and "Banana" for Channel 4 and E4. His new drama will be directed by Stephen Frears, whose latest film "Victoria & Abdul," starring Judi Dench, premieres at the Venice Film Festival in September.
"A Very English Scandal" will be broadcast in 2018.
Also from the festival was news that the National Film and Television School (NFTS) has major government investment and created a partnership with BBC Scotland for their new base in Glasgow and Dumbarton studios. Minister Nicola Sturgeon announced the government backing worth £475,000: "This is an exciting development for our screen sector which is already an area of growth for Scotland. While we have excellent university and college provision for a range of screen subjects and media skills, NFTS' plans will complement and expand the training opportunities available in Scotland".
NFTS will be based at the BBC's Pacific Quay headquarters in Glasgow, taking advantage of the output as the BBC expands operations in Scotland, especially in drama. The school is set to include a scholarship scheme that will see a third of places paid for in order to meet the aspirations of talent from lower income backgrounds. NFTS director Jon Wardle said the school "has a proud history of developing Scottish talent from its base in Beaconsfield, so we are incredibly pleased to announce the expansion of the school into Scotland and look forward to making an even greater contribution to the Scottish economy through our unparalleled reputation for delivering high-calibre, job-ready graduates".
NFTS is expected to begin enrolling students in April 2018.
Transfer time!
In London theatre news, the hugely popular first production of "Mrs Orwell" at the Old Red Lion in Islington is now transferring to the Southwark Playhouse in September.
Tony Cox's play, based on real events, is set at University College Hospital in 1949 and explores the final part of George Orwell's life as he's suffering from Tuberculosis. Peter Hamilton Dyer plays Orwell as he proposed to his friend Sonia, played by Cressida Bonas. It also stars Edmund Digby-Jones as Lucian Freud, actors Rosie Ede and Robert Stocks also feature and it is directed by Jimmy Walters.

"Mrs Orwell" transfers to Southwark Playhouse from 5 to the 23 September.
Check out Backstage's London audition listings!