There's one thread that runs through the body of Carmen Ejogo's onscreen work over the last two decades—herself.
"I feel very lucky to be able to say that often, people feel that when they bring me on to a job, I elevate the material," she says of her particular skill set as an actor. "I've always really appreciated hearing that…. I think that means I'm finding the unexpected in ways that are authentic but less predictable."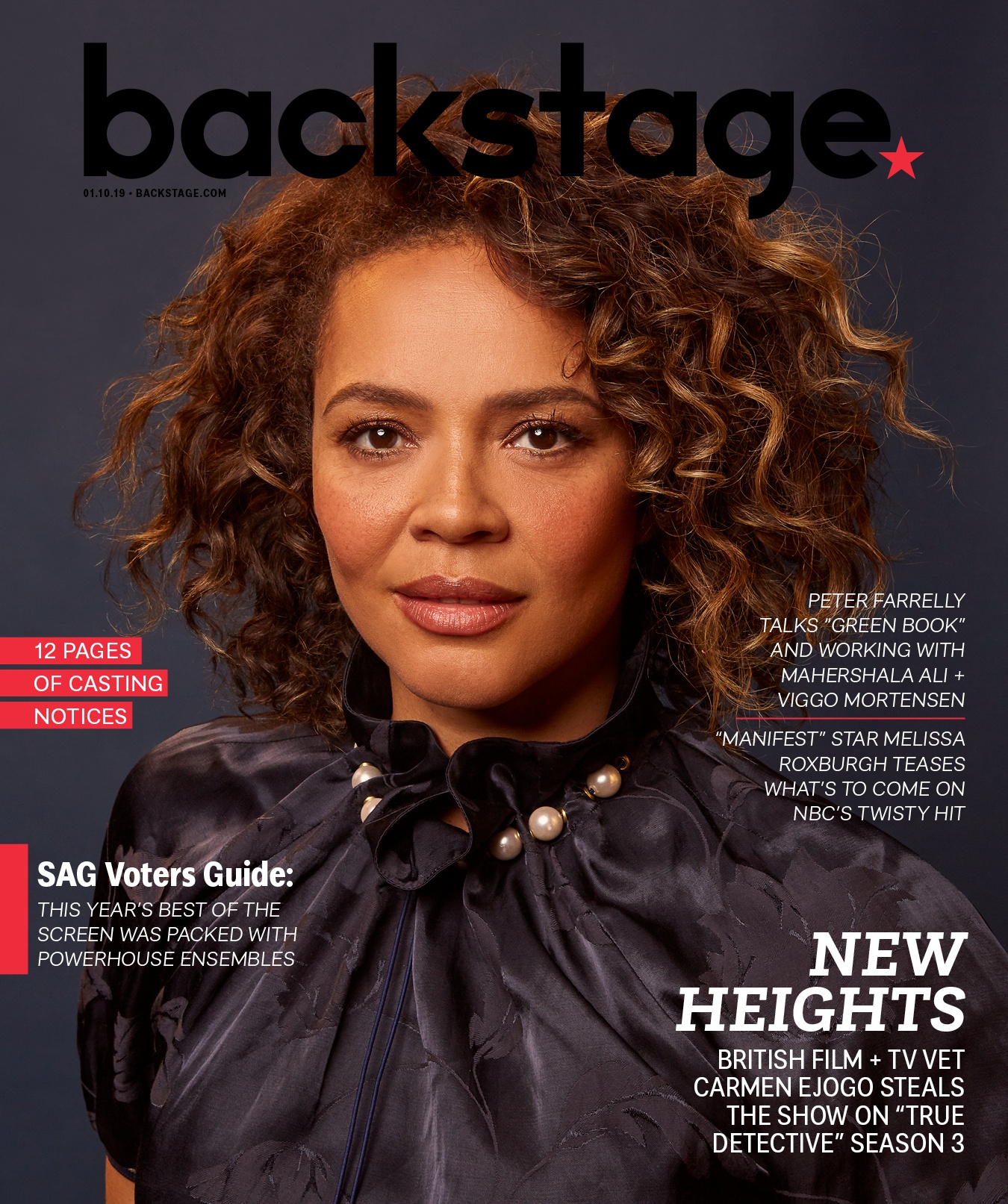 Ejogo, a native of Kensington, London, first developed a taste for the unexpected after seeing Gena Rowlands' tour-de-force performance in 1974's "A Woman Under the Influence." It was while witnessing Rowlands and filmmaker John Cassavetes' portrayal of the tragic Mabel Longhetti that the proverbial acting bug took its first bite.
"The idea that you could have an insight into someone's internal workings in a fashion that was both intimate and heightened was really a revelation to me," Ejogo recalls, sitting for a December 2018 interview in the Transcript, a bar in Lower Manhattan. "There's something so personal and authentic in the performance. And yet, at the same time, there's a theatrics about it that was an interesting marriage of styles and approaches to the work."
Ejogo recognized that fusion of exactness and spontaneity as something she could bring to her own work. It is an instinct that has served her well over her formidable career. Her film résumé includes roles in Kenneth Branagh's Shakespeare adaptation "Love's Labour's Lost," Sam Mendes' "Away We Go," and two opportunities to portray Coretta Scott King: in 2001's made-for-TV "Boycott" (Ejogo's then-husband, Jeffrey Wright, starred as Martin Luther King Jr.) and again in 2014 in Ava DuVernay's Oscar-nominated "Selma." That's not to mention her most recent two-year run in "Fantastic Beasts and Where to Find Them" and its sequel; "It Comes at Night"; "Alien: Covenant"; and "Roman J. Israel, Esq." Pigeonhole Ejogo, you will not.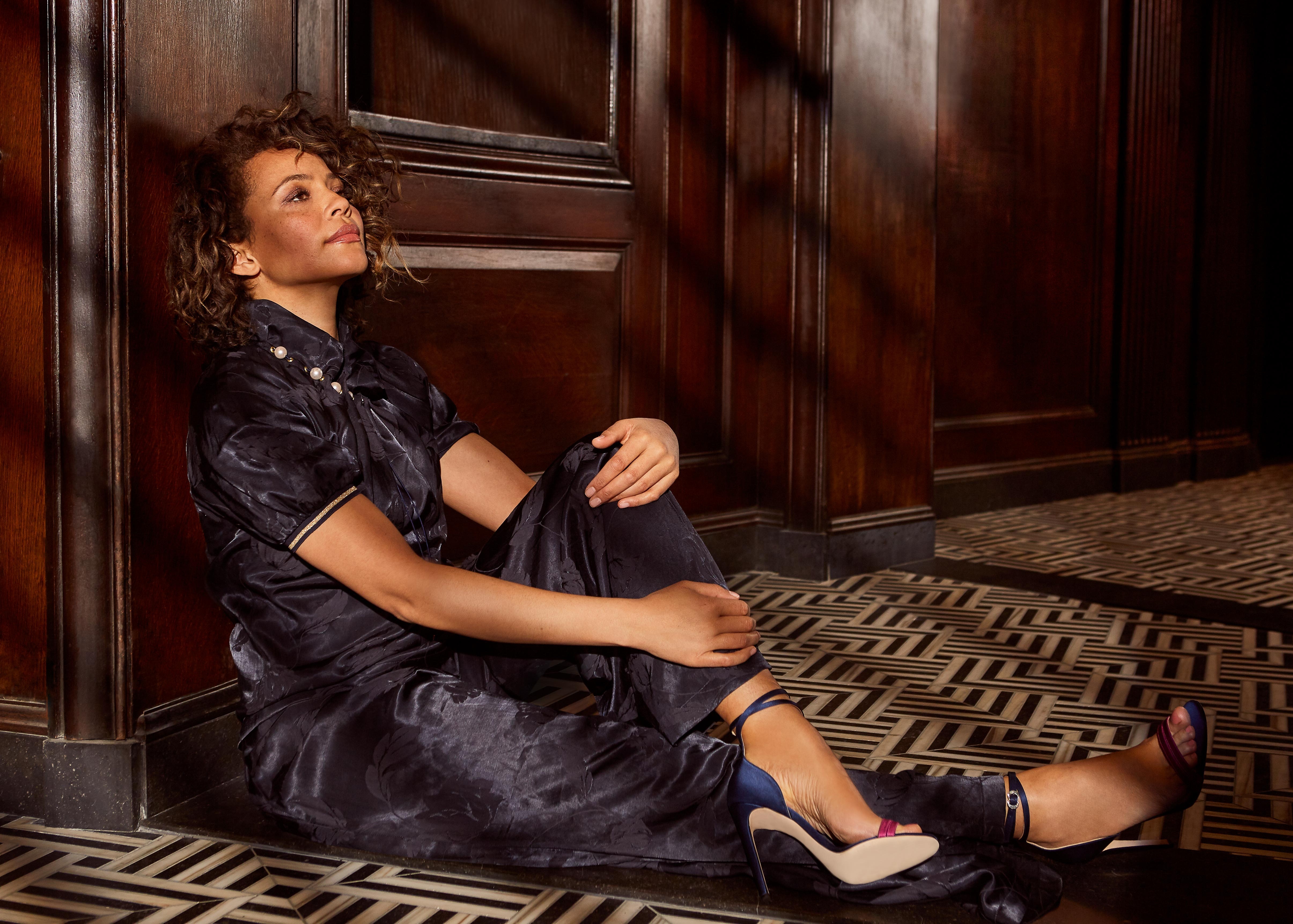 Now, after appearing on Season 2 of Starz's "The Girlfriend Experience," Ejogo is returning to premium cable for the newest chapter of HBO's "True Detective." She stars alongside "Moonlight" Oscar winner Mahershala Ali as Amelia Reardon. This third iteration of Nic Pizzolatto's acclaimed anthology series centers around an Arkansas state police detective (Ali) and a state investigator (Stephen Dorff) on the search for two missing children. Ejogo co-stars as a teacher-turned-writer with a connection to the children who develops a complex romantic relationship with Ali's character over the three decades covered in the series. "It's a meditation on time and love and memory," the actor says.
She was approached for the role at the request of Ali, who knew her only through her work. The opportunity to excavate a years-spanning love between a man and woman is what excited her most. "So often, black couples are explored through the lens of a white director, which means that they are probably in the script to serve a particular cultural purpose," she says, adding that it's often the same when a black filmmaker is behind the camera: "It's likely a rare opportunity for that director or that script to again explore what a black relationship looks like through a very cultural perspective."
On "True Detective," the characters' blackness was not at the thematic fore. "There is no one too concerned about the cultural nuances on the day-to-day basis of this couple," she says. "That's not the pressure to bring to screen. It's a couple over 30 years that most of the time is from a male-female psychological perspective."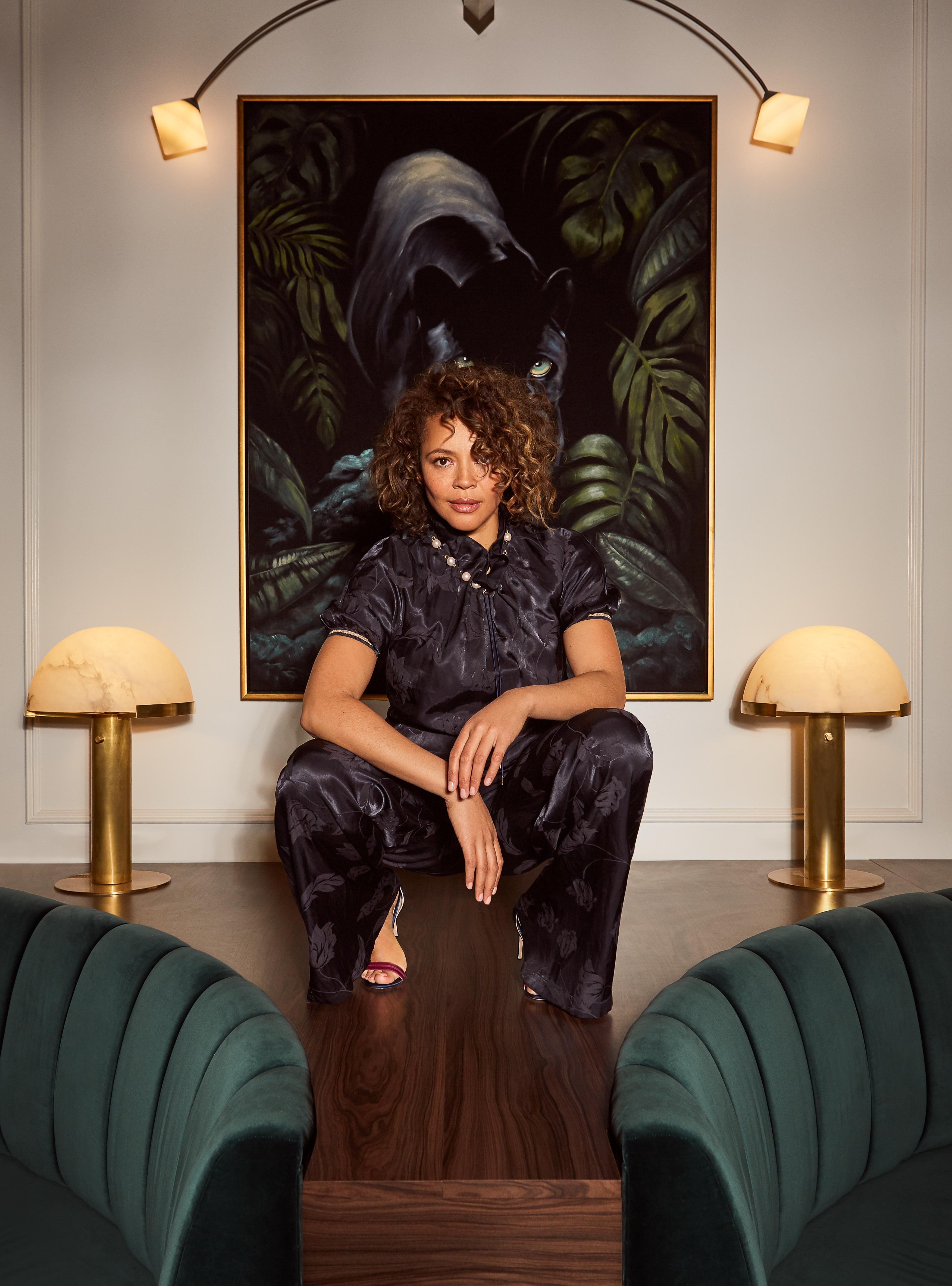 "True Detective" is the perfect project to bookend Ejogo's latest string of career highs and to kick-start her 2019 upon its premiere Jan. 13. But she acknowledges the often bumpy road it took for her to get here, particularly as a woman of color working in an industry that's just beginning to take its white boys' club norm to task.
"When I look back at my work, it might seem like it's this delightful trajectory and momentum into the present day, but actually, it was so far from that," she reveals. A biracial actor with a Scottish mother and Nigerian father, she says that as recently as 20 years ago, it was "the dark ages for someone who looked like me." After her American film debut playing opposite Eddie Murphy in 1997's "Metro," Ejogo recalls how difficult it was for her to find an agent. "The feedback was always that there weren't enough roles for people that look like me," she says. "It wasn't coded. It was quite clear: The kind of roles that you'd want to do, they just aren't going to go to someone like you."
That was just some of the overt discrimination Ejogo has faced through her acting career. But what she wants people to understand about these experiences is that despite them, she refused to conform.
"It was so obvious for me [in the beginning] what I was working against," she says. "But the rebel in me wouldn't straighten my hair, wouldn't play the game. I would just walk into auditions with my hair as crazy and curly as could be, and I would often hear, 'Well, what are we going to do with her hair?' Literally, they couldn't figure out how to get over that hurdle." Thankfully, Ejogo says, things have shifted and that isn't a challenge she faces anymore. "It's a good time to have curly hair, apparently," she quips.
Of course, frank public conversations about these experiences were not being had in the '90s the way they are today. "Back then, it was not helpful to talk about this stuff if you wanted to advance things," she says, noting that now, people seem more willing to listen. "Trendy or not, I think it's something that I grapple with in some ways because I want to be perceived always as an artist. [I have] a blank canvas in my head, and I would love to be a blank canvas when somebody else looks at me and thinks of my work and what my potential is. But, likewise, I think I have a responsibility to myself and to other actors coming up to speak the truth of what the experience has been and what it remains in some regard."
Ejogo balances these positions—the blank canvas and the outspoken advocate of inclusion—through her work.
"My work is a real mixed bag of stuff that is very racially grounded and very clearly about something that is born out of racial experience," she explains. "Then there are other [pieces] of work that have nothing to do with that, and I have been cast purely as a vessel to tell a story that is aside from culture or race. I feel like I've had to really earn that space, and it's taken a body of work. But I was always about [focusing on] the body of work. That's always what it's been about for me. If I think about the people that I admire and that I would aspire to be like and emulate in any way, it's their body of work that excites me. And it's very often [one that] makes it very hard to pigeonhole that person. I think my [career] has had the same effect, which is why I still feel fresh in this game, even though I've been in it as long as I have."
The space Ejogo has fought for—and earned—is one she's unafraid to fall in and out of love with, allowing cynicism and self-doubt to exist without overtaking her, and always remembering how she felt when she first fell in love with the craft.
"Some people get given a golden ticket and fast-track it to what their dream looks like, and others just have to work their butts off every day in ways they never even anticipated were part of the craft," she says. "But it builds character to have to be that dogged about it and that willing to keep going. In the end, I think the ones who win out are the ones who have persevered the hardest and simultaneously held onto the original dream."
Photographed by Emily Assiran on December 13 at Transcript at 63 Wall St in NYC; Hair by Jennifer Yepez; Makeup by Mary Wiles