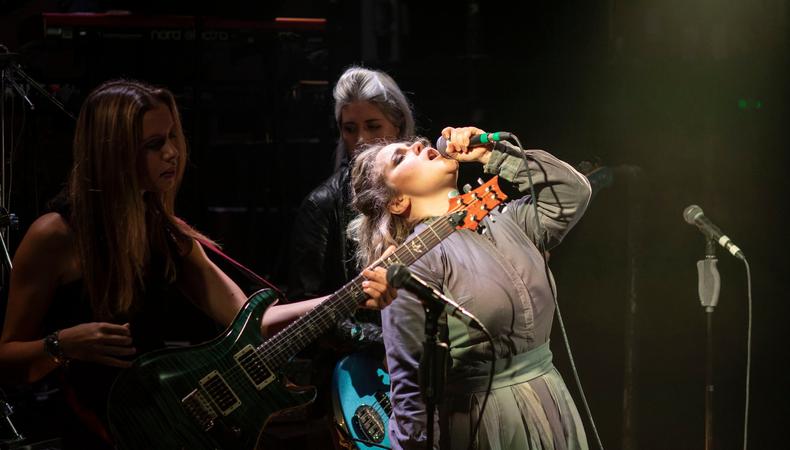 The past decade has seen an influx of actor-musician shows all over the UK, blurring the lines between performers and pit musicians, plays and musicals, shows and gigs. Reaching far beyond a separate trend of having session musicians onstage instead of in the pit, the popularity of the actor-muso show has grown over the years to become one of the hottest styles of live theatre around.

The concept isn't new, but the current mainstream trend exploded when Enda Walsh's Once found its way to Broadway in 2012, picking up Grammy, Tony, and Drama Desk Awards.

The magic of an actor-musician show comes from the joy of the artistry involved. You've heard of a triple-threat? Well, many actor-musicians are quadruple-threats. With particular challenges as well as opportunities, it's a specific skill to master, but one that can bring as much joy to the actors onstage as the audiences watching the action.

Debbie O'Brien is one of the UK's leading casting directors, and she's been championing actor-musician shows for many years. She tells us: "It is the most interesting type of show to cast. The team are looking for so many skills and it is a real delight to see performers who are so versatile, talented, and dedicated to their profession."

Musical director (MD) Dan de Cruz agrees: "I love the collaborative storytelling of an actor-muso show. At all times, everyone on stage is reinforcing the story, helping each other, and generally making each other look good!"
Being an actor-musician is one of the most intense career paths in the industry. For a start, actors are often expected to play multiple instruments in one show. You may be a top guitarist or a classical oboe champ, but if that's the only string to your bow (or ukulele, or banjo) then you're unlikely to get too far.

Another prolific MD who works a lot in the actor-muso world is Greg Last. When asked what makes a good actor-musician, he says it's an "understanding of what music and its relationship to acting is." To Last, it's important to understand that "music is not just a science that you play right…but it's about being adaptive within your technique" and it's vital that you "understand the emotional connection between music and theatre." It's music and storytelling – which can be "a language within itself."

Actor-musicians are often expected to move as well as play. Many shows include instruments in the choreography, so not only do you have to learn the moves, you have to do it with a saxophone in your hand, trying not to bump into the neck of the bass by your left elbow. It's true that some shows have a band-stand to one side (or even sometimes offstage – although some feel that decision sort-of misses the point) but usually, that's to free up the actors so they can move, sing and dance more onstage.
Looking for your next screen or stage role? Check out our UK castings
You absolutely don't have to be the greatest dancer with the best vocal runs to be in successful actor-musician shows, but expect to learn choreography, and spend some time working on your vocal ear because, with musicianship being such a huge part of the style, the harmonies can often be fiendishly difficult. The intensity of the art form is not only in the skills required, but the sheer amount of time you'll be needed to perform per show. When you're the pit as well as performer, there is rarely much – if any – downtime between scenes.
Actress and comedian Katie Pritchard, who worked on the hugely successful Dreamboats and Petticoats and was the big winner at the 2019 Musical Comedy Awards, sums up the difference between a standard musical and an actor-muso show rather perfectly: "In an actor-muso show, you usually manage to get just one two-minute break offstage to pee during each act (if you're lucky) because you never leave the stage. In a commercial musical, you'll likely only be on stage to play your character, so there is a lot more peeing time!"
That intensity, though, can really bring a cast together. The communal reliance on each other coming together to create a show as a unit breaks down standard barriers between cast and musicians, and even between leads and ensemble. You may be the title character and have the most lines, sing the biggest songs and get the longest moment at curtains, but if Fairy Number Two, who's also the drummer, who hands you most of your props, wasn't there at the perfect moment in every show, the whole thing would fall apart.

De Cruz adds: "There's something I've observed about playing music together that seems to help this process: knowing that everyone is important to make the songs happen is a gorgeous cooperative catalyst."
It's this sense of community and mutual respect for each other's distinctive collection of talents that sets an actor-musician show apart from standard commercial plays or musicals.
Every actor-musician's journey is different, and each person's set of skills and roster of instruments is different. You'll often find yourself learning or relearning instruments for particular jobs and honing skills you didn't even know you had.

Actor Stewart McCheyne has many shows under his belt and stresses adaptability as a key trait for wannabe performers: "I am originally a drummer and a guitarist, but I have had to pick up instruments that I have either never played, or can barely play!"

A recent audition experience for a major job taught him first-hand that musicianship goes beyond just learning one instrument. "I auditioned originally as the drummer and as the guitarist," he tells us, "and I had numerous recalls but I didn't get the job. However, a year or so later, their original keyboard player left, and I got asked to audition. I was worried at first because I didn't consider myself a fantastic keyboard player. I did the old trick of trying my best to learn something quite specific on an instrument for the audition, in order to try and get the job."

That can-do attitude did Stewart a world of good, earning him a spot in the show and a TV credit. "I did get the job in the end, purely down to the right energy for the character, but then I had a lot of keyboard to catch up on. And now it's been almost three years of trying to catch up on the piano, and fool everyone into thinking I'm a maestro!"

While adaptability and general musicianship are key, you do need to start with at least one "main" instrument to focus on – one which best showcases your personal skills. Many performers choose one they learned at school, and there is no "wrong" instrument to choose, but the truth is, some are more commonly asked for than others.

Carmella Brown made her West End debut in the show Judy at the Arts Theatre. In this play-with-songs, actors doubled up as orchestra and had to master often fiendishly difficult parts of iconic Judy Garland songs. Brown played flute for the show, an instrument she learnt in school, but she concedes that in general, the appetite for flute players in actor-musician shows is often not high: "A lot of shows are in a rock'n'roll style, so the flute isn't particularly useful. I realised I needed to broaden my skills into other reed instruments if I wanted to be more employable, so I picked up the saxophone." Brown adds that when choosing these second instruments, it's a good idea to think of something that connects to your core strengths as a musician. "Playing multiple instruments in the same family is always useful and is easier to pick up than if I'd decided to learn something like the violin."
Brown is right that the larger shows do tend to have a more rock'n'roll/contemporary music style, but a lot of the smaller-scale contracts and tours work on a more acoustic or folky style due to the unplugged nature of the genre, so the breakdowns can vary somewhat. In general, however, there are a core set of instruments that will stand you in good stead.
The core instruments
These are guitar (electric and acoustic), bass, keys and drums (kit for larger shows, cajon for smaller, more compact tours). For the rock'n'roll shows, saxophones are in great demand, and for more folky shows you might find a cheeky violin. The accordion tends to come in and out of fashion, so for those keys players interested in cornering the market when the next wave comes around, it might be a worthwhile investment.

This is by no means an exhaustive list, and no doubt at some point you'll find yourself channelling your inner 10-year-old with a recorder part, or throwing your mallets across the room as you try to nail that terrifyingly fast glockenspiel run for the end of Act 1, but these popular instruments are a great place to start.
It's also useful to be realistic about the expectations of each instrument and how they might relate to certain roles. Some instruments will often automatically mean smaller parts but more playing, whereas others may serve more as an accompaniment to your vocal prowess in shows.

The truth is, you're unlikely to be the lead if you're a drummer because you're so vital to much of the music, and being a seated instrument (and usually at the back) limits your availability to move. Having said that, there are very few truly professional standard drummers in the mix.

Keys can pose a similar problem, and it's more common to have multiple actors proficient on piano than drums. You obviously can't sing and play the sax at the same time, but they're mostly used for solos, so can be useful for both lead and chorus parts. Guitar is an obvious one for the bigger roles as it's extremely portable, serves as a good backing for vocals and is very versatile when it comes to different styles of music and various tiers of shows. However, pretty much every actor-musician plays at least a bit of guitar, so if that's your only instrument, it's going to be harder to stand out.
When we asked Debbie O'Brien what roles or instrument tracks they find particularly hard to cast, she said: "Female guitarists, and drummers who sing!" So, if you're a female actor looking for an opening, or a singer with good rhythm, this might be a great place to start.
There's a constant debate about the merits of reading music versus learning by ear, but Dan de Cruz says he doesn't have a particular preference. "I have worked with actor-musos across the spectrum of reading/non-reading and there is no difference in the final work of talented people. The journey there is different but that's true of any of the disciplines."

McCheyne has worked with fellow performers from both ends of the spectrum and believes that the magic can be in the diversity of talents: "Both have pros and cons, and both can help the other out with different challenges. It's all about adapting and collaborating."

One of the main merits of reading music is simply that for the performer, it can save time – if you're given a page of dots you can go away and practice quickly and efficiently without any extra work. However, MDs tend to be as adaptable as the musicians they're directing, so it's rarely a problem if you have a different way of working. As Greg Last stresses, the main thing is the ability to "play beyond yourself" and to "fit the purpose of the show", and most actor-musician shows require performers to learn the music anyway, so it's not like you'd be reading from sheet music on stage. Ultimately, it doesn't matter if you can sight-read the entire score of Wicked note-by-note – if you can't tell a story through character and song, this isn't the job for you.
Major productions
Casting directors like O'Brien tend to work on bigger shows for West End or major regional theatres, with bigger budgets and complex technical needs. She stressed the need to "be realistic about your level of skill. For the sort of actor-musician shows we cast, we nearly always say that unless your main instruments are at the very least Grade 8 or equivalent, you probably will not be what we need." That said, she appreciates the chutzpah that seems to naturally come with an actor-musician mind-set. "Of course, the best actor-musicians will always 'have a go' if they are asked to try another instrument in a show – that is always very impressive, and the can-do attitude is always appreciated."
These larger commercial shows tend to have a big technical element, with the sheer number of microphones, instrument tracks, and costume practicalities offering a whole other layer for performers to think about. A bigger production team, however, means more behind-the-scenes support. Excitingly, major regional theatres like the Queens Theatre Hornchurch, New Wolsey, and the Watermill specialise in high-quality actor-musician work, and the Rock'n'Roll Panto sweeps the nation every Christmas from Wales to Liverpool (where it has been a staple of the city for years) and beyond.

For these productions, you're also likely to have a specific MD who takes charge of orchestrations and teaches the parts to the room, either with sheet music or by ear.

Smaller theatres and touring
Smaller-scale theatre and touring work tend to be more collaborative endeavours focused towards devising. Some shows will already have a score or a set of songs to work with, but many enter into rehearsals with nothing but ideas and time. If you're someone who enjoys the composition aspect of an actor-musician contract, these smaller-scale shows can be a real blessing, and whilst you may not have the technical help of big theatres like the Garrick, Queen's or the Liverpool Everyman, a more hands-on approach to problem-solving can be really exciting.

Gig theatre
Finally, there is the increasingly popular "gig theatre" genre, blending theatrical storytelling with a good old-fashioned gig vibe. Companies like Hull's Middle Child and productions like Chiaroscuro at West London's Bush Theatre, or Wildcard Theatre's smash hit Electrolyte (which took Edinburgh and then the rest of the UK by storm), are using live music to draw in a new demographic of theatregoers, who perhaps didn't feel theatre was speaking to them before.

Gig theatre often draws interest from underrepresented groups, allowing self-expression in a more personal voice, championed by theatre companies whose ethos is about shaking up the status quo and presenting a point of view in a bold and unapologetic way. Turkish-Welsh company Be Aware Productions used gig theatre in their all-female show Enough Is Enough, engaging in a frank discussion about sexual violence, with performances often followed by group discussion.

If you like a loud, political, raucous affair, this is the genre for you, and being adaptive by its very nature, gig theatre shows can be found anywhere from West End stages and well-known arts spaces, to pub basements and giant warehouse floors.

With all of these subgenres boasting distinctive opportunities to create and perform, an actor-musician can have an exciting, varied and greatly fulfilling career telling stories, singing songs and making art. You don't have to choose to go down only one path, or you might find one calls to you far more than the others, but part of the excitement of the industry is in its possibilities. Ultimately, says casting director O'Brien, what these productions are looking for is "a great energy, a spark, approachability, and of course the relevant skillset for that show."
There is no one path to a career as an actor-musician and no single way to map out your success. Many actors transition to a career as an actor-muso simply through a love of music, and some musicians discover a penchant for acting as they go through their career. But as the popularity of the form grows, more and more of the top acting schools are beginning to offer specialised courses.

Rose Bruford was the first to do this, now offering both a BA and MA in Actor Musicianship. The huge success of this flagship course created a new generation of exciting performers and practitioners and helped shape the current landscape.

McCheyne studied at Rose Bruford. He tells us: "I owe a lot of my attitude towards my fantastic training. They championed collaboration and versatility. My classmates were a fantastic mix of classically trained, grade-eight musicians, and wannabe bedroom rock-star jammers just like me."

Other notable schools offering specialist courses include Mountview, Guildford School of Acting, Leeds Conservatoire and the University of West London.
If you don't want to study these specific courses, standard acting BAs can also offer opportunities for musical creativity, and many course leaders are starting to lean into the idea of utilising any extra skills their students might have. University courses can offer good chances to bring companies together if you don't want to go down the standard acting school route, or conservatoire courses like East 15 Acting School's BA Acting and Contemporary Theatre course can provide a good balance between professional-level actor training and (due to its heavy emphasis on devising) opportunities to create and perform music within productions.

Every actor-musician will have a different outlook, varying instrument preferences, and different skills, provide an individual take on a show and have a distinct musical voice, so there is no right way to be an actor-musician, simply your way.

As the industry changes, and with the current creative landscape shifting with the realities of the pandemic and a future with technology, theatre-makers are being forced to pick up skills they never thought they'd have to master. Rehearsals are happening on Zoom, audiences are being reached in original ways, and performers are having to adapt to technical requirements they'd usually have a team to help them manage. But one thing seems certain: the versatile, creative, intuitive actor-musician is singularly qualified to tackle the future head-on, and do it with a song. Because everything is better with a soundtrack, right?