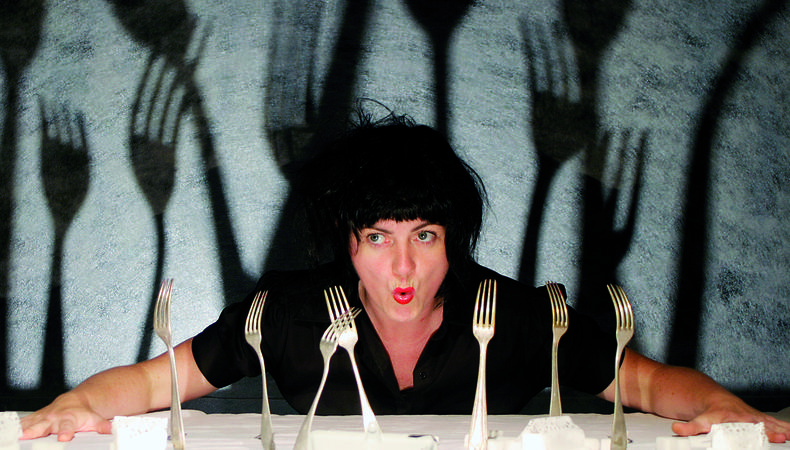 The Edinburgh Festival Fringe turns 70 this year—happy birthday! It is just about conceivable that an audience member or performer from that original fringe will be up in Edinburgh this year. But I doubt it. The Fringe, marvellous as it is, takes years off your life. It must be equivalent to smoking a thousand cigarettes and drinking just as many glasses of box wine—which, incidentally, is something you often end up doing at the Fringe anyway.
It's a wildly varied experience depending on what kind of person you are, where and what time you're performing and who you're living with. But it's always tough. Yes there are millions of tickets bought each year but none of them seem to be for your show. Performing your guts out for three people (one of whom is asleep, another is eating and the other is checking how to get to the Pleasance on Google Maps) is much more exhausting than feeding off the laughter and energy of a full house. For some actors, this might be their first month-long run. For others, it will be their first experience of doing a show at eleven in the morning after finishing their first and last hike up Arthur's Seat three hours before. By the end of August you'll be spent. Your energy, patience and overdraft will have vanished.
But it's worth it, I promise! Actors in Edinburgh—don't get the festival blues. Here's my insider guide on how to survive the Fringe (and not murder your housemates.)
Look after yourself.
You can still go out all night, you can still drink your way through a family sized Buckfast and go to that extra special secret show at sunrise—but you need to get your sleep. The Fringe is a marathon not a sprint and you owe it to yourself, the people you perform with and the audiences paying to see your show to not be rubbish.
In case you didn't know, it rains every day in Scotland and summer has is basically over in Edinburgh by the end of July. Bring lots of warm clothes and a waterproof. Carry spare shoes if you're out flyering all day.
Yes, chips are technically made from a vegetable. Yes, IRN BRU is wonderful. No, you cannot survive on junk food alone. Once in awhile eat something that is green and not Haribo. Also, seek out decent, cheap food. There's a LIDL on Nicolson Street y'know.
Keep yourself safe onstage. The festival venues are made of chipboard and are often built by people who have no right to be wielding power tools. Beware of shoddiness everywhere. I've seen feet sliced open by exposed nails, lights falling off, sets collapsing and someone get burnt by an outdoor heater. The Royal Edinburgh Infirmary is supposedly a lovely hospital but before you do anything silly, ask yourself if you really want to spend any time there.
Find a safe place.
There's nothing as intense as living with actors. So imagine living with eleven actors in a cold flat with only one toilet, no cleaning rota and limited bed space. Cast members will have Fringe Flings and inevitably fall out with each other. Someone will break the heart of one of the venue staff and suddenly all your posters will go missing. There will be arguments over who is paying for the broken microwave, who is responsible for the clean up and whose friends can 'visit' for a whole month.
You can try to be Kofi Annan and resolve it all but my advice is to find somewhere great to slip away to. Anywhere will do but I would suggest a friendly coffee shop that's out of the eye of the storm. New Town and Morningside are generally untouched by the festival and have plenty of pubs, bars and cafes that you can make your own private sanctuary. Take a good book and disappear for a bit.
READ: A London Actor's Guide to Free Things to Do
It's not Pokemon.
You can't catch them all, so don't try. The Edinburgh Festival Fringe has thousands of shows and hundreds of venues across the city. As soon as you realise that you'll never be able to see everything—and that you'd bankrupt yourself if you tried—the pressure will fall away. People will go on and on about certain shows that are "amaaazing". In the words of my pals from Public Enemy, don't believe the hype. Your experience is what matters. If you want to see some corny comics you recognise from the telly, then do it! If you only want to watch Belgian dance, do that! The festival is an opportunity for you to explore the spectrum of performing arts whilst getting the hang of performing as well. Oh - that brings me to my last point…
Don't lose faith.
If you think your play is terrible—then make it good. Don't spend your time moaning about the director or your fellow cast. Despite how it looks and feels, you are doing a job. Do it as well as you can. Remember that if you believe the good reviews then you have to believe the bad ones too. Also take note that reviewers at the festival are usually first timers who are giddy on the newfound power of criticism. They will crawl back into their holes in September but just try and ignore them until then.
Be generous to the shows you see. If it's terrible then just move on without a fuss. People have put their own time and cash into bringing work to the Fringe. If it's great, then let people know. Everyone is tired, everyone is frantic, everyone is desperate for approval—be kind to each other.
Check out Backstage's London audition listings!